I found my wedding dress! (And here's what I learned)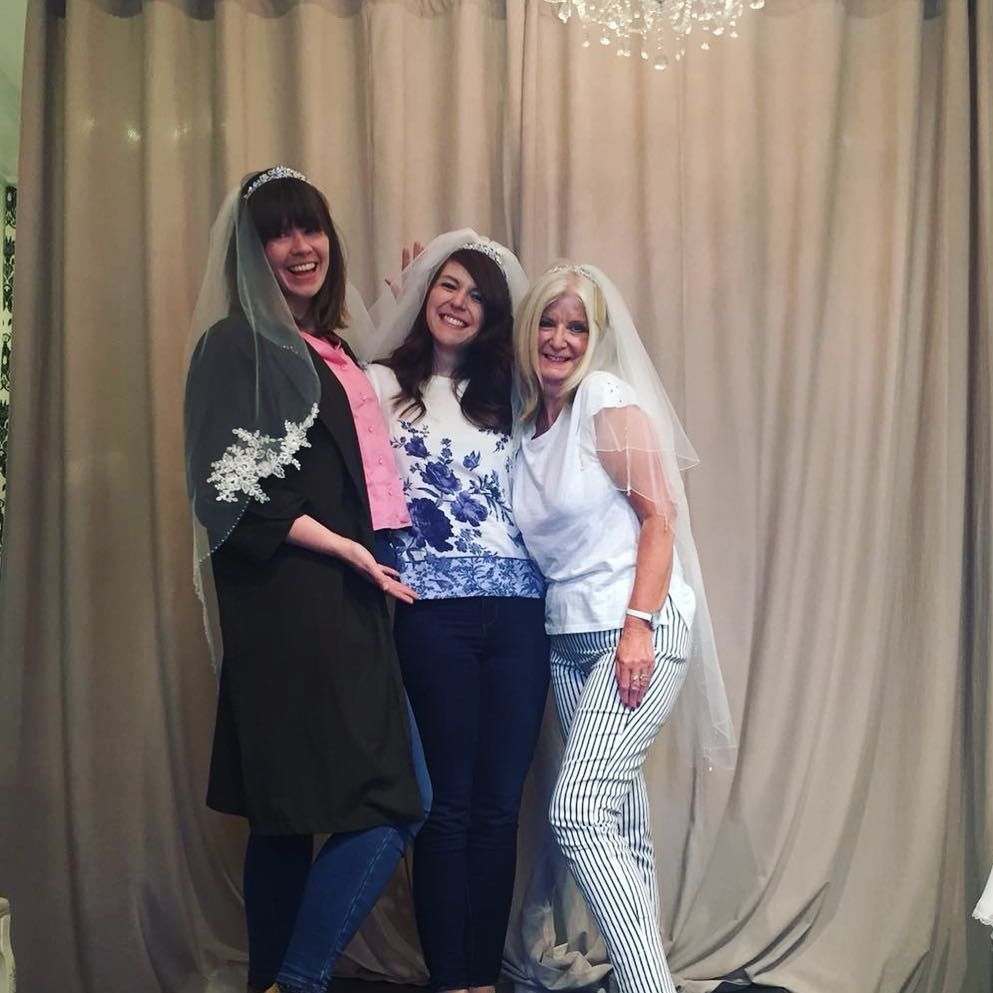 As I mentioned in my May roundup post, two weeks ago I found my wedding dress!
It was an incredibly intense emotional experience, and over the following few days my emotions veered more towards extremely sad than extremely happy.
I'm not a Bridezilla by any stretch the imagination (I also really hate that word and concept!). Phil and I have made every decision together, and he's been more involved in many things than I have, and I've been quick to correct people constantly when they assume wedding planning is "all the bride's job" and the groom "just turns up". And I think (or I hope!) we've been pretty laid back about the whole thing. There are a few things we care about, and many, many, many things we don't. We don't want to spend out life savings on one day, but we also have big families and we want it to be nice.
But obviously the dress is a big one. The dress is something people judge you on, it's the outfit you are remembered for, immortalised on your parents' walls and in albums and in photo frames. And it's one of the few things that are a surprise. Your guests will know the venue, they might have asked you about colours, bridesmaids dresses, centrepieces, flowers, but they won't know about your dress.
Coincidentally, the day we found my dress was the day of the Royal Wedding, when everyone was waiting for that big reveal - Meghan's dress - and quickly formed opinions. While I know I'm not expected as big of an audience on our big day, it did make me realise how big of a decision it was!
It's weird now seeing recommended pins on Pinterest or looking through bridal magazines or going past dress shops and no longer wondering what my dress will be like. It's strange to think that this is the dress I'll be remembered for more than any other dress I'll ever wear. And this was why I found the decision so upsetting.
Everyone has told me over and over how quickly the time you are engaged goes, and I hate it so much. As excited as I am about getting married, I don't want to rush away this time. I want to preserve it forever and I want it to go as slowly as possible. We've already been engaged 5 months, and it's just over 10 months now til our wedding day. So realising I'd found my wedding dress - despite how tiring and draining and decision-fatigued dress hunting was - made me realise I'd never go wedding dress shopping again.
And I've found that really hard. I remember a moment putting on a dress - looking back, I think it was the one, and thinking to myself, remember this, remember this moment. And I really forced myself to stay in that moment and luckily I have so many amazing memories of that day I revisit nearly every day!
So while I'm relieved and excited, I am sad. I had a dress appointment booked for a shop I was sure I'd find my dress at, that I go past every day on the bus to work, and when we found the one we had to cancel it, and even though I knew I'd found the one, it made it really hit home that the search was over.
But I loved wedding dress shopping! I had lots of advice and so many tips that really helped me that I wanted to share all the things I learned finding my wedding dress...
I was naked more than I expected
I'm not sure why I didn't expect this, but in my head I would get into a dress and then someone would help zip me up and that would be it, but no, I clearly had not imagined the size and scale of most wedding dresses. I was stripped down to my knickers and bra and had dresses put onto me. Some places had a dressing gown for you to put on, but I was in and out of dresses so much there wasn't much point.
After a while you do get used to it, and you know they've seen it all before, and by the end I was fine with them taking my bra off too, but it does take a while to get over the initial embarrassment, but they're professionals so any anxiety is all from you!
I wore plain nude underwear and brought a strapless bra in my bag which I didn't end up needing, but is a good idea if you know you want to try some unusual styles.
You have to say "no" a lot
I absolutely hate negativity and I hate being negative, so I found it hard to say "no" to so many dresses on the journey to finding mine. Sometimes you know what you don't like, other times it's hard to articulate what you don't like, but you have to remember you're probably going to say "no" a lot as you only need one dress!
I think everyone goes into wedding dress shopping with an idea of what they want to wear to walk down the aisle in, but I heard so many stories from people saying they ended up with something they had never imagined wearing, so I made sure I tried on anything and everything. Try on that awful dress you Mum likes (I did, sorry Mum), try on the silly dress that isn't your style. Be open to anything and you might surprise yourself.
The one person who has to be happy is you, so even if your entourage and everyone in the shop loves a certain dress, if you're not feeling it, you have to be honest. Plus it helps the people in the shop choose other styles for you if they know what you do and don't want.
Give yourself plenty of time
At first, I was really against doing more than one shop in one day, and the first day we did just one shop, which was really good fun but did leave us desperate for more. The second trip we had three dress shops planned, and we spaced them out with at least two hours in between to allow for travel. Most appointments take about an hour and a half and you don't want to rush!
I took my Mum and my Maid of Honour and it was perfect. Not too many people's opinions, but enough to make sure I didn't get swayed by something just people one person loved it.
This is an obvious one, but find out what the range of prices are in the shops you want to visit, and be sure to allow for alterations, veil, underwear and any adjustments. You don't want to try on your dream dress and find out it's three times your budget!
We had two really good experiences and one not-so-good experience, and each shop had a different way of doing things. In the end, we absolutely loved the shop I got my dress from so I'm extra glad we found my dress in there! Ask for recommendations from married and engaged friends, and make a spreadsheet of all the ones you want to go to, look at their website and reviews and then pick the top 3 or 4 you want to visit and start from there.
The bride doesn't get to enjoy the treats as much!
Two of the shops we visited gave everyone a prosecco but when you're trying on dresses you don't get much of a chance to sit down and enjoy it! In one shop I was offered a cup of tea but I had to wait til we were done to drink it!
Dress shopping is exhausting! You're on your feet in swathes of fabric takings things on and off, and the decision fatigue is absolutely draining!
When you've tried on 25 dresses and still don't feel remotely close to what you want, it can be disappointing and stressful, so don't feel as though you have to have a smile on your face the whole time!
You have to suspend your disbelief a lot
They might only have the dress you love in a size much too big or much too small, or you might decide on changing some details which you might have to imagine. You're quite unlikely to have a complete picture of what your dress will be like on the day, but that makes it even more exciting!
You don't always know, but sometimes you do
I'd been told by some people "when you know, you know" and by others "it's not always like that", so I didn't know what to expect, but with mine it was the first one where I came out saying, yep, I love this, and everyone could tell by the way I moved and smiled and touched the fabric. As soon as I came out, the lady who owned the shop said "I think you're going to get married in that dress". My maid of honour started crying, then I started crying and my Mum started crying and then we knew it was the one. They offered me one more dress to try on and they knew when I didn't want to take the dress off it was the one, and as soon as I tried on something else I just wanted it back on again!
After I'd said yes to the dress (or in my case, sobbed, when they asked me "are you saying yes to the dress?") we asked if we could take photos and we were advised not to, which I'm quite glad about. I'd read before you should try to remember how to felt in the dress, as photos can really throw you off, so I made a real effort to process that memory and remember how amazing I felt, though it is hard to not have a photo to reassure you!
I did write a list in my phone a few hours later of all the details of the dress and I do sometimes reread that list to remind myself which really helps!
Ever since I left the shop I've been doubting myself and constantly going back to my maid of honour and Mum for reassurance which is totally normal! It's a big decision so you just have to trust yourself that you loved the dress!
Stop looking when you've found the one
I was still quite keen to go to the final shop, my logic being that it might reinforce me that I was happy with my decision, but I'm so indecisive than I'm glad I didn't. I didn't want to waste anyone's time so my maid of honour cancelled the appointment for me, and I'm glad it means that another woman might have had my spot and hopefully found her dress!
You will forget what your dress looks like
I have a list in my phone of the details, but honestly, I can't really remember what it looks like! I think this is pretty normal though, and goes back to remembering how happy I was wearing it!
It's a real catalyst for making other decisions
I didn't realise how much finding your dress influences other parts of your day. It can change how you'd planned to have your hair, your makeup, your bridesmaid dress styles, your veil... And sometimes this can mean changing a decision you've already made.
Wedding dresses take AGES to make!
Considering we don't get married for 10 months, I thought we were quite ahead of the game wedding dress shopping in May, but I actually won't get my dress back til December, and with alterations, it's probably about right for our April wedding. Most places can fast-track for you if you have a short engagement, but 6-8 months is usually how long a dress takes to make!
I know I've mentioned this but honestly, I did not expect to cry as much as I did. I was emotional I'd found my wedding dress, but also that dress shopping was over and I was never going to do it again. I cried all that evening and into the next day, and I've nearly cried a few things writing this! I've found being engaged really difficult purely for the reason that every decision I make is one less thing I ever get to decide about ever again and it was a lot more traumatic than I expected. I'm not one of those people who has spent my whole life dreaming and imaging my wedding day, but it is still weird to now know what I'll be wearing and know I can't change my mind. What I mean is, bring your tissues! You might cry because you're happy, but you might cry because you're tired and overwhelmed and decision fatigued and also a bit sad too.
Not telling your fiance is the hardest thing!
I tell Phil everything so I'm finding it really hard not to be able to say anything to him and a few times I've nearly slipped out a detail of my dress! I haven't even told him about the terrible things I tried on because I don't want to give away what I have chosen, and I've been finding that really difficult! I've had to remind myself that I want him to be completely surprised when he sees me walking down the aisle!
It's nice to have a secret
I thought I was going to tell my bridesmaids and maybe close family and friends what my dress looks like, but when it came down to it I decided I want to keep it a secret that only myself, my Mum and my Maid of Honour knows so it's a surprise to everyone on the day and I'm really glad I have. It's nice to have a secret only a few people know!
Obviously this is all just my experience and if you are dress shopping I recommend Googling "things to know before wedding dress shopping" and ask around, because I got great advice that way.
I hope to have more wedding posts soon!