6 Week Six Pack Review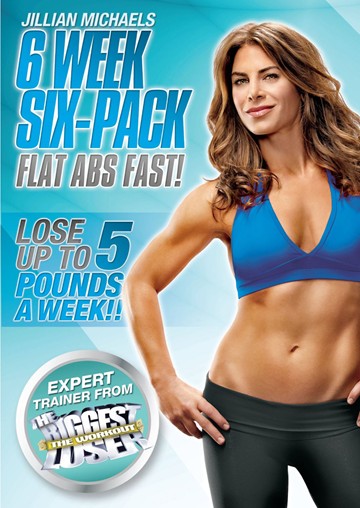 As you might already know, I am a huge, HUGE Jillian Michaels fan. 6 week Six Pack was my third Jillian Michaels DVD, after the
30 Day Shred
and
Ripped in 30
. I loved both those DVDs so I was excited to try something new. I got the Jillian Michaels Boxset for Christmas and 6 Week 6 Pack was the first DVD I tried from that set.
6 Week 6 Pack follows a slightly different format from the other Jillian DVDs I have tried- instead of the 3-2-1 system of 3 minutes strength, 2 minutes cardio, 1 minute abs, 6 week Six pack involves one circuit of moves (21 in level one and 19 in level two) followed by a repetition of the same moves for another circuit, only double time. The moves still involve a mix of strength and cardio, but this time they focus more specifically on ab-training moves (as the name suggests). There are two levels which Jillian suggests you do five time week for three weeks.
I have to be completely honest, at first I really didn't love this DVD. It just didn't push me and exhaust me in the same way 30 day Shred and Ripped in 30 did. I didn't come from the workout dripped in sweat and desperate for a shower. I didn't feel challenged. I found it too easy to cheat and not push hard enough. Which was when I realised that this DVD required me to push myself. Unlike Jillian's other DVDs, this isn't as hard and fast-
paced and it's easy to slack, so you have to self-motivate much more. Many people recommend this DVD only after doing the 30 Day Shred and I definitely thing that is important in terms of self
-
motivation. Once I decided to really push myself I did come out of the workout exhausted and I did feel I had achieved something. There also isn't as much cardio (my favourite!) in this DVD so you have to make sure that the cardio you do really counts- upping the speed and the reps and the intensity and not letting yourself slack. Once I picked up the pace my abs were burning after this workout!
I enjoyed the different format of this DVD too. I love the 3-2-1 system but this was a nice change from what I was used to. That second circuit at double time though? OUCH. I think the only thing I didn't like as much was doing the same level for three weeks. I wish this DVD had three levels instead that you could do for two weeks- by the end of week two on each level I was really starting to get bored, but by the start of week 3 I could power through every move of every circuit without stopping, so Jillian obviously knows what she's doing!
I worked out to this DVD around 4 times a week (some weeks it was 5 times, some weeks 3) and I've mentioned before that although Jillian usually suggests her DVDs be done 5 or 6 times a week, I just don't have time for that every week and because these DVDs are part of my lifestyle not just a quick challenge, I do them whenever I can. I also didn't change my eating for the challenge- there were definitely a few meals out, glasses of wine and drunken trips to the chippy during the course of this DVD! My results weren't as dramatic as Ripped in 30 but I can definitely seen good definition in my abs (of course, I didn't get a full six pack in six weeks, but who seriously expects that?!), and I lost 0.25 inches from my waist, 1 inch from my hips, 0.5 inches from each arm and 2 pounds. If I'd really been watching what I was eating I would definitely have seen much more dramatic results but I'm happy with my achievements.
I've just started Killer Buns and Thighs so I'm excited to see how that DVD goes! Have you done any of Jillian Michaels' DVDs? Which is your favourite?
Charlotte x