Summer Uniform
The converse are out- that means summer is here! Now if you've been reading my blog for a couple of years you'll know that my summer uniform basically looks like this: dress, denim jacket, converse. Example...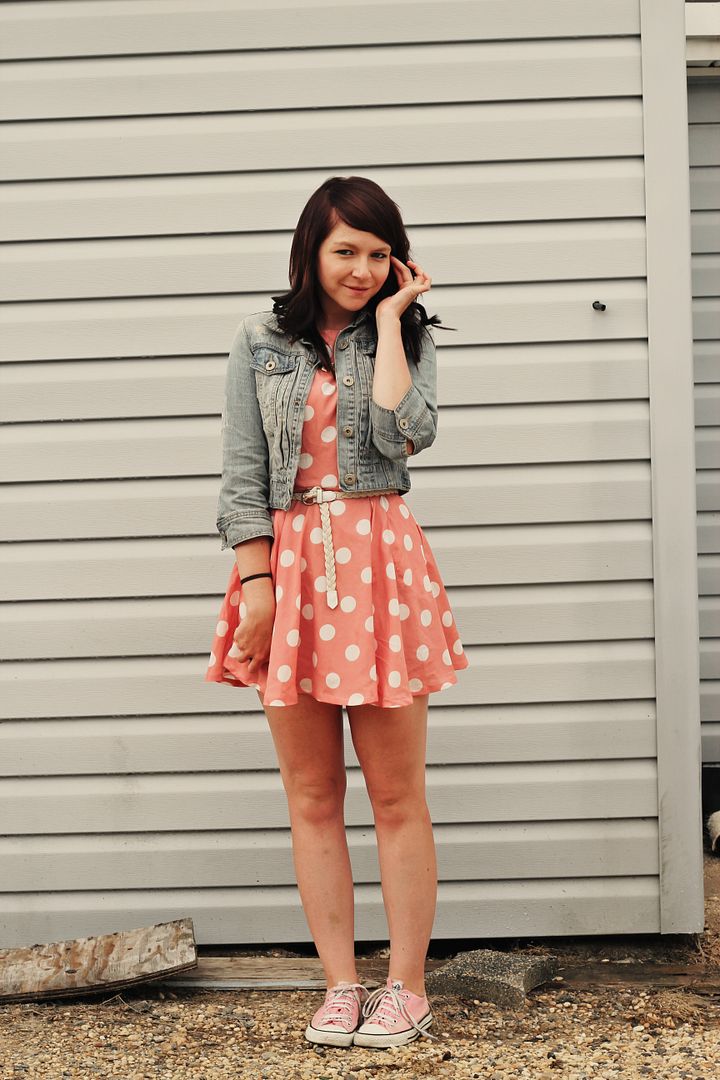 You get the idea. I wore a variation of dress, denim jacket, converse both Saturday and Sunday and I don't see it stopping any time soon. Fortunately I have enough pairs of converse to match a variety of outfits (red, pink, green and black). I actually hadn't worn these red ones in about 5 years as
my Mum found them in TK Maxx when I was about 16 and
they're only a size 4.5 (I'm a 6). They actually fit fine but I've always been a bit wary of wearing them in case they rub (I have awkward feet at the best of times), but they went so well with this dress that I had to wear them.
necklace- Topshop
sunglasses- H&M
Funny story about this dress. I was doing some research for an article last month when I came across this dress in a blog post and fell in love with it. I didn't think it was a recent post so I was surprised to find it was still available on the Oasis website. It was while I was still on my shopping ban so I decided to wait, and tried to convince myself it was too similar to this dress. Anyway, by the time payday was rolling around I noticed the dress was out of stock on the Oasis website and put it down to "oh well, it wasn't meant to be". Until I remembered I had a gift voucher for Zalando who I knew sold Oasis. Amazingly, they had the dress and in my size! I was so excited that I placed the order in record speed... before realising the shipping address was my old flat in Birmingham! I rung customer services frantically who told me they couldn't change an order once it was processed, but could cancel it for me, but I'd have to wait for another gift voucher and it was past 5pm and the marketing team had left for the day. To add insult to injury, there were only 2 left in stock in my size! So of course, I had to have the order cancelled and was panicking that the dress would sell out by morning, sending neurotic emails to Zalando. Anyway, within minutes of the order being cancelled, a new voucher was issued and I could place the order again. Which was good as the dress was sold out by the next day! Anyway, me and this dress were clearly meant to be together and I'm looking forward to a long and happy life together.
Anyway, apologies for the blogging absence. I worked out today I have ten (10!) blog posts planned that need to be written but I've had a really busy few weeks. Work has been crazy, plus I've had my photography class, workouts and a semblance of a social life! The "quiet drink" with the girls on Friday night resulted in a 2am bedtime and the family party on Saturday night ended at 1am, so I've had a bit of an exhausting weekend! I think things should be quietening down now anyway, which is good because I need a break. I need a holiday! Berlin in August feels very far away at the moment! I have a good mix of posts coming up though- some outfit posts, recipe posts, another Jillian DVD review and maybe even a video post! My Babyliss Pro Perfect Curl will be here tomorrow and once I've got the hang of it I want to do my first video blog.
Camera earrings!
Anyway, I think I'm going to have a much-needed early night. I went for my first Couch to 5K run when I got home from work and it was so lovely to run in the park and it still be light outside, but I'm feeling a bit droopy now so I think it's bed time!