Foodie Thursday: Easy Peasy Breakfast Burritos
I apologise for two things- one for being MIA this week. I've been feeling lousy all week so sweatpants have been the order of the day. The second thing apology is for not getting a recipe post up last week. I had a recipe all planned out, photos too, but what I made ended up being, well, a bit gross so I decided it was a bit silly to post a recipe for something I didn't like!
Anyway, I had another recipe planned for today, but after posting a picture of these breakfast burritos on Instagram I had a request for the recipe. Now I will warn you, this is one of the things that I just kind of make up as I go along so the recipe is a little vague. It's also super-duper easy so I apologise if this seems a little basic. Breakfast burritos aren't really a big thing here in the UK, but I got into making then this summer while I was living in New Jersey. I've actually never had one from a real breakfast place, so I don't know if these are anything like real breakfast burritos! But I will tell you they are delicious, super-easy, and really filling. Seriously, I usually need to eat every 2-3 hours, but these keep me full for ages!
I made this ones with low
-calorie wraps, light cheese and egg whites for a lower
-calorie meal, but this is entirely your choice. Also, just because these are "breakfast" burritos, it doesn't mean you have to eat them for breakfast! I actually had them for lunch today!
So, if you're as obsessed with Mexican food as I am and want to an excuse to it for every meal, here you go!
Ingredients (Serves One)
1 wrap (I used Weight Watchers wraps as they're only 106 calories, but it's up to you!)
2 Eggs or 1/2 cup egg whites
1/4 tin of beans (I used 3 bean salad, but black beans, pinto beans or any other bean mix is fine)
Onion + any other soft veg you have on hand (I usually use peppers, mushrooms, courgettes etc)
Taco seasoning (I actually didn't have any so I used cajun seasoning which made no difference!)
Salsa
Grated Cheese
Milk
Spray Oil
Optional: Avocado, guacamole, sour cream or any other burrito toppings (I sometimes make some of Hungry Girl's Holy Moly Guacamole)
Like I said, I usually make this up as I go along so feel free to substitute any ingredients!
Method:
1. Prepare veg by chopping into small pieces. I used onion and courgette this time, purely because that was what I had on hand.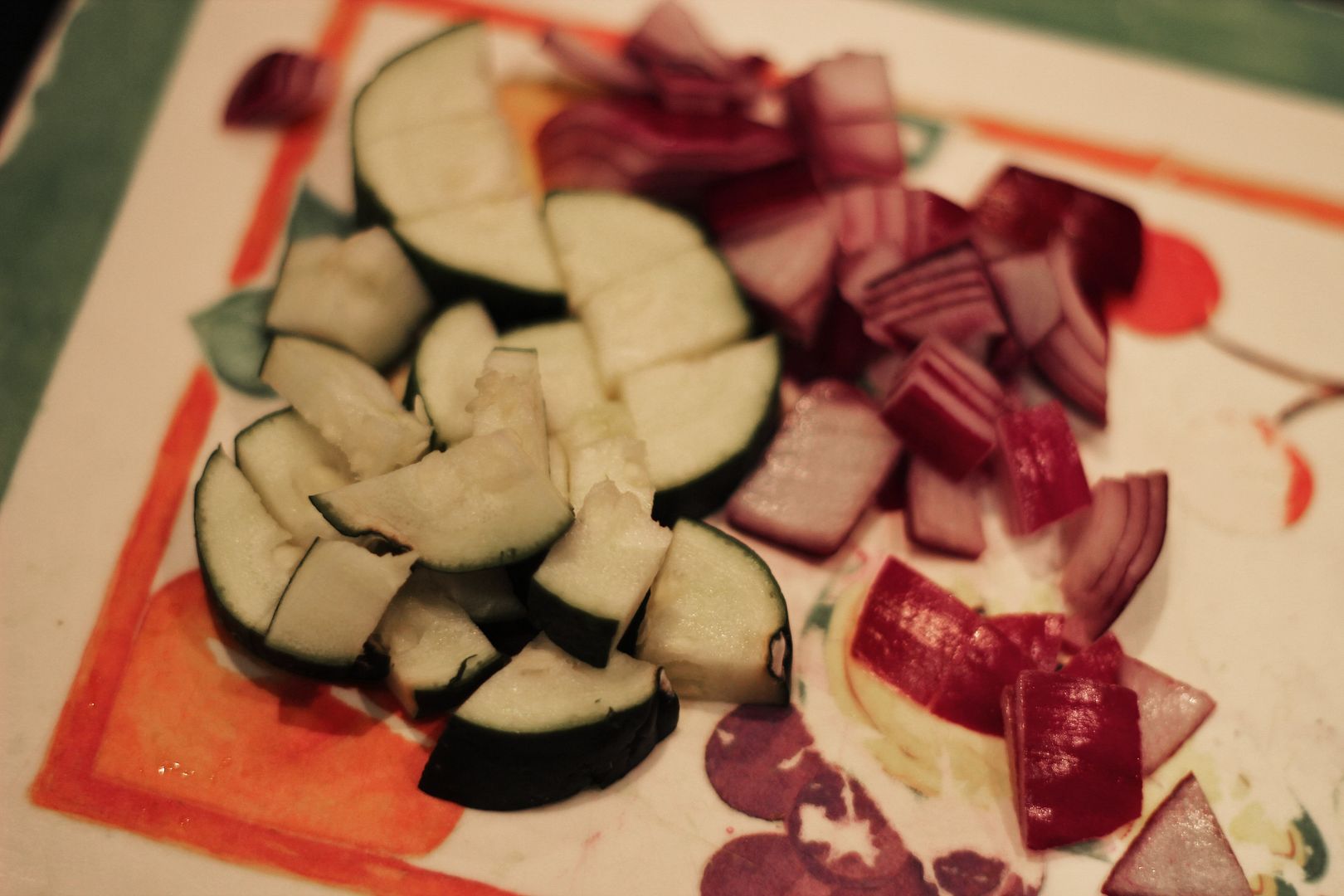 2. Spray a small frying pan with spray oil and heat on a medium heat. Add veggies and seasoning. Cook for about five minutes until they are soft.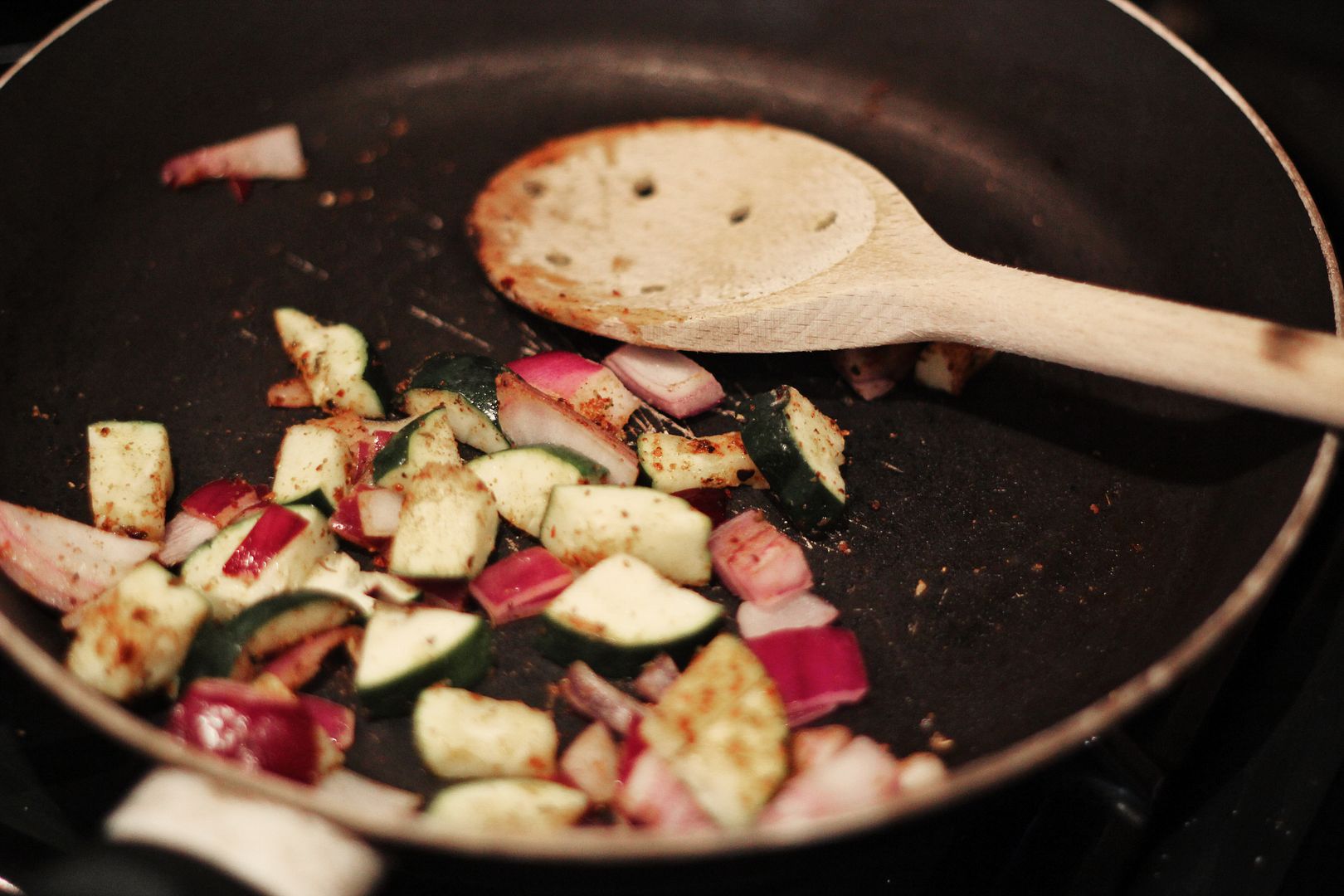 3. Meanwhile, prepare the eggs. I am currently obsessed with Two Chicks Liquid Egg Whites. I know liquid egg white is pretty freely available in the US, but it's not very easy to find here in the UK. You can get Two Chicks in Sainsburys and Waitrose. Okay it looks a little weird, but it's much lower calorie than whole eggs but still contains a lot of protein. Anyway. Prepare scrambled eggs just as you normally would. I mix the egg whites with skimmed milk and put in a pan on a low heat, constantly stirring until for about 5 minutes until the eggs, well, become scrambled eggs. You can use any scrambled egg method you like though!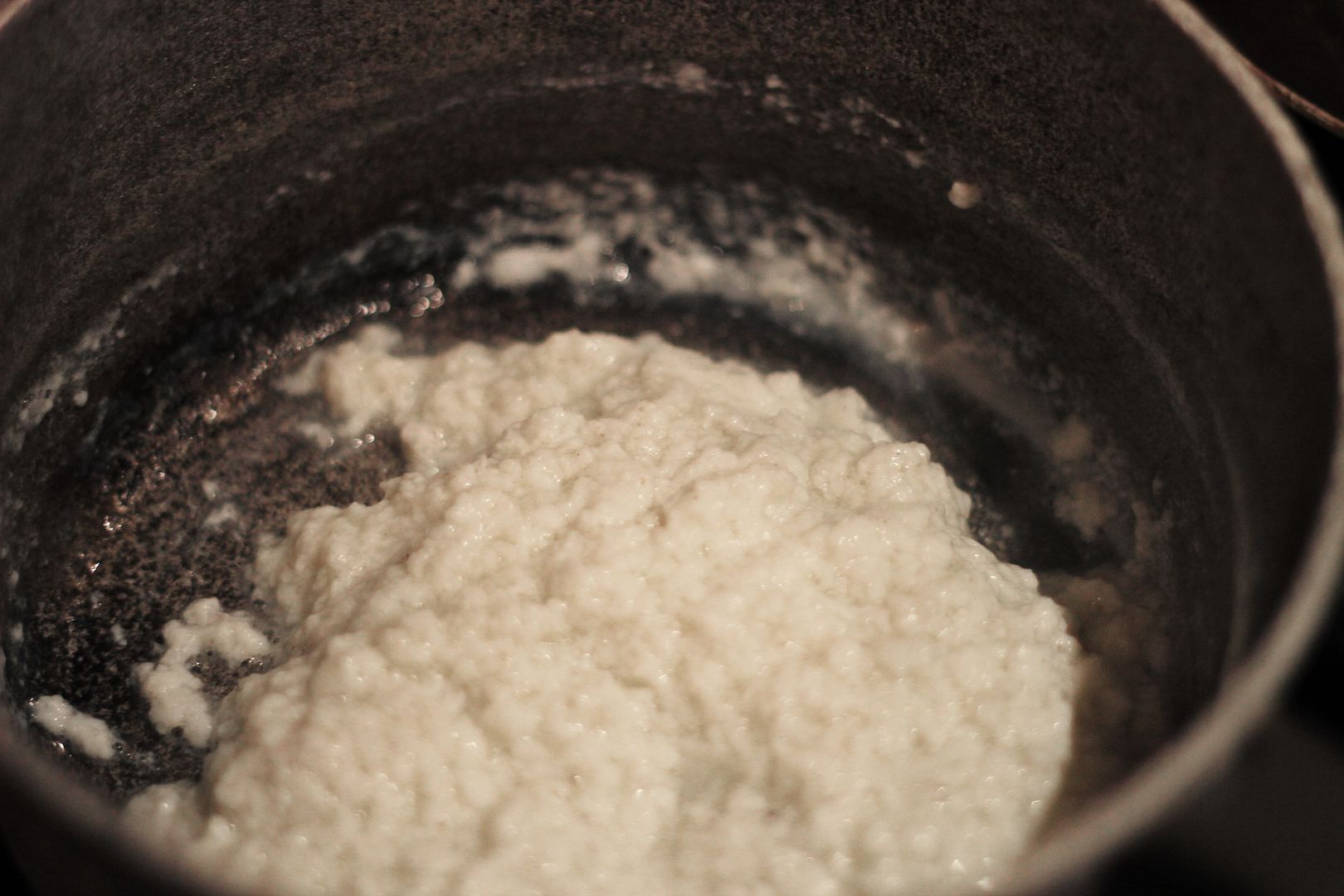 Yeah, it does look weird doesn't it? Is that just me?
4. While your eggs are cooking, add the beans and salsa to the veg mix. The amount of salsa you add is entirely up to you- I'm a bit salsa fan so I always add quite a lot! Just keep it on a medium heat and keep stirring until the beans and salsa are warmed through.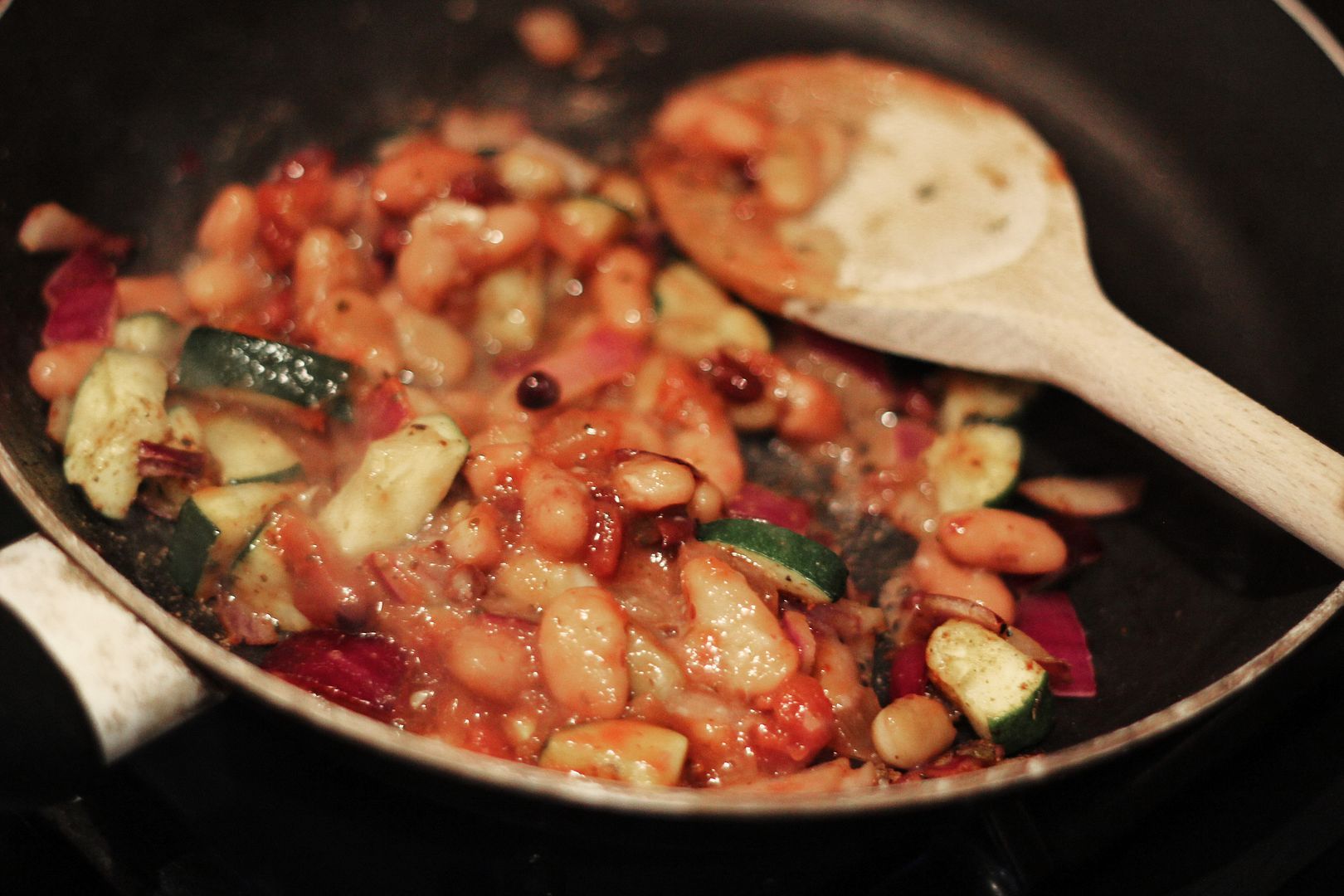 5. Pop your tortilla in the microwave for 30 second until it is warmed through. Put it on a plate to begin assembling your burrito.
6. When your eggs are done, spread them onto the bottom of your tortilla. Add your bean and veg mix, and top with cheese. Add extra salsa if you like or any other toppings.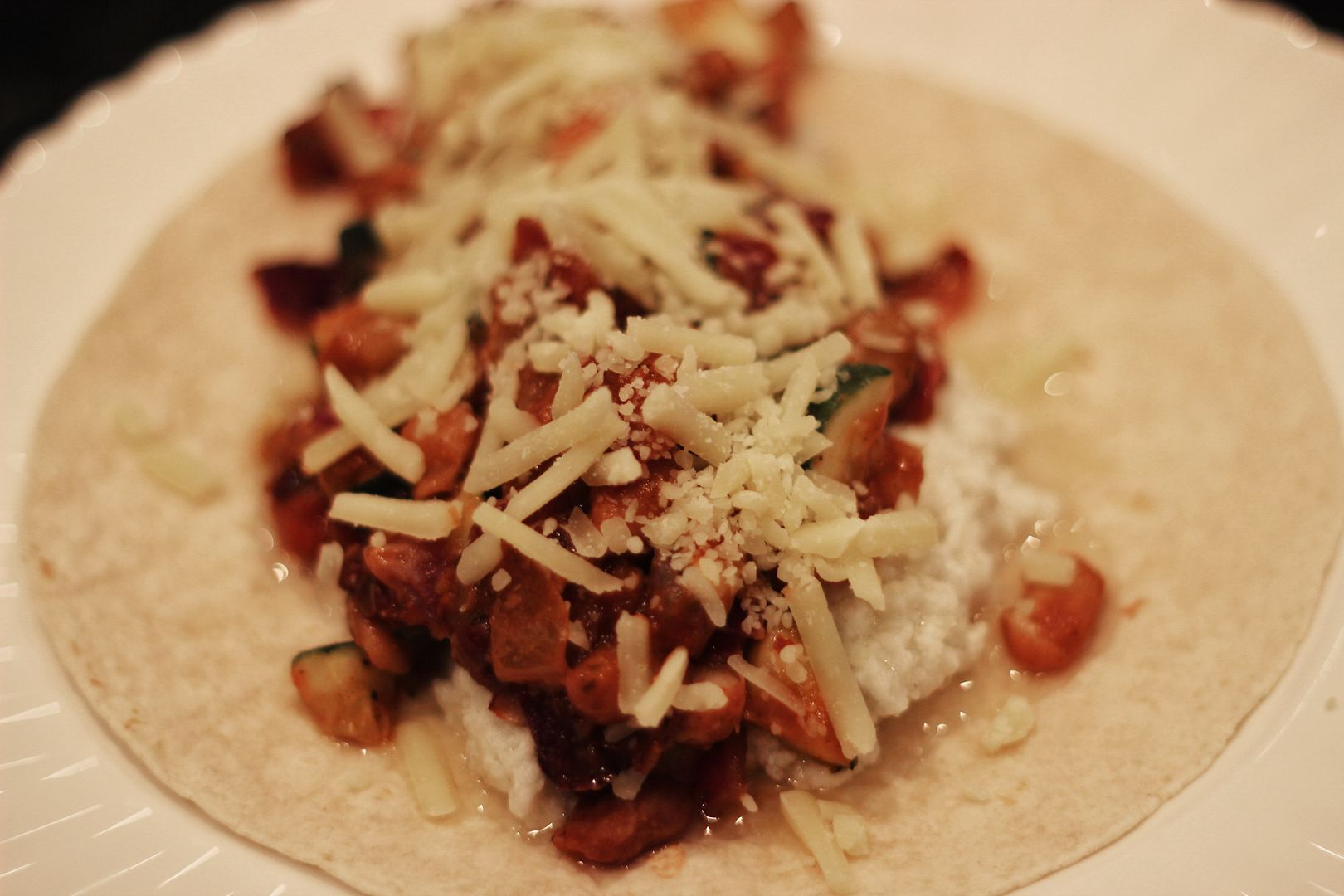 7. Attempt to fold. Fail but enjoy anyway.