Mustard, Tartan and Fur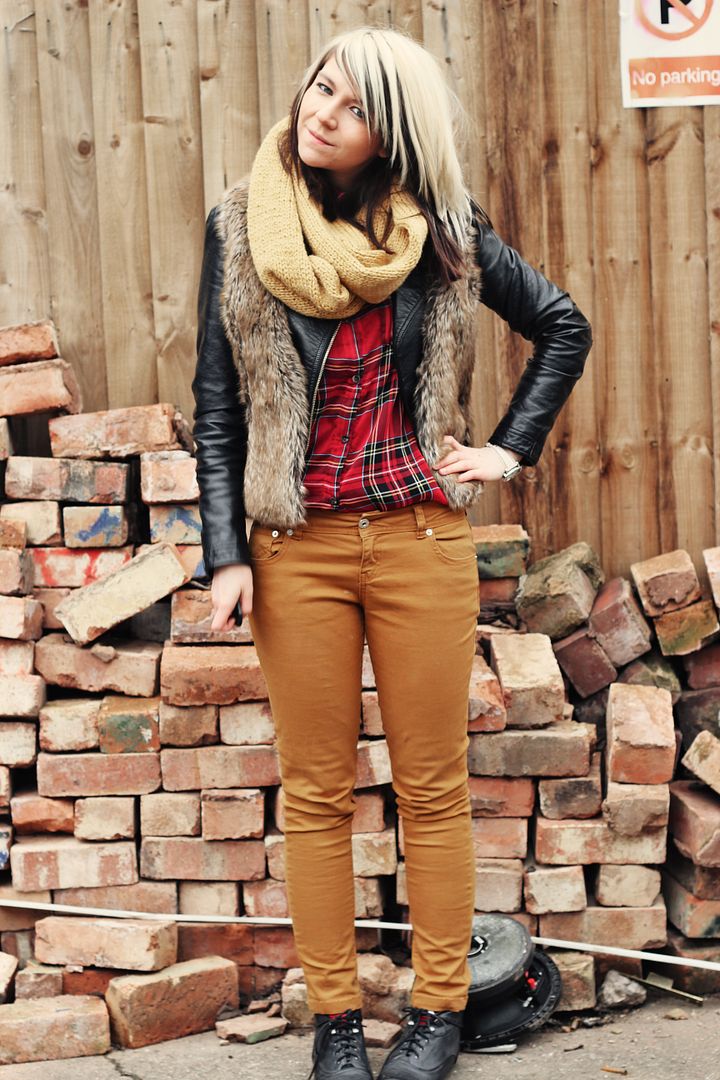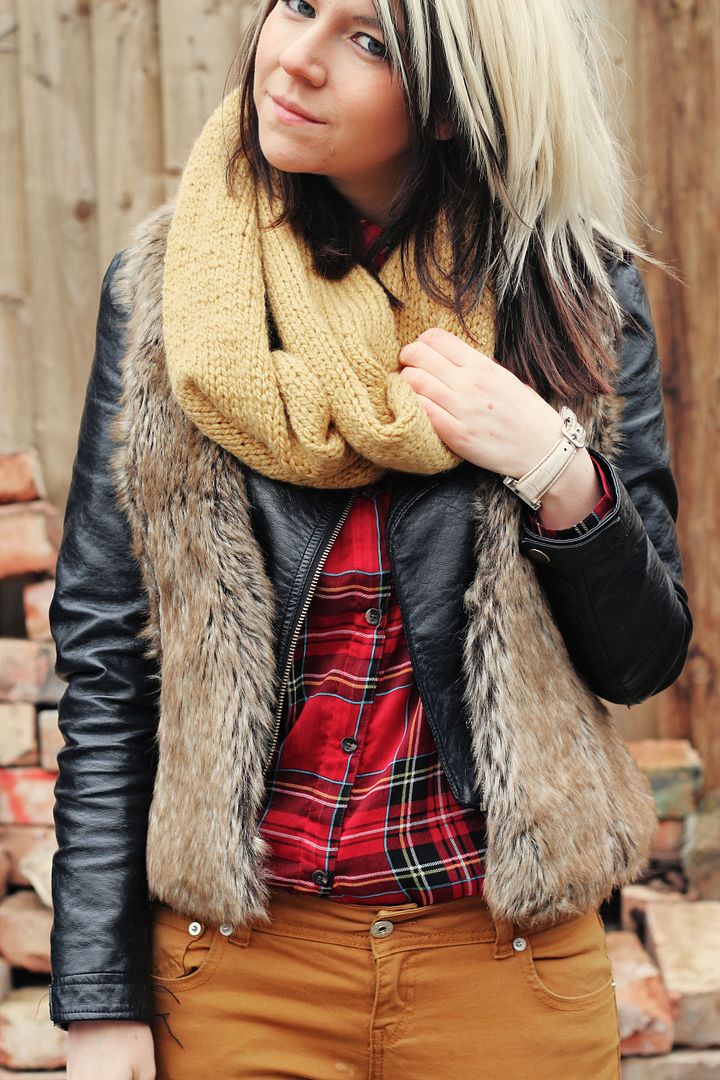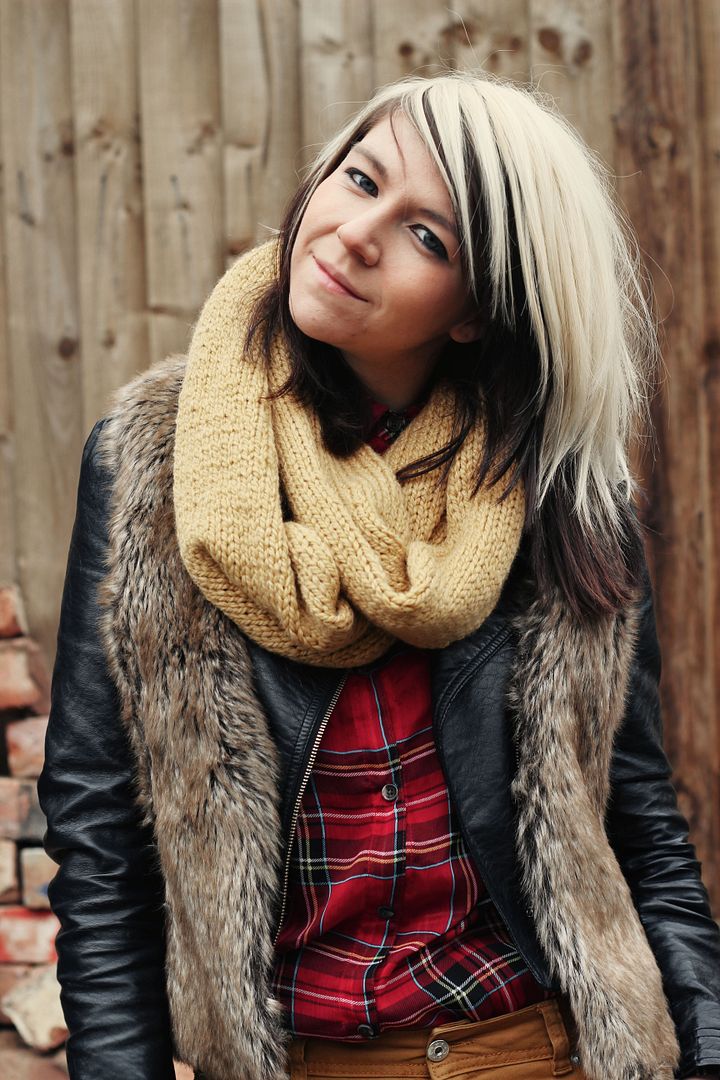 I wasn't really sure if I liked this outfit today, and now I've seen the photos I'm even more confused. It's kind of a mish-mash of ideas. I'd seen a girl wearing a tartan shirt and mustard scarf a few days ago and thought, ah that would be fun, but I didn't want to wear my blue jeans because that would be too much like this outfit, so I went for my mustard ones (which always make me feel like Shaggy from Scooby Doo) and the gilet-over-leather-jacket thing was something I've been wanting to try for a while. No doubt stolen from Andrea. Overall, I kinda like it but it's not my favourite outfit in the world.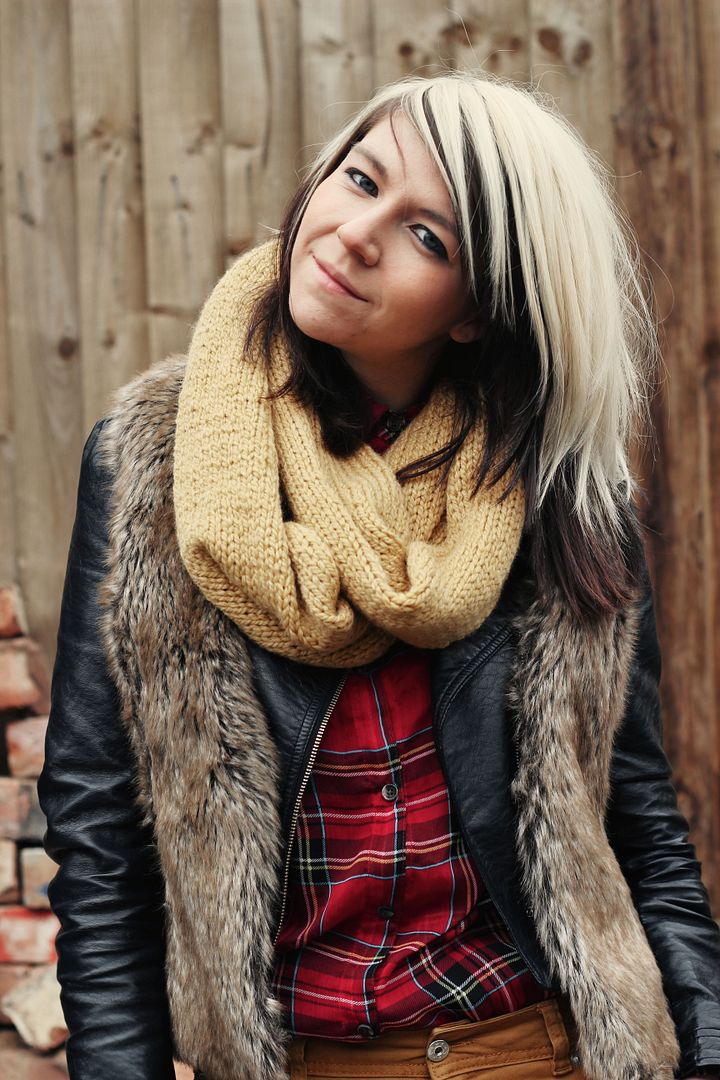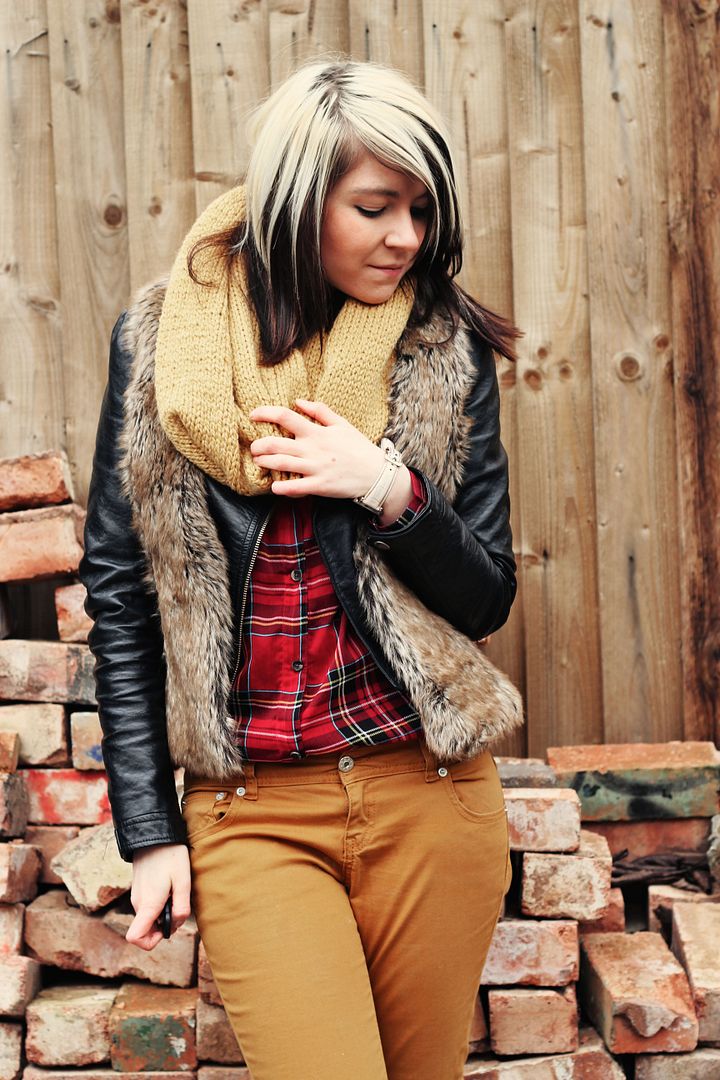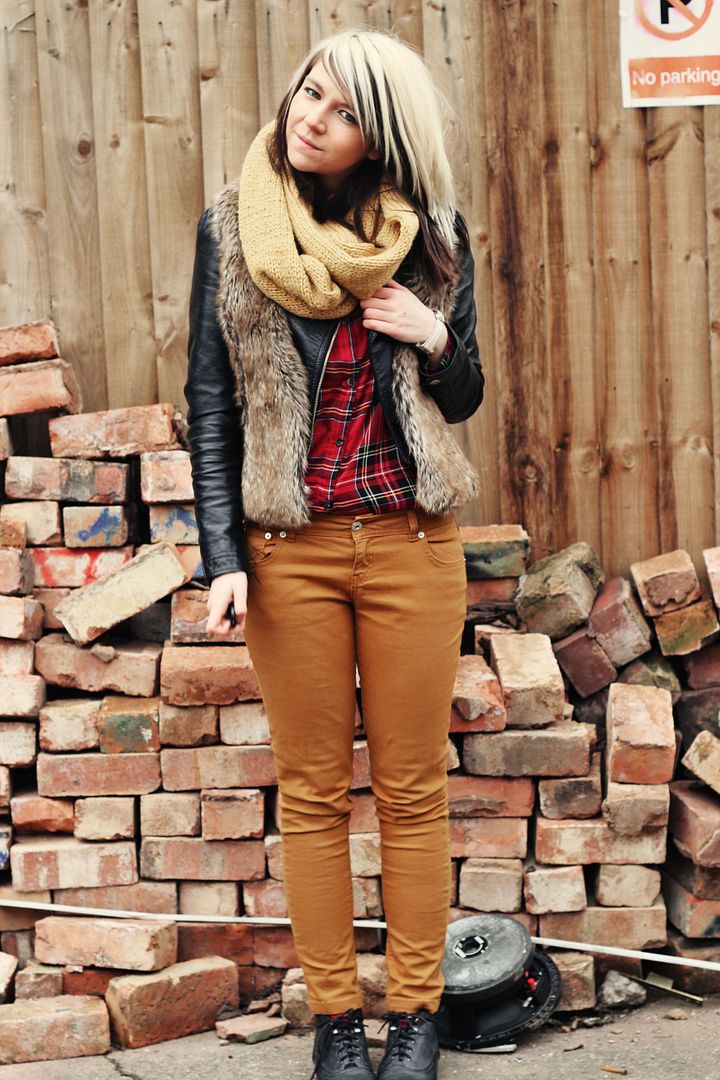 So what's new? Um... well I finally sorted out my graduation deferral which is good and I have my appointment booked to go to the embassy to get my Visa now! Unfortunately my appointment is at 9am in London and it's over Easter break so I'm getting the *gulp* 5.515am train! Eeek! Anyway, I'm excited to get stuff for the summer up and running. I had a lovely skype chat with my best friend Michelle (who is on her semester abroad in Paris, ooh la la!) last night and we were talking about our trip to San Francisco last year and I was getting so excited about my summer (I'm still not placed yet, but I'd love to be in SF!) and about me coming back to visit Minnesota and I can't wait.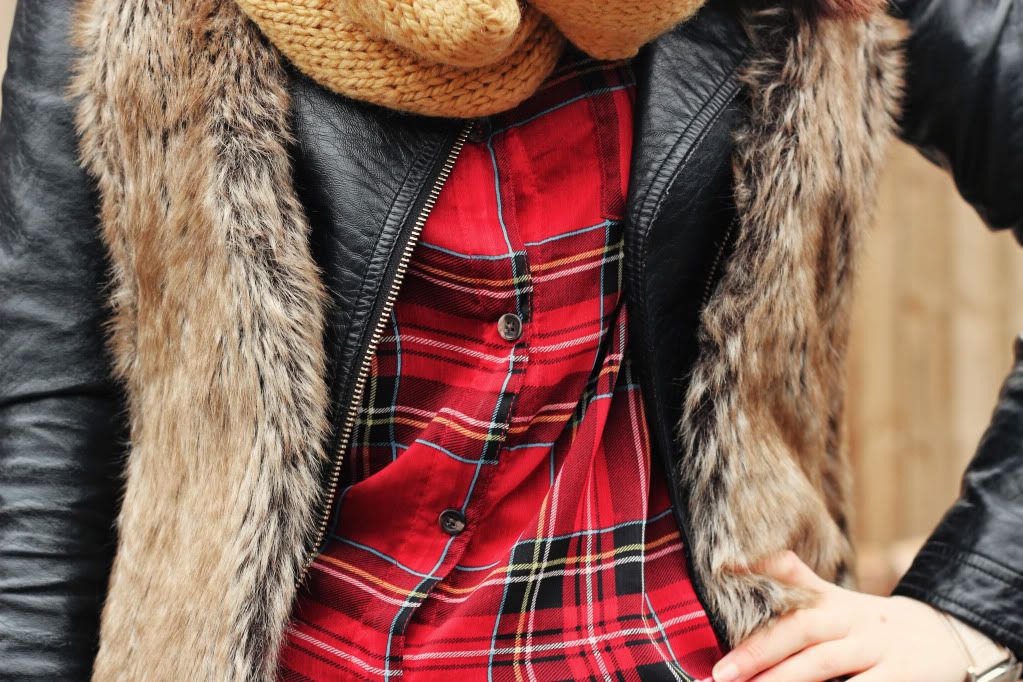 tartan shirt- Motel via ebay
leather jacket- H&M
fur gilet- c/o Matalan (with Style Project winner vouchers)
jeans- c/o Select
scarf- knitted by my Mum
boots- New Look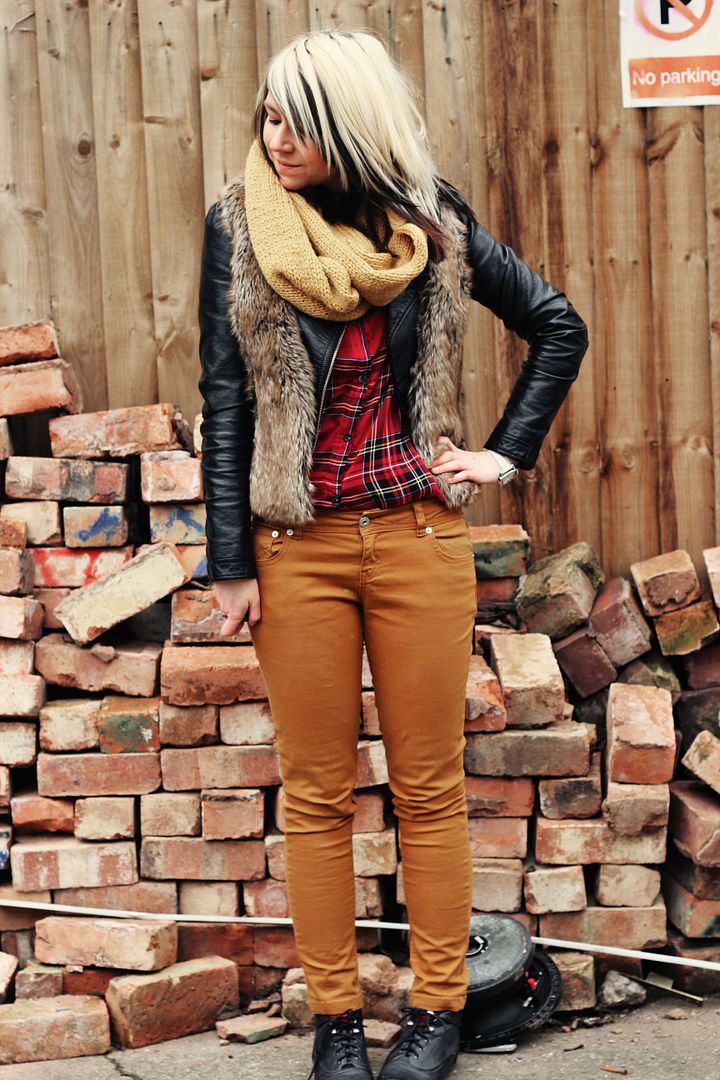 School is really kicking my ass right now and really getting me down. It's like a horrible paradox of wanting the time to be over but at the same time realising how much work I have to do before the end and stressing myself out over it. I also got one of my essays back today and I really thought it was a First-class essay and I got 66 (70 is a First). I know that is a great mark and I should be happy but I just really thought I had pushed a little harder. I'm waiting to get feedback on another essay tomorrow and I've been feeling less confident about that one so now I feel even
less
confident. It's just right now I feel that my life is spent working in the library and I don't know how to give any more without burning out. I swear dancing is the only think keeping me sane. I enjoy it so much, especially after a long day.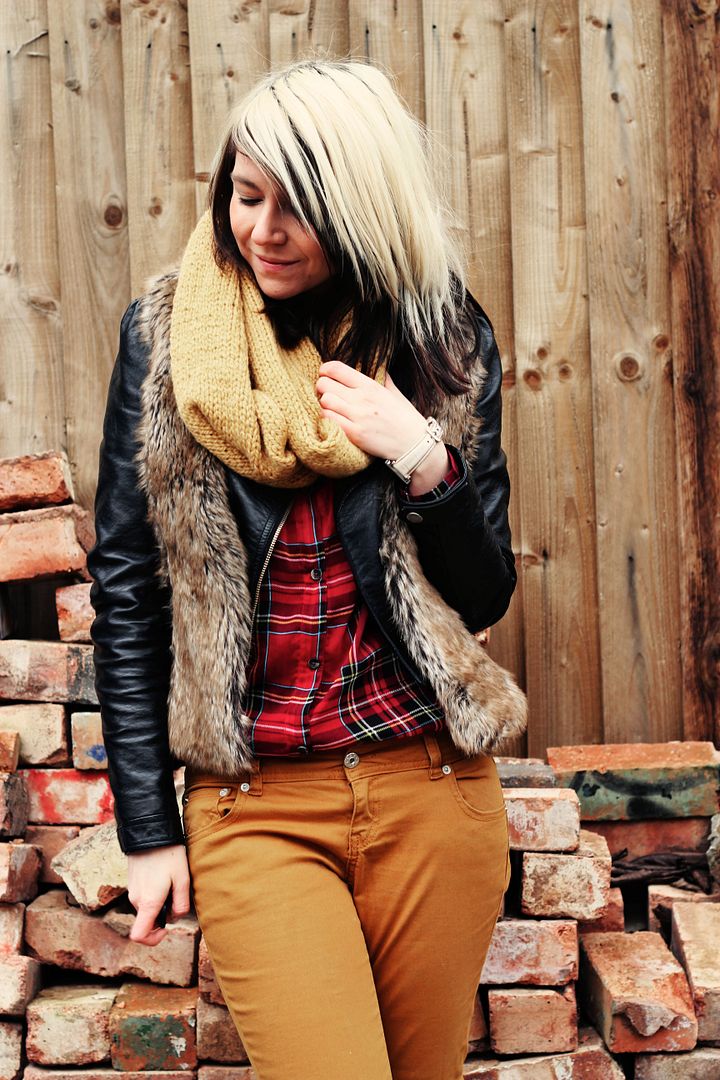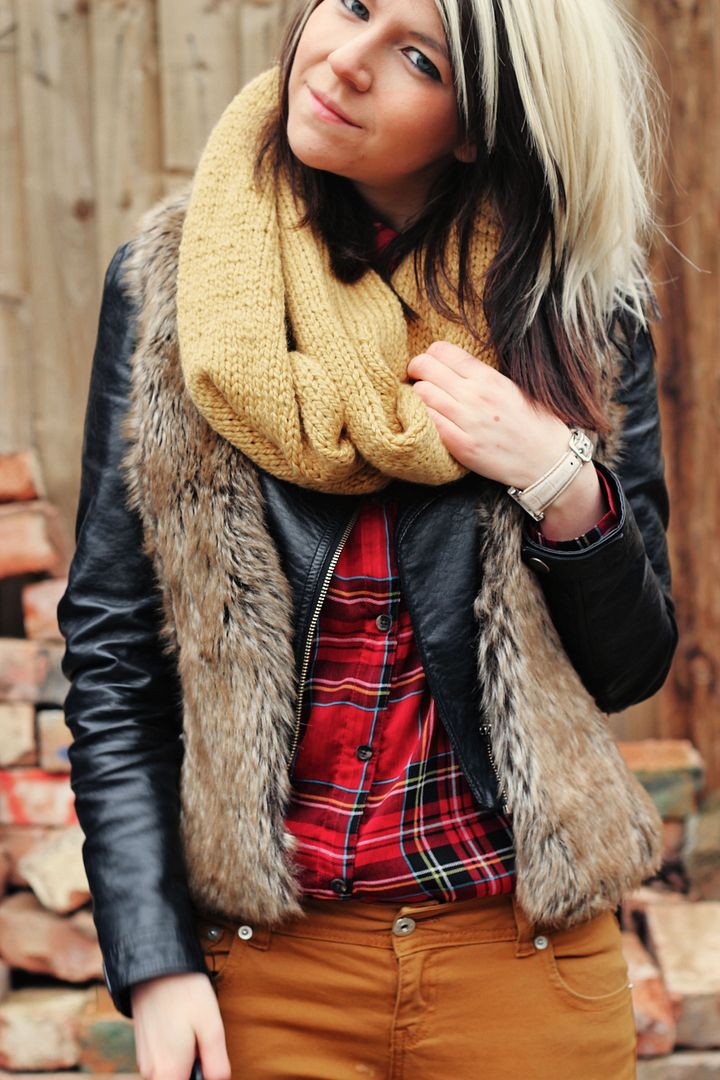 Anyway, I'd better get to bed! I have a crazy day tomorrow- early morning library sesh, a meeting, class for 2 hours and then I'm on the next train back home to go see my absolute favourite band Brand New (for the fifth time!) and then I'm on the 6.30am train back to Birmingham for a presentation in my 9am class! Crazy!
Oh and PS. I'm guest posting over at Siel's blog today. Not a fashion post but my absolute favourite dinner recipe- veggie tagine.
Have an awesome day guys!
Charlotte x