A Trip To Boston
A quote I loved on the wall of my hostel
The Journey
Everything was going well. My alarm had woken me up at 4.15am, and thankfully I'd been excited enough to avoid pushing snooze. I got myself ready and packed, and headed out to the bus stop at 5.30am. Seaside Heights, where I live, can be a bit of a scary place at times, and no more so than at 5.30 in the morning, where everyone who crosses the street looks like they might stab you. At 5.45am, I expected the bus. By 5.55am, I started to panic. I had to be in New York in time to get to my 8.10am megabus to Boston, and the bus to New York was due to arrive at 7.40am. With the first bus running late, and a few blocks across the city to walk, I could easily miss the bus. At 6am the bus arrived, and I prayed I'd make it in time. The New York skyline came into view at 7.30am, and pulling into Port Authority at 7.50am gave me just enough time to get to my stop. Thankfully, the bus stop was at the end of New York that I know, right where I stayed with my parents last year. After a bit of confusion over cross streets, I found the bus stop, and I was on board to Boston.
When I got onto the bus I relaxed. Everything was going well, everything was on time. I spent most of the trip in and out of sleep, cursing myself a little bit for not bringing much to entertain me for the four hour journey. I was half-napping when we stopped at a rest stop, three hours into the journey. As people started to clamber off the bus, I decided a stretch of the legs wouldn't be a bad idea. I contemplated bringing my bag, but it was a chunky, heavy carry on, so I decided for the few minutes I was off the bus it would be fine. I followed my fellow bus travelers to the rest stop, went to the bathroom, and headed back out into the car park. The bus was gone. I hadn't been longer than three or four minutes, but the bus was nowhere to be seen. I ran around to the other side of the rest stop. Nothing. I'd been left. Had the lady next to me not noticed that I hadn't returned to my seat before the bus set off? Had the bus driver not done a head count? Was an empty seat not obvious on a once-full bus? My head whirred with questions, the most important being, how am I going to get to Boston?
My stomach churned as I ran back inside the rest stop, telling the first person I saw what had happened. The attendant led me to a phone, but I blurted out in panic that I didn't have the number for the bus. I didn't have anything. My bag was still on the bus. All I had to my name was a cardigan. A truck driver who had been making a mandatory rest overheard my story, and set about looking for a number I could call on his phone. After about 10 minutes, he found a number for megabus. After what felt like a decade of phone options, we finally got an operator. On telling her what had happened, her response was simple "oh." She passed me on to customer services. After 20 minutes on hold, the hope of the bus turning around and coming back for me began to fade. It had been over half an hour. If he was to turn back now the bus would be an hour late into Boston. I sat on the phone crying , I'd never felt so desperate. A middle-aged couple came over to ask me what was wrong, and when I told them my problem, they said they could have taken me, but they had a dresses in their back seat. I assured them I would be okay, and waited on the phone.
When I finally spoke to somebody, she told me the next bus would be coming by at 1.30pm, and the driver would know to come and get me. I felt better. I just had to wait.
About an hour later, a gentleman walked up to me as I was staring into the distance praying for a bus, and told me he was a relation of the couple who I had spoken to earlier, and he had come to pick me up. I thanked him profusely, but told him I'd been assured I'd be on the next bus. 1.30pm came along and still no bus. Twin, the truck driver, was still around and letting me use his phone, so I called to ask about the situation. I was told 2.30pm. I spent the rest of the afternoon sitting and talking to Twin, and calling megabus every half an hour or so. We talked about our lives and our experiences, and he made me feel much less alone and much less scared. He helped me get through and helped me believe I would be okay. When 2.30pm came around and I was told 3.30pm, I broke down. My trip was ruined. By the time I got to Boston everything would be starting to close. I'd wasted my time and my money, I had none of my things, and I was stuck in the middle of nowhere in Connecticut. I was scared and I was sad and I lost. I cried and cried and cried, but I knew it was no use. But I had Twin, and he was going to look after me. I asked him to buy me an ice cream from one of the vending machines inside (he'd offered to get me anything I wanted), and after a few rejected dollars, we got one. As hopeless as the situation felt, sitting there with a new friend and an ice cream made everything feel a lot better. When there was still no sign of the bus at 4pm, I called again. This time, there were people in the rest stop, and they overheard my conversation. I was told a bus had just gone past my area already. It had not stopped for me. As I came off the phone, a couple explained they had heard my conversation, and told me they were going to Boston and could give me a ride. That couple saved me.
After a final call to Megabus to confirm that my bag was in Boston, I said goodbye to Twin, taking his address to send him a thank you letter, and $20 that he insisted I take in case I couldn't get my bag. I promised to write and send him English chocolate when I got home, as a thanks for looking after me and keeping me sane. Martin and Nancy understood my hesitation- I was a 22 year old girl, on my own, lost with no money, phone, ID or anything, but assured me they were good people and I could trust them, and told me they had their son with them too. I decided murderers probably don't bring their kids along.
And that was how I got to Boston. Martin let me sit in the front and Nancy and I chatted on the way there. They gave me two little cans of soda and a bagel and drove me all the way to the station. They even waited in the car for me while I went to get my bag. There are a lot of bad things in the world, and a lot of bad people, but there is a lot of good in the world too. I would never have made it to Boston without the kindness of strangers. And I can never thank them enough.
Day One (what was left of it!)
I called my frantic parents when I left the station (they knew something was wrong when I hadn't replied to their texts!), and found my way across town to my hostel. With the sun beginning to set, the city was bathed in golden hour light, and the sadness I had felt over arriving seven hours late was replaced by an overwhelming happiness and relief at just being there. I had finally, finally made it. And the city was even more beautiful than I had expected. I found my way to my hostel, which was gorgeous and modern and full of young people, checked in, and set off into the city. My goal was to walk around, find my way around and to try some of Boston's famous seafood. Consulting my Boston travel guide at times along the way, I walked and walked across the city. For the first half an hour or so, I didn't care when I was going. I was just soaking up the city, the moment and the relief. I walked down to the harbour taking photographs along the way.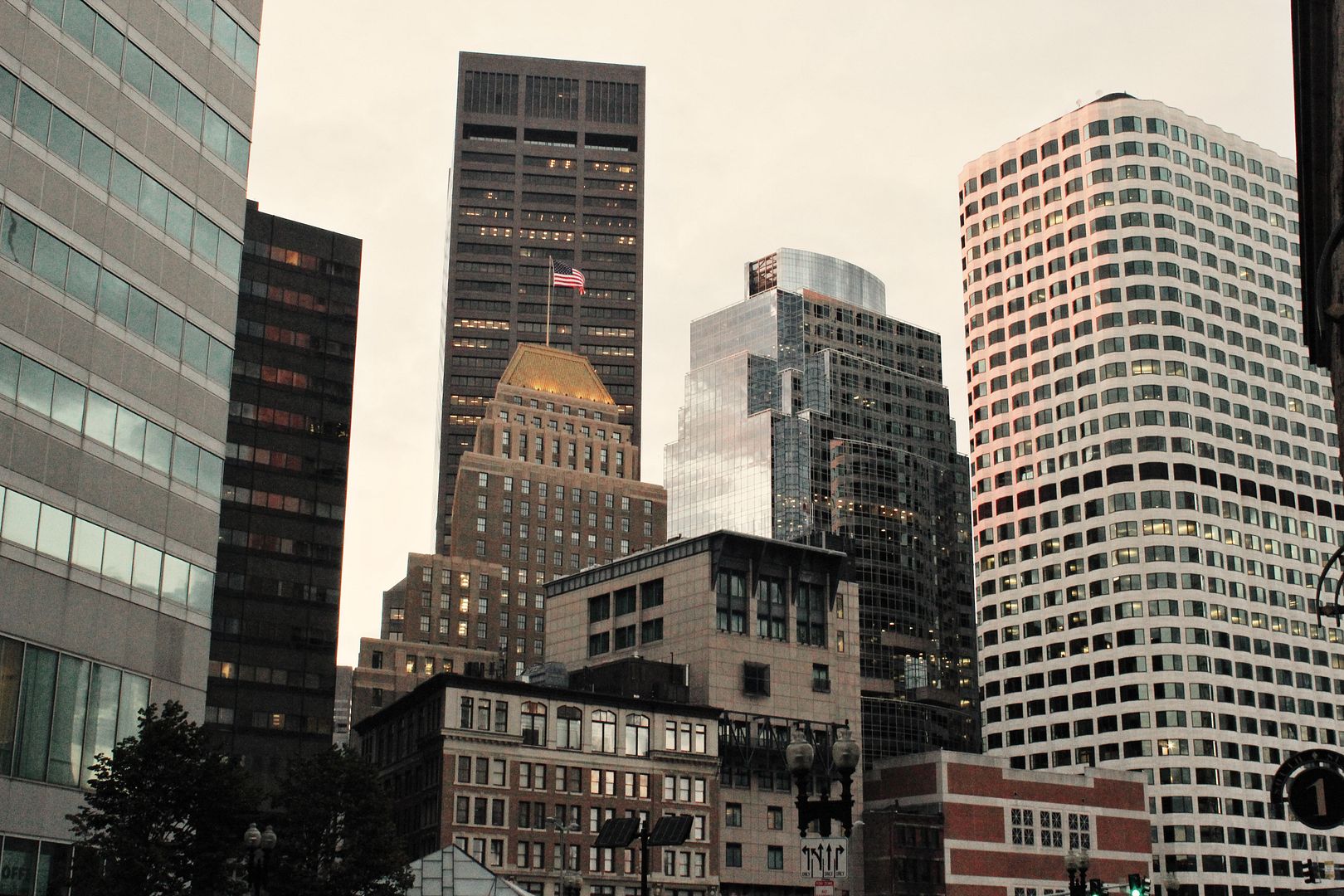 Finally, I decided to chose somewhere to eat. My travel guide told me Legal Seafoods was the place to go, so there I went. When I arrived it was busy outside, and I panicked that I would not get a seat. I knew this was where I wanted my meal. Thankfully, I was informed they had full service at the bar, so I was able to sit and eat my dinner there, without the awkwardness of a table for one. Straight away I decided two things; I needed a glass of wine, and I didn't care how much this meal cost ($31, if you're interested). It was the first time all day that I could sit, relax and live in the moment. I ordered a glass of white Zinfandel (my favourite wine), and just sat there for a minute, soaking up the moment. I was here, in Boston, with a glass of my favourite wine, alone and independent, in a beautiful restaurant overlooking the harbour, and I'd made it. Just. After a quick glance at the menu, I knew what I wanted; their famous clam chowder (my book declared it one of the best in Boston), and a second appetizer of their also apparently famous crabcakes. The bartender, within minutes, served me a hot, delicious bowl of clam chowder. I was creamy and thick and gorgeous. Just what I needed. My crab cake too, was equally delicious, with a slightly mustardy sauce. After collecting my clean plate, the bartender exclaimed that he didn't think he needed to ask if I had enjoyed it.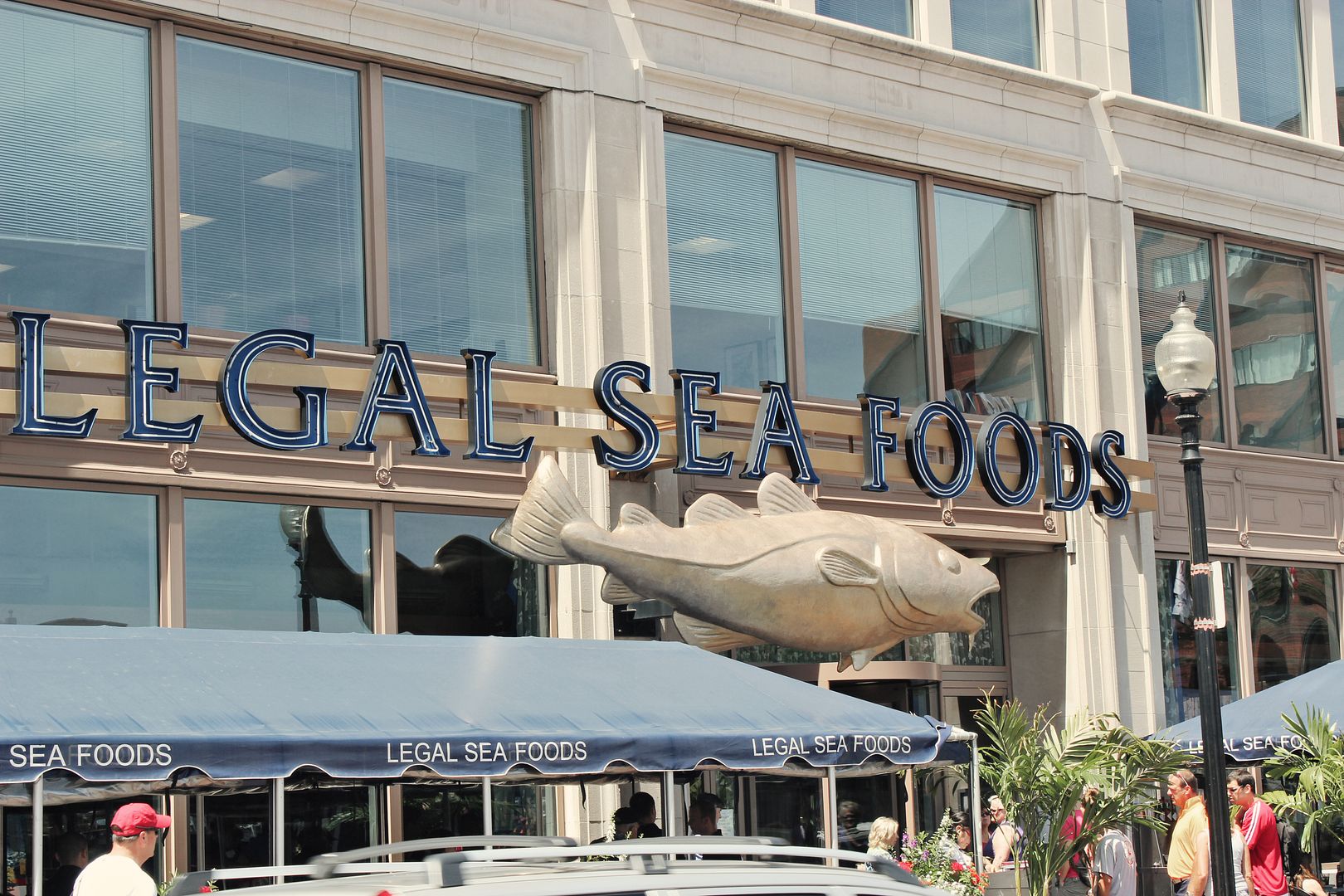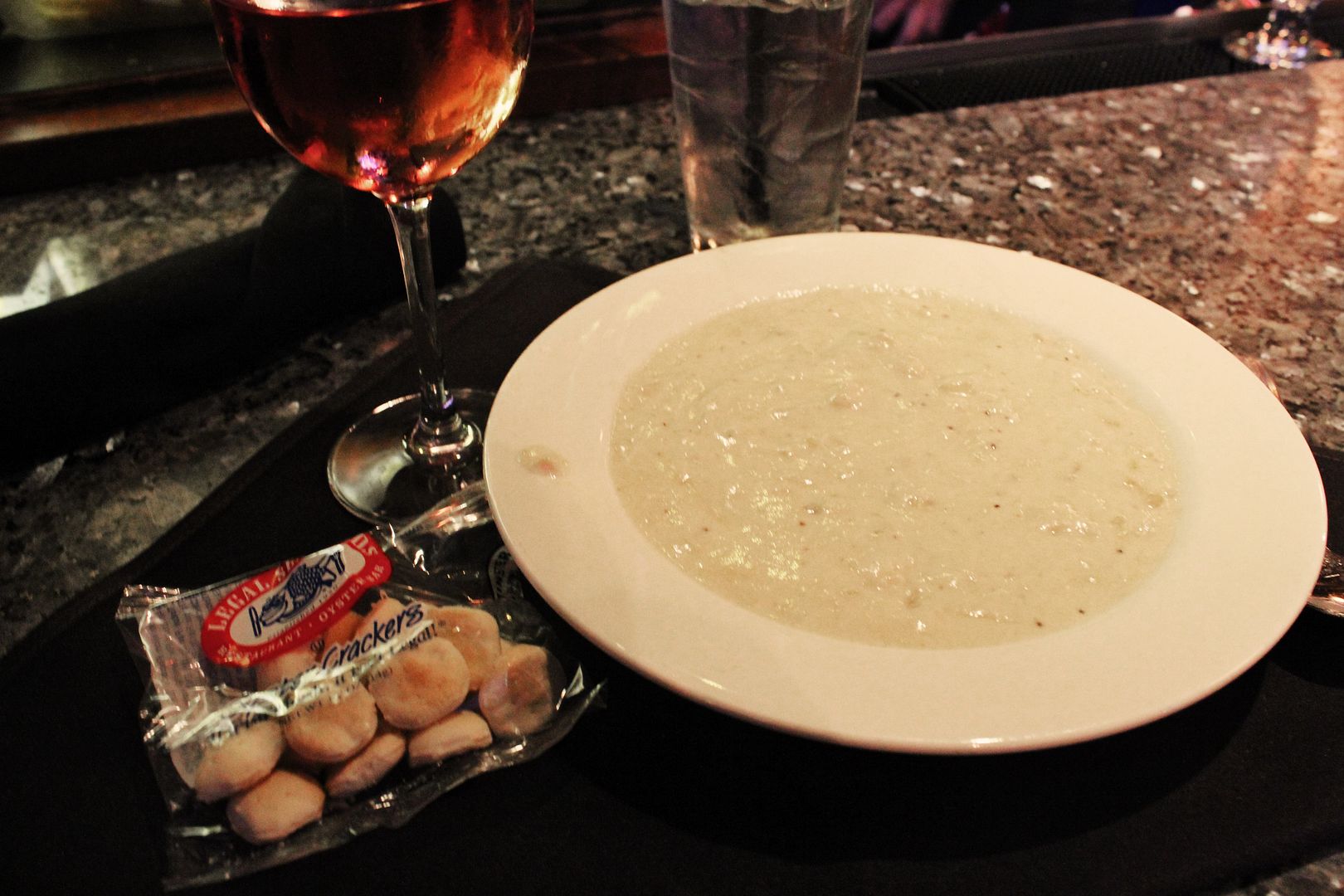 Instead of paying the bill and rushing off, I savoured every drop of my wine and the atmosphere. I chatted to the bartenders, who were absolutely lovely, and just enjoyed being in Boston. I know this sounds like a cliche, but my trip was full of these moment. Moments of pure unadultered joy. And they made everything worth the wait.
When I'd finally finished my wine and knew a second glass would put me to sleep, I set out walking home. I'd seen an ice cream place on the way from my hostel and decided that a walk through the city with an ice cream would be perfect. However, the second I hit the cool evening air, I felt fit to drop. The long, exhausting day I had had finally hit me, so I jumped in a cab and was asleep before 10. I didn't even meet the people I was sharing my dorm with! My bed was comfier than my bed in Seaside, so I slept like a baby, and didn't even care when my dorm mates came in making noise. My only mild panic was going to the bathroom for the night, as my bed was the top bunk and I'd never slept in a bunk bed before! One thing off the bucket list though right? Despite the things I was unable to do, I had a clear plan for the next day, and the first thing I needed to do was get up early.
Day Two
I woke up at 7, and got ready in the dark as no-one else in my room was awake. I headed down for breakfast, and after seeing the array of spreads, made my first ever PB&J. Wow, now I know what the big deal is! After a good breakfast, I set off to follow my plan. First was a walk through Boston's public gardens (and a stop-off at Starbucks along the way). This was another beautiful moment. Okay, I had a huge bulky travel bag with me, but walking through the gardens at 8am with an ice cold frappucino was just heavenly.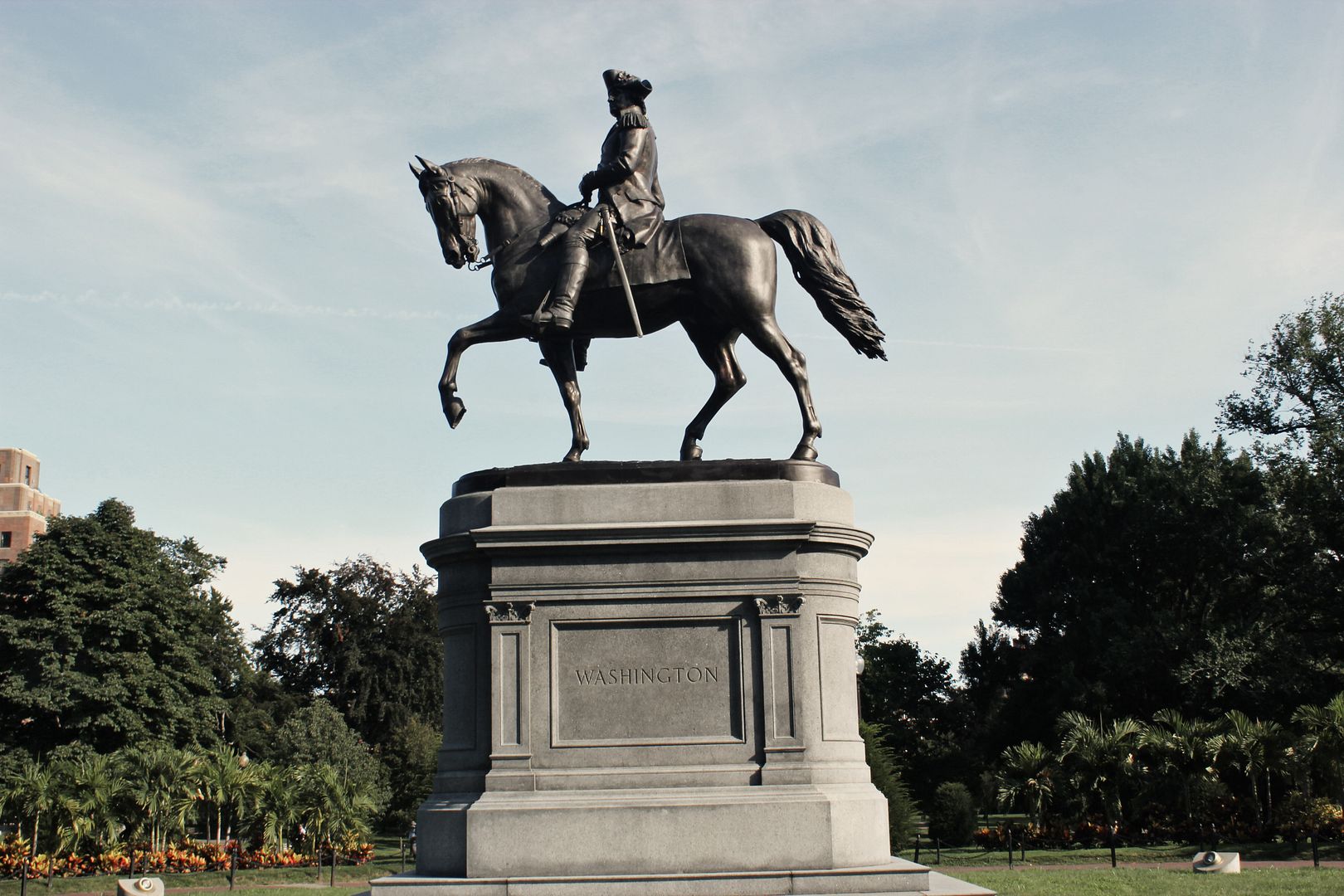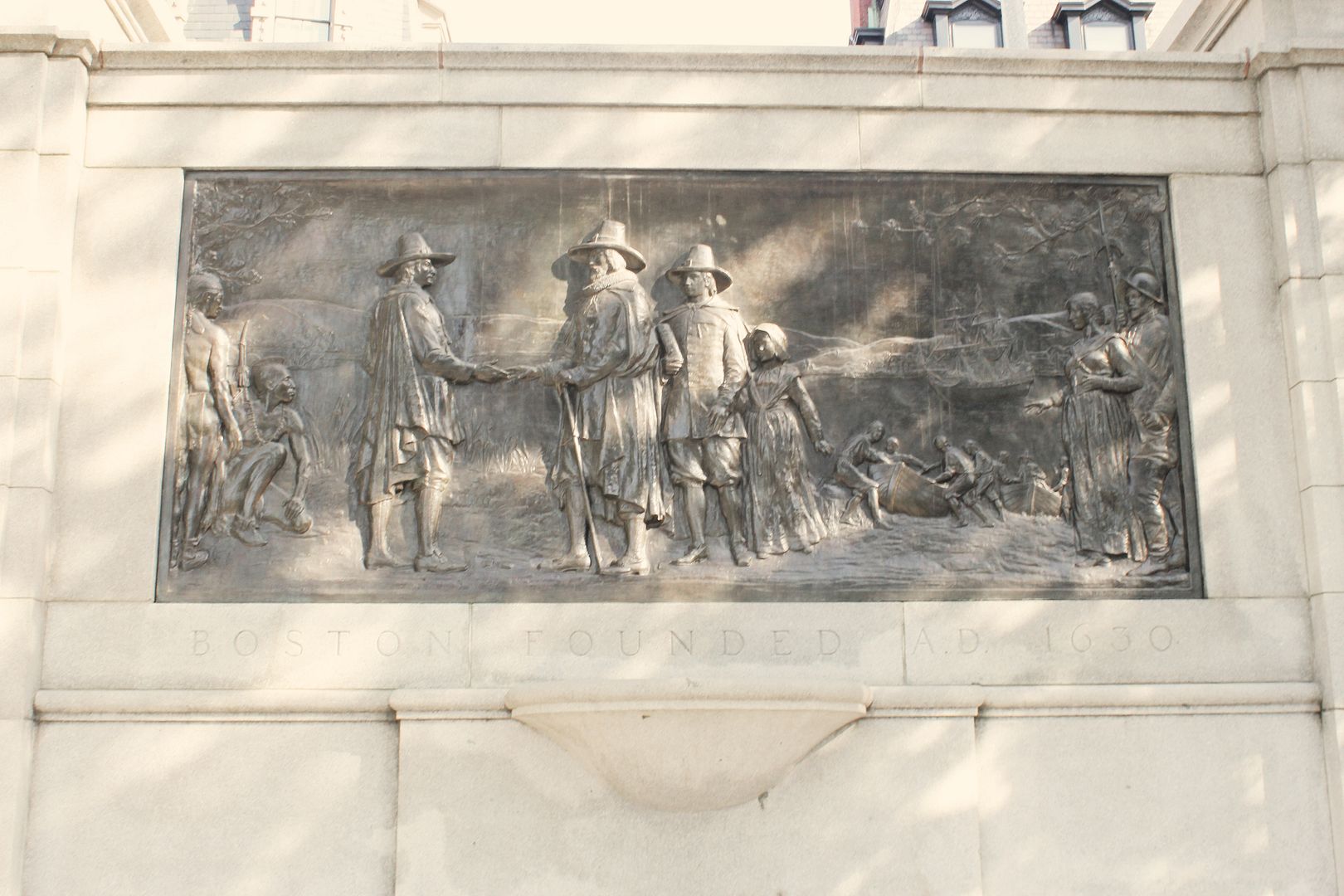 I took some photographs (although at 8am, the lighting was awful!) and headed towards Boston Common, where I wanted to take the Freedom Trail. Upon arriving there I met a fantastically dressed young man, who told me he was doing a tour of the trail at 10am. Worried about getting my bus, I sadly explained that I didn't have time, and asked him where to start the trail. I love guided tours, so I was disappointed to miss out on the option, but then I overheard there would be a 9.30am tour and it would only take an hour and a half. Perfect! I'd allowed 3 hours for the freedom trail (a huge over-exaggeration, it seemed afterwards!), between 9 and 12, so arriving at 11 would be perfect. I killed some time for 30 minutes, bought postcards for my parents, Martin and Nancy, and Twin, and chatted with an English lady about how American money all looks the same.
I absolutely loved the freedom trail tour. Like I said, I love guided tours. I also love history. With a degree in American Studies, it was perfect for me. I absolutely love visiting places that are so historic. It's crazy to think that these things actually happened at the spot where I am standing. I won't go through the whole tour with you (because you should do it yourself one day!), but I will show you some of the sights.
The church that the Puritan religion developed into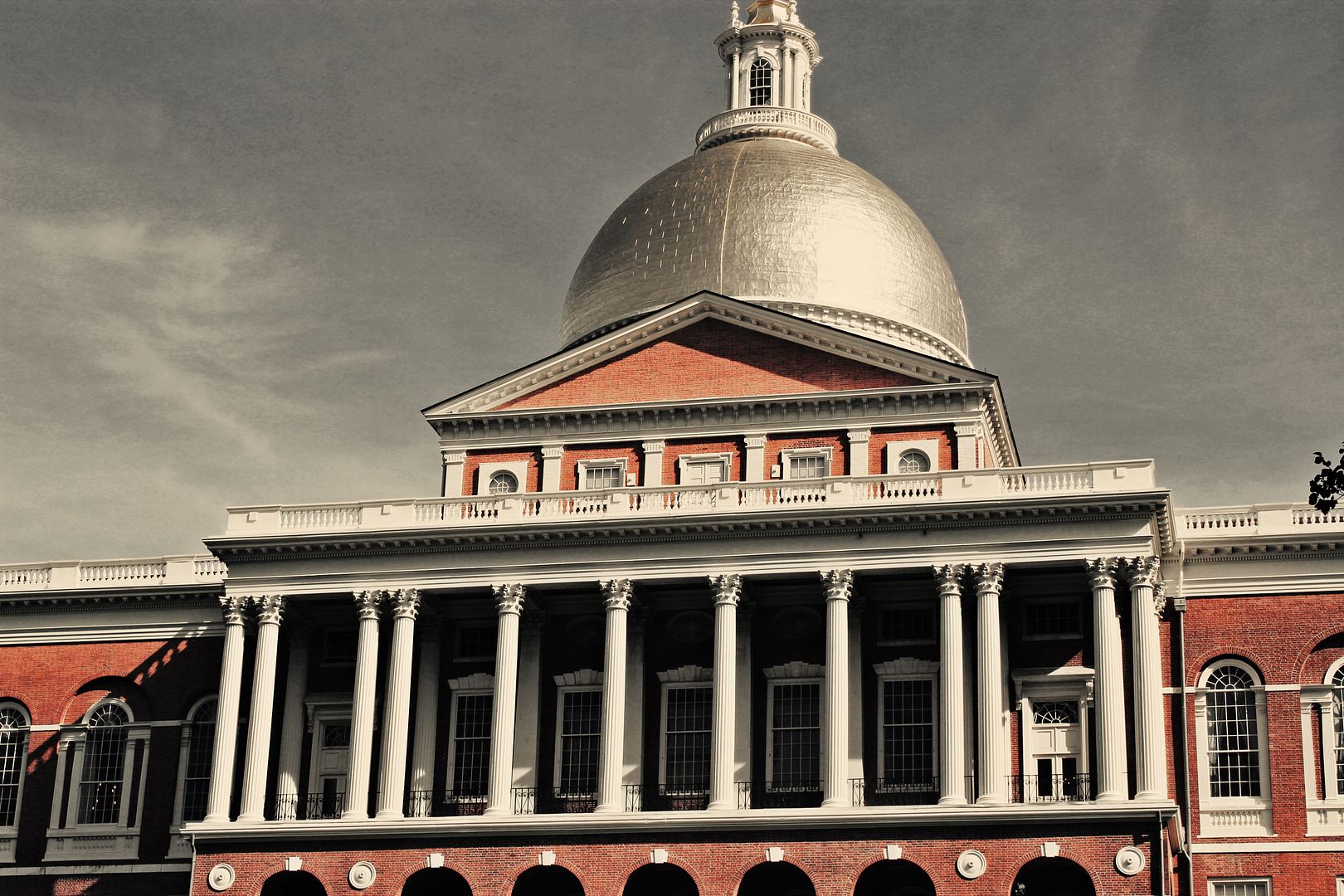 The old
-new state capital. The roof is actually gilded gold.
The grave of John Hancock
Our tour guide
A statue of Benjamin Franklin outside the first Latin school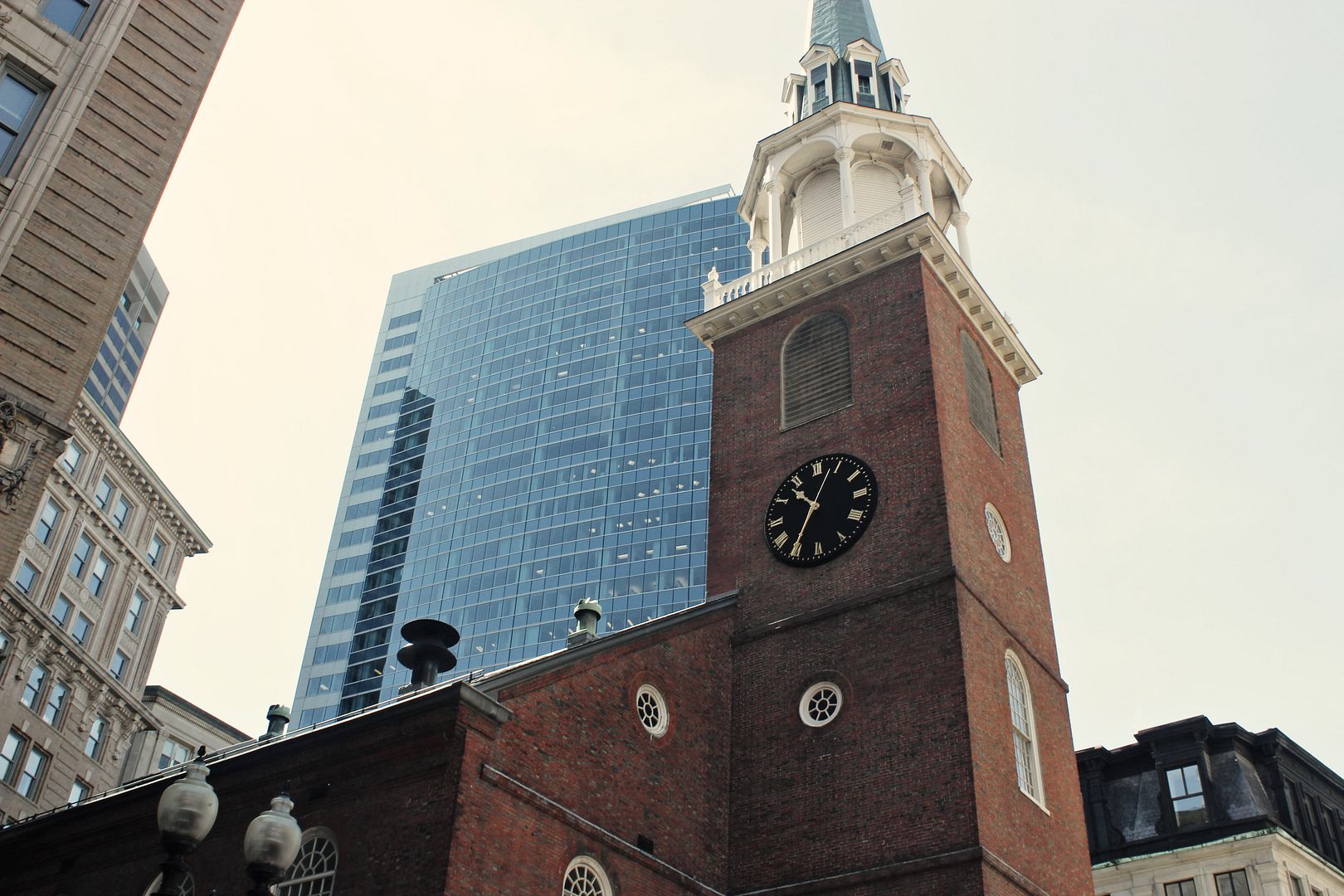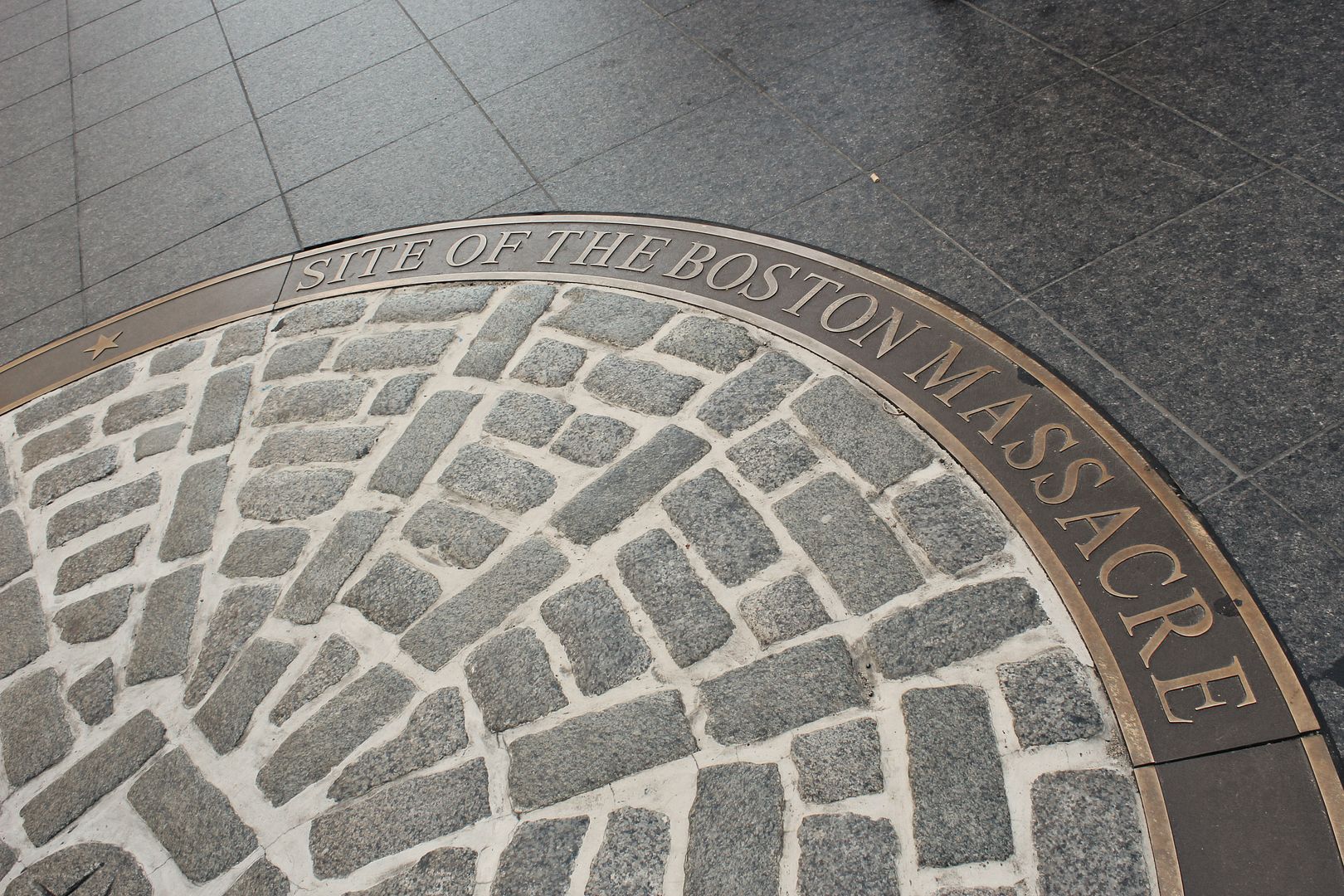 The site of the Boston Massacre
After the tour, I had three hours until my bus. I walked around Fenuil Hall, and had planned to get lunch at Quincy Market, but at 11am, it was a little early for lunch! So I walked around North and South Markets, perused Urban Outfitters, before somehow ending up in Victoria's Secret! I've been wearing the wrong size bra for a while, but haven't had a chance to buy a new one, and I figured VS would be a good investment. I got myself remeasured (yep, I was wearing a cup size too big!), chose a few bras and before I knew it I'd spent $100! However, straight away I found a bathroom and changed my bra and oh my god, I felt so much better. It fitted perfectly! Around 11.30am, I decided I should probably start looking around Quincy Market for somewhere to eat. I regret not getting a picture of it, but it's a huge, huge indoor food court with I think over 50 different stalls. Pizza, salads, seafood, Indian food, Chinese, sushi, noodles... so much to chose from! As much as I wanted curry (I miss Indian food so much!), I knew it had to get seafood again, and settled for a bread bowl of Seafood Gumbo. My camera was refusing to auto focus at this point, so the picture isn't great, but it was completely delicious and I love being able to eat my bowl!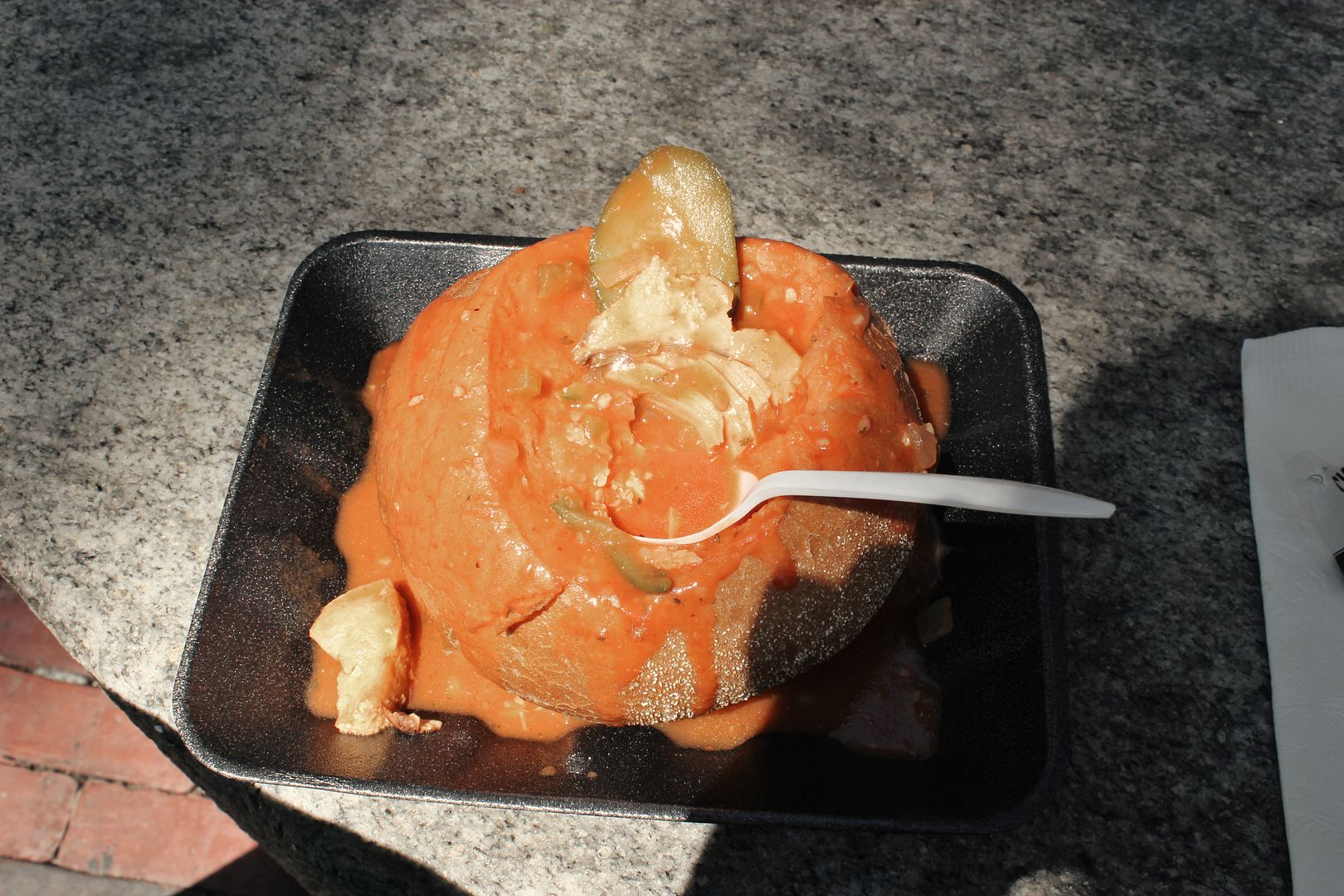 With two hours until my bus, I decided I should probably start heading back, albeit slowly. I walked along the harbour and realised I was close to the ice cream shop I had seen the day before. It had a sign declaring it The Best Ice Cream in Boston, and I was determined to see if this was true. I stared at the menu for a good five minutes, before deciding on Caramel Moose Prints- caramel ice cream with peanut butter cups. I found a bench and sat, looking out into the ocean, eating my ice cream. Another perfect moment. I know this sounds incredibly cheesy, but when you take a trip on your own, these moments are beautiful. They are the moments when you just feel completely at peace with yourself and your surroundings.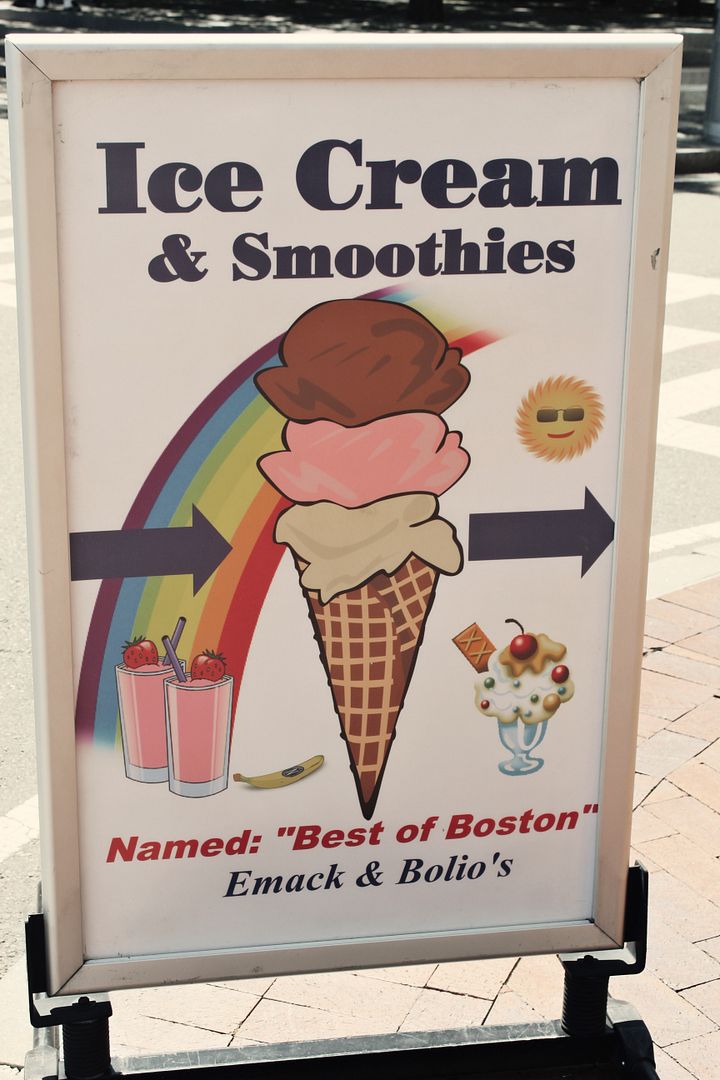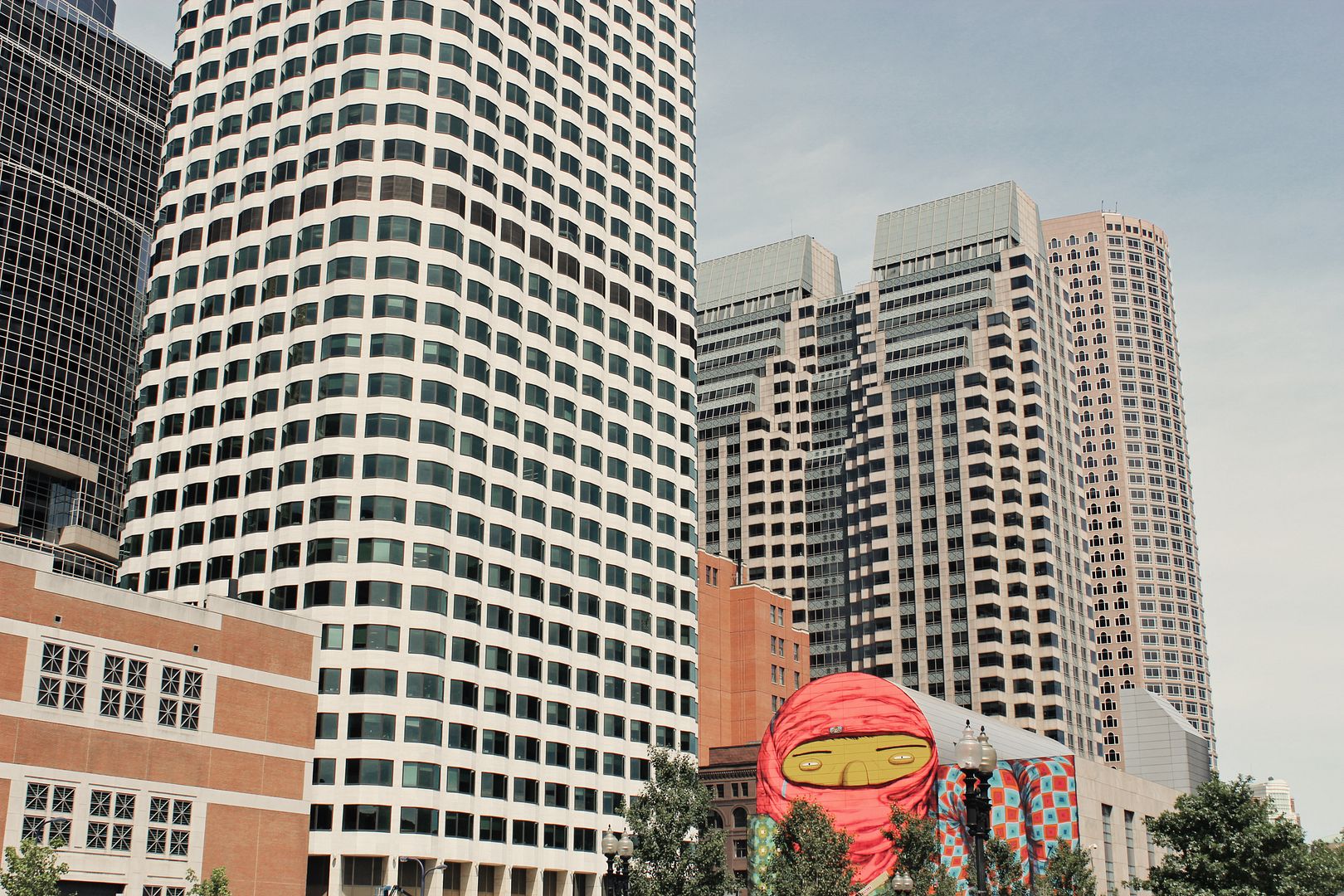 I slowly walked back through the city, feeling comfortable in my journey as it was the walk I had done the night before, and an hour before my bus, I arrived at the station. I was determined to have no more bus problems! The journey back to New York was long and boring, but thankfully, with no rest stops! The one, final stress of my journey, was that the New York traffic cause us to arrive in New York almost 45 minutes late. At 9th and 28th street, I needed to be at Port Authority on 42nd street in 10 minutes. I ran. I was that crazy person running through New York streets, dodging people and cars and small children. I arrived, red and flustered at Port Authority, but without a ticket. Arriving at the ticket booth, I knew I would never make it if I waited in line. I pleaded with the lady in front to let me go ahead, and then the lady in front of her let me go in front too. After some desperate explaining to the ticket man about where I wanted to go, I was running to the platform. I sat down on the bus three minutes before it left. At 9pm, where I arrived back in Seaside, I had never been so happy to be home. My trip had been an unforgettable whirlwind and I'd had an amazing time, but I was glad to be home. My housemates hugged me when I arrived and told me they were so glad I was home (I had called Bri while having dinner so they knew what had happened!), and asked me to tell them everything. Boston is a beautiful city, and I had an amazing time, and I have my faith restored in humanity after the help from the wonderful people, without whom these experiences would never have happened.