shop 'til you drop
Well my trip shopping in Manchester with my mum yesterday was hugely successful. I got lots of things I needed (substitute wanted..) and a few a didn't realize I needed until I saw them staring back at me (the gorgeous lace flats were definitely an example of this.) Unfortunately very little of what I bought was actually in the sales. Truth be told, I hate sale shopping. Even though it was minus several degrees outside in Manchester yesterday, the shops were stickily hot, claustrophobic and exhausting and I found myself bypassing the rail racing and heading for the full-priced stock. Why buy last seasons un-sellable stock when you can have something shiny and new that hasn't been pawed by 300 people's mitts? Don't get me wrong, I am not a sale snob, I'm just not good at it. Everything is so cramped and there's so many people fighting over one rail…this is the reason I can never bring myself to go into TK Maxx.
So we set off into Manchester (despite the heavy snow and slush the morning had brought out) with my sale list in tow- laid out in categories; things I definitely wanted to get, things I would like if they were cheap/in the sale and my list for Boots (there's no cutting corners on toiletries!!).
I think I did pretty well- the only thing I didn't manage to find from my list was a pair of simple black heels (the truth is, I'm just too picky. I didn't want patent, nothing too high, nothing too OTT but not too boring… you can see how difficult it would be to find the perfect pair!!)
First stop was Primark which I have really started to hate over the past few years (the one in Birmingham is a nightmare!!) but it is good for fancy dress and cheap essentials (I do have some great cheap buys from there- my black military coat is amazing!!) so I was pretty chuffed with the stripey long sleeved top for £3.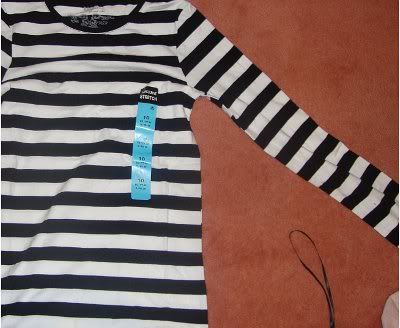 I've wanted a plain black and white striped top for a while now. I bought a gorgeous pair of sequin shorts for my housemate's glam rock themed birthday that I've been desperate to wear again, and I decided they'd be great with a striped top, tights and a black blazer. I also love layering at the moment and I think this would look great layered under a dress until it gets a bit warmer here!!
Next I bought a plain black body suit from River Island. I never thought I'd see the day I started wearing body suits again; I had a serious flashback to childhood today fastening the poppers!! You'd think after 11 years dancing I'd be sick of leotards but I think that's why I still love the look!! I tried it today with a dusty beigey-pink tutu which I also bought yesterday from New Look and adore. I also got a really simply topshop dress (which I already have in floral navy and a bright blue) in a similar colour.I'm in love with all the nude pinks in at the moment- quite a lot of the outfits I made today while playing dress up are dusty pinks put together with leather and studs;I love mixing girly and edgy. I'd really glad to see nudes are in for Spring/Summer 2010.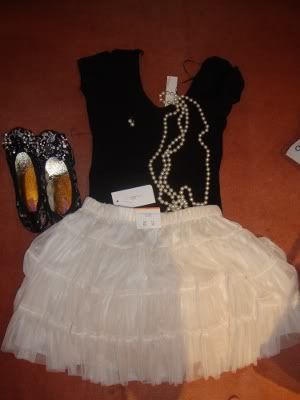 I was also treated to a beautiful pair of black lace-effect pumps from my mum which I think are absolutely amazing. I wouldn't describe myself as a shoe person, but I do own over 50 pairs of shoes. Maybe I am a shoe person…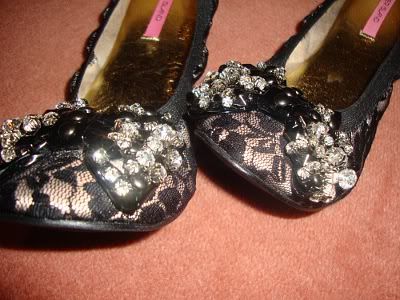 Talking of shoes, I also got a gorgeous new pair of brown leather ankle books from Barratts. My brown boots are lovely and knee high but they were only cheap and now they're falling apart. I love boots and these are such a lovely colour; they'll go with everything.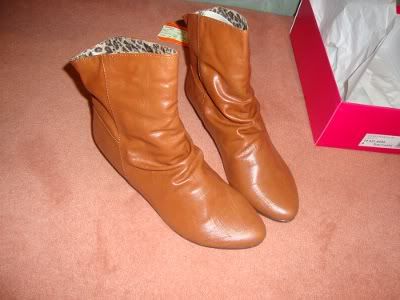 Finally I got a lovely pink and blue scarf. My friend Ellen is the scarf girl; she always has an amazing collection and they always look great. I am a bit of a beginner when it comes to scarves; I can never get that thrown-on, effortless look with scarves. I feel it is a need for more scarves . I love the pattern on this scarf and i love the bright clashing colours.
So that was my shopping trip!!
My next post will be some of the outfits I created with my new things :]]]
Let me know what you think :]]]
Charlotte
xxx