#ldnlunch, birthday parties and the busiest weekend ever!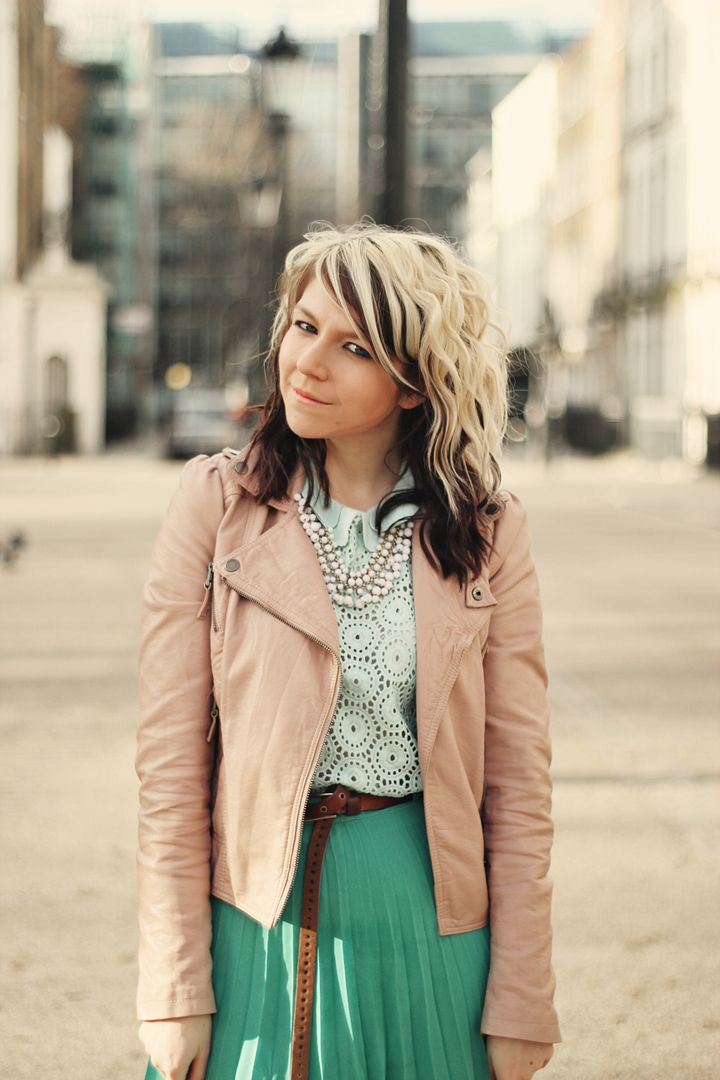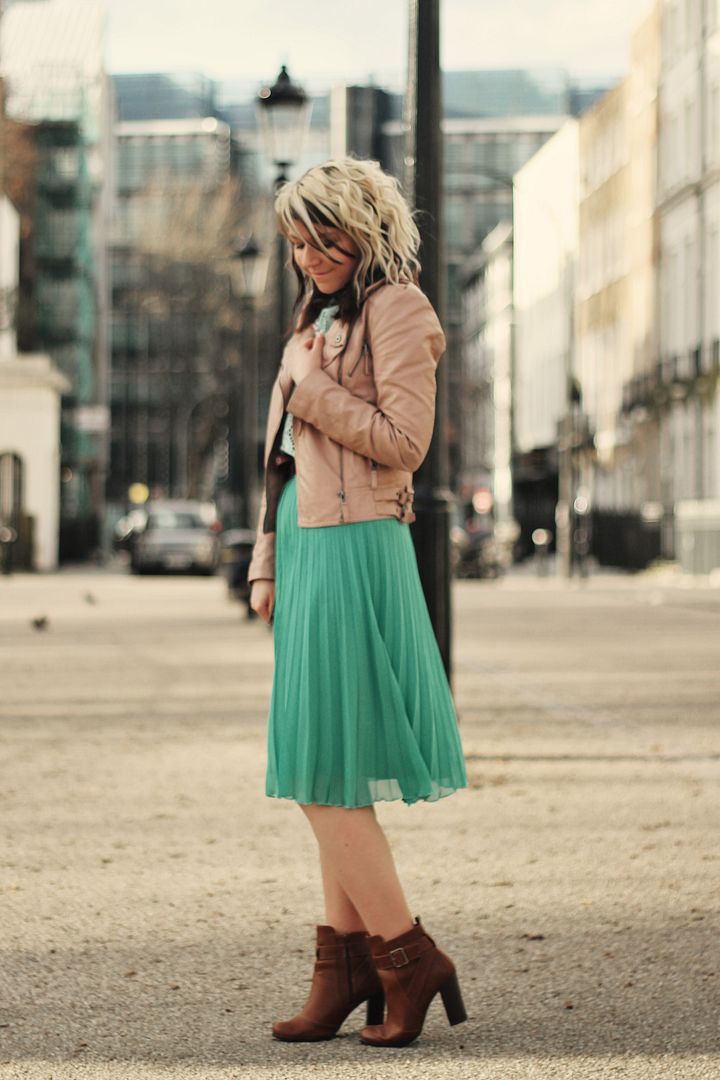 Wow, I'm so so so sorry I've been so rubbish at updating lately. I read Sian's
update post
a few days ago and she took the words right out of my mouth (in the words of Meatloaf!). I hate not getting a chance to blog every day, but I'm trying to be in the library before 10 most days so it's difficult to fit time to take photos in the morning, and then by the time I get home from dancing it's 8pm and dark outside! Anyway, I promise that after the end of term I'll be back to my usual schedule of posting 4-5 times a week. The dance show is next week, then my American Studies dissertation is due in in two and a half weeks and then it's the end of term! I can't believe my final year is almost over! Then I just have my English dissertation, one more essay and one exam until I'm done. My Skype interview about San Francisco is on Wednesday so I'm really excited. Anyway! Back to my weekend and my outfit!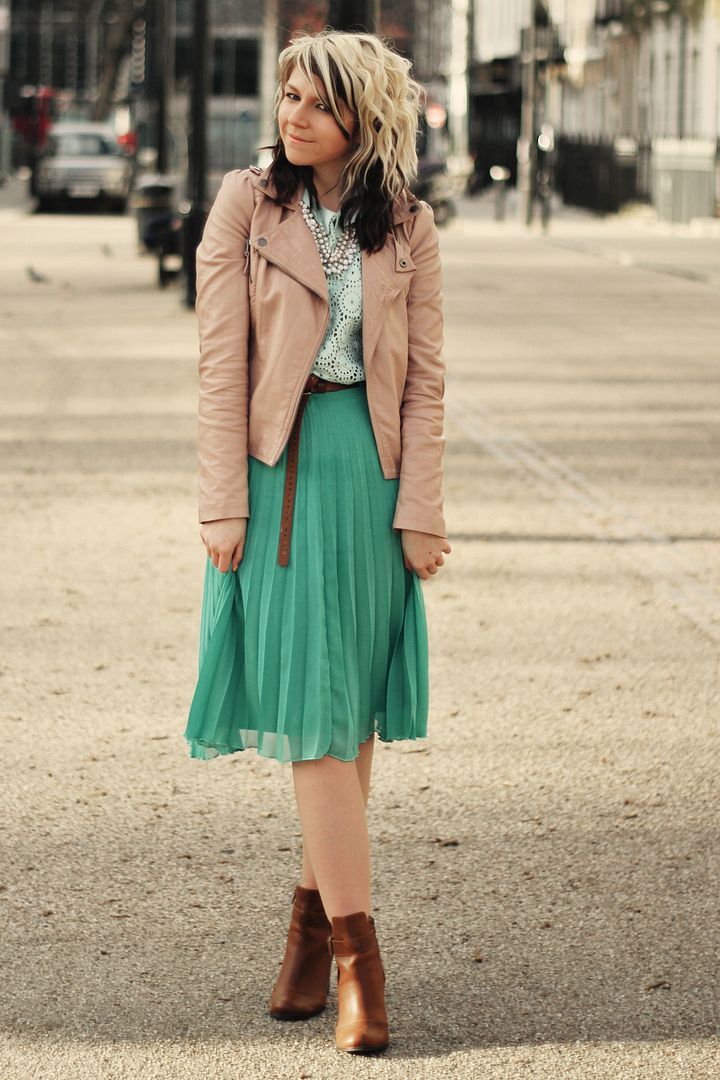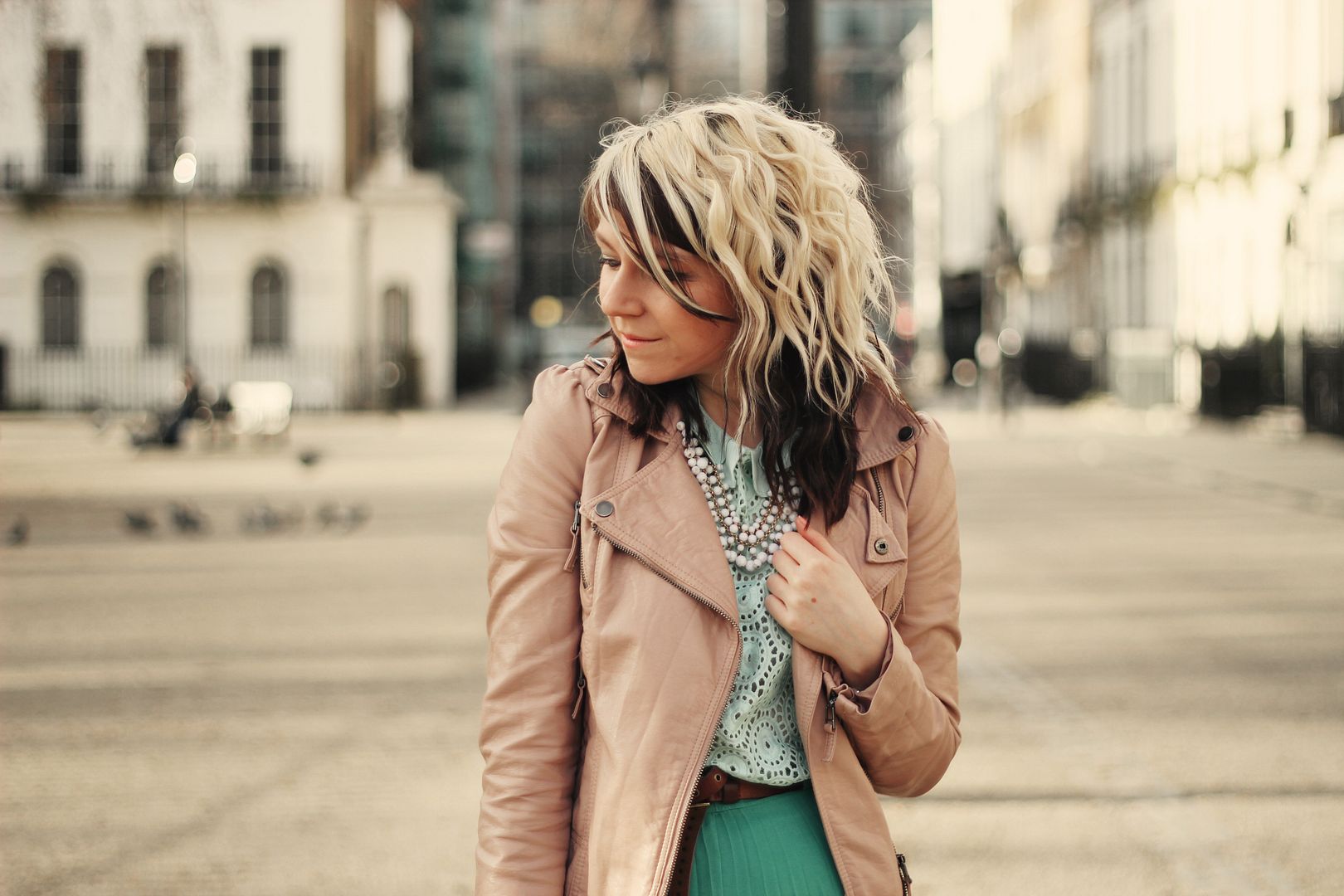 So! Saturday was #ldnlunch so I got up super early to get my train down. I spent an hour curling my hair and it looked amazing (believe me!) but unfortunately for me, it was
chucking
it down in Birmingham and even with an umbrella my curls were ruined. I actually got super-upset about it! I grabbed some hairspray and a comb at the station and tried to salvage them but it didn't really work! So by the time I arrived, as you can see, I was rocking kinda messy waves. The lovely
Kirstin
met me at the station and she is absolutely lovely! We've been talking loads on twitter and on each others' blogs and knew we had a lot in common so it was so lovely to meet her in real life- we get along so well! The day was spent chatting to lots of bloggers and eating yummy food (Kirstin has a few more pictures of the day than me in her
round-up post
) and then Kirstin and I took each others' blog photos (see the ones I took of her on her blog
here
. Her zoom lens is AMAZING and I've asked for one for my birthday!) and then I had to head off for my friend Sarah's birthday back in Brum! I spent the night with my absolute
favourite
people who had come to Birmingham especially for Sarah's birthday and it was so so lovely! However, I had to leave early because I had dance rehersals at 10am Sunday! I danced from 10am and came home at 6pm last night and was so exhausted I could barely string a sentence together! I went to bed at 8.30pm because I have SO much to do this week! Busy busy Charlotte!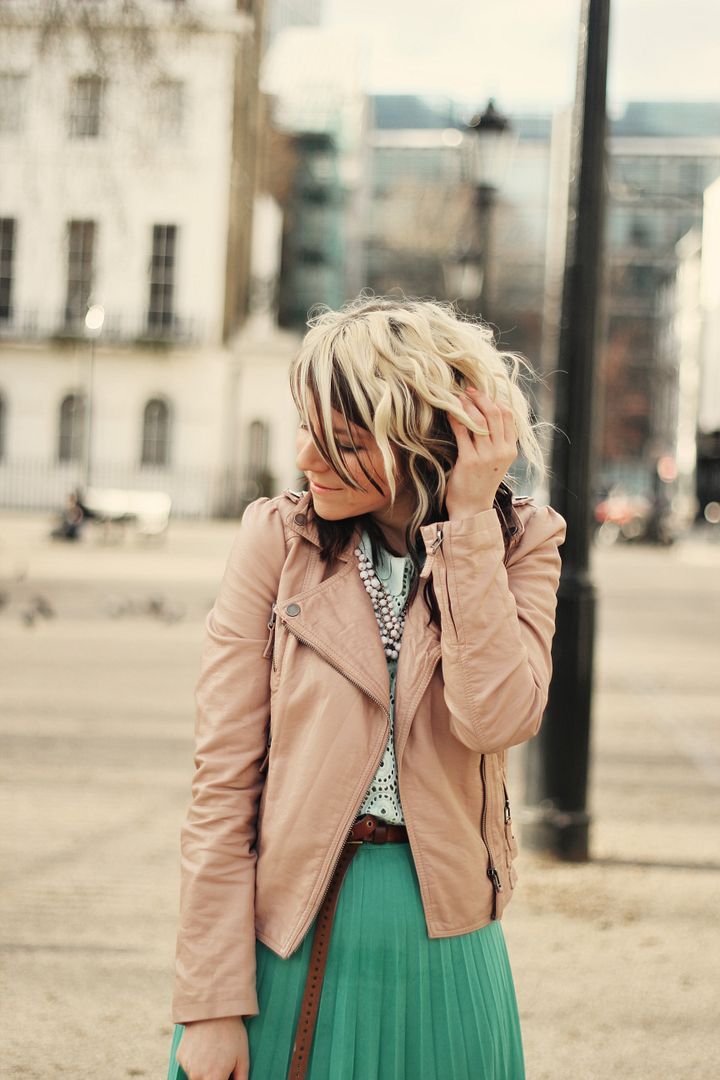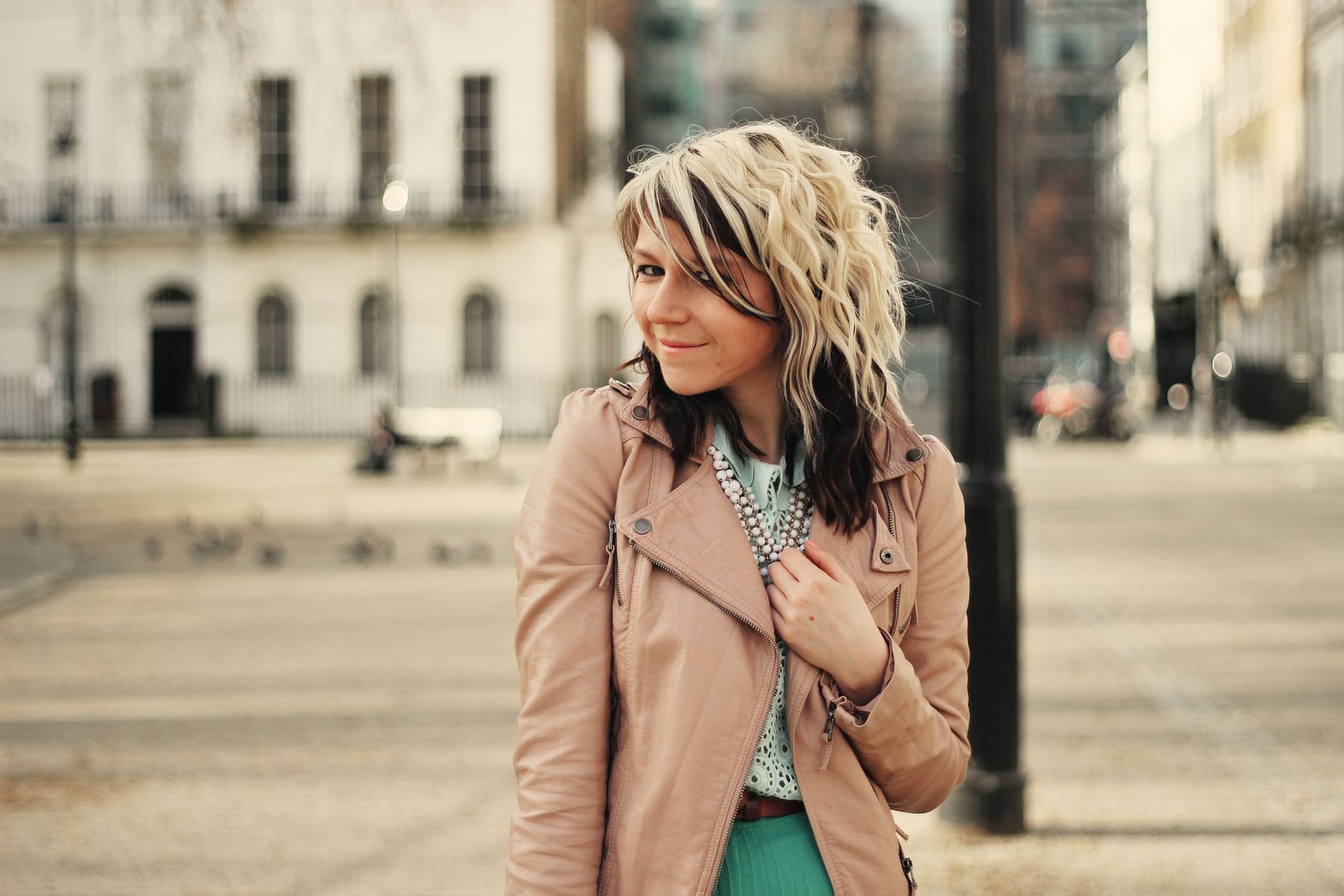 So this was what I wore to #ldnlunch and I'm not gonna lie, I felt amazing. I absolutely love this outfit. I am so obsessed with mint green and nude at the moment, but I don't wanna get too excited about S/S already cause I still have loads winter outfits I haven't worn yet so I stuck to boots instead of my nude heels. I am also, as you might have noticed, obsessed with midi skirts! I just love them! This mint one is from Primark and it turns out my blogging BFF Sian has bought the same one! Great minds think alike, eh? I'm excited to play around with more summery pastel outfits. I think both this skirt and top are going to go with loads!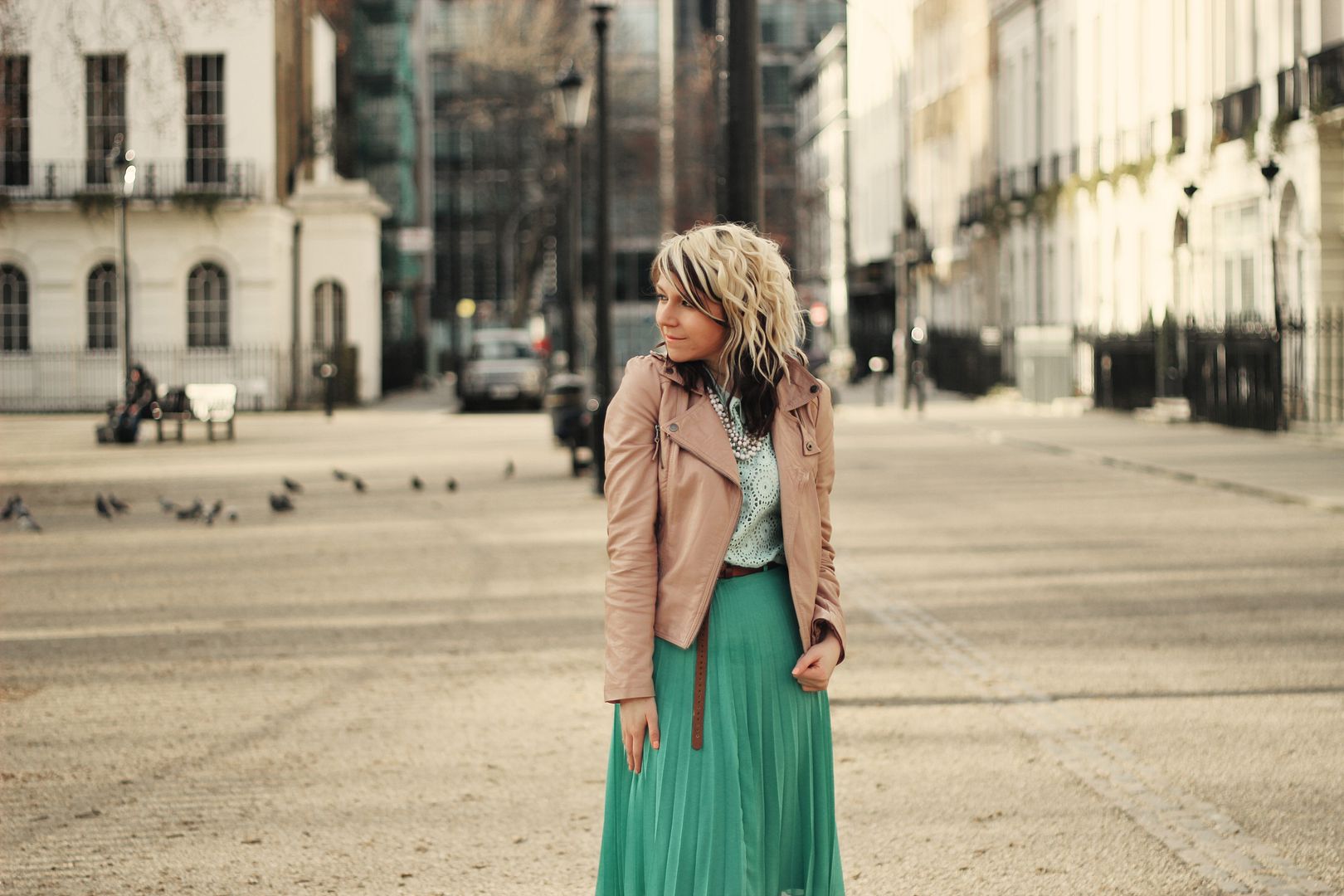 mint green top- ASOS
aqua midi skirt- Primark
nude leather jacket- Miss Selfridge
ankle boots- c/o Clothing at Tesco
necklace- c/o Diamond Petal
I have so much going on this week! Like I said, the dance show is next week so I'm super stressed with practicing and rehearsals! I cannot wait though- the show is always the highlight of my year! Tomorrow I'm going into town to get everything for my costumes (and may end up buying this gorgeous mint green polka dot top that
Sian of Tea-An-Toast
wore to #ldnlunch! £8 from Primark!) and then I'm just gonna be doing uni work all week! I'll let you know how my skype interview goes when I update on Thursday (SO nervous!) and on Saturday I have another date. Exciting!
I hope you're having a lovely day! Oh and if you wanna see me (briefly!) on film, the awesome Leanne Marie made a little intro video for bloggers to introduce their blog. You can
see it here
, and hopefully find lots of new blogs to follow!
I'll be back as soon as possible, and like I've said, regular updates will be back soon!
Charlotte x