Wear Bright Colours and Hope for the Best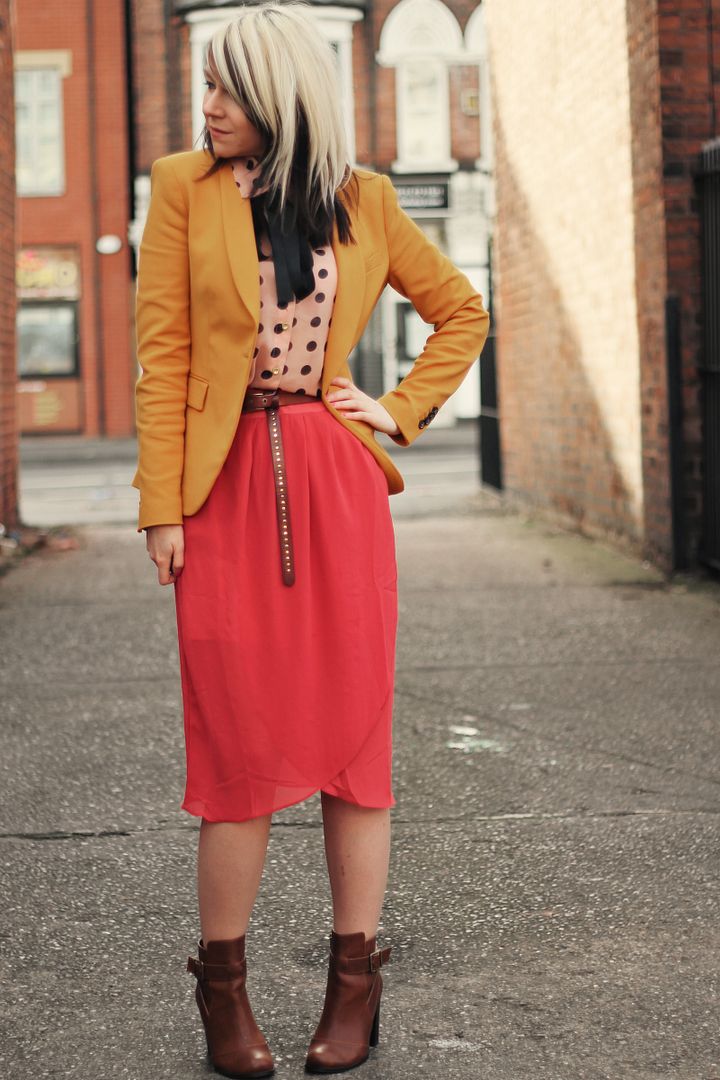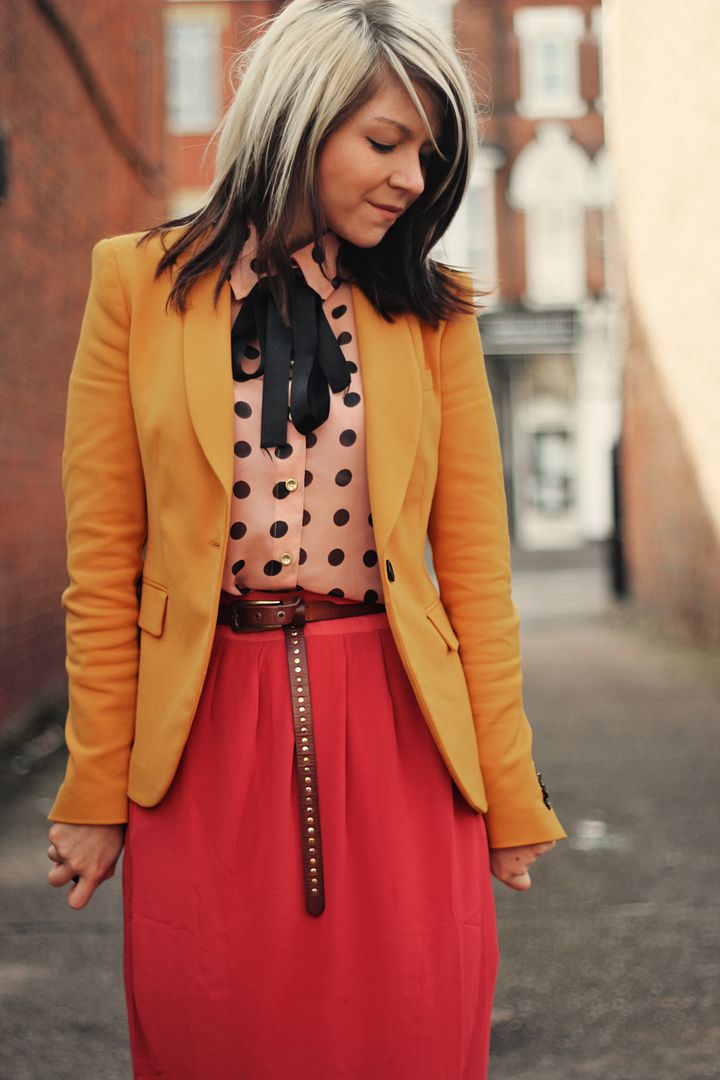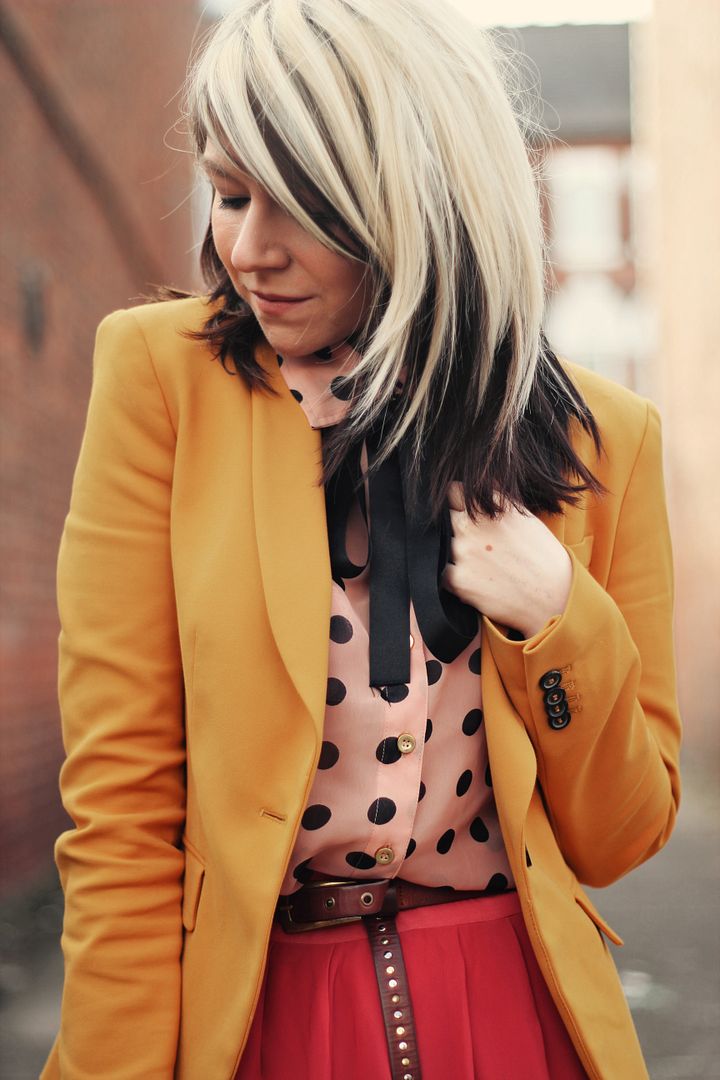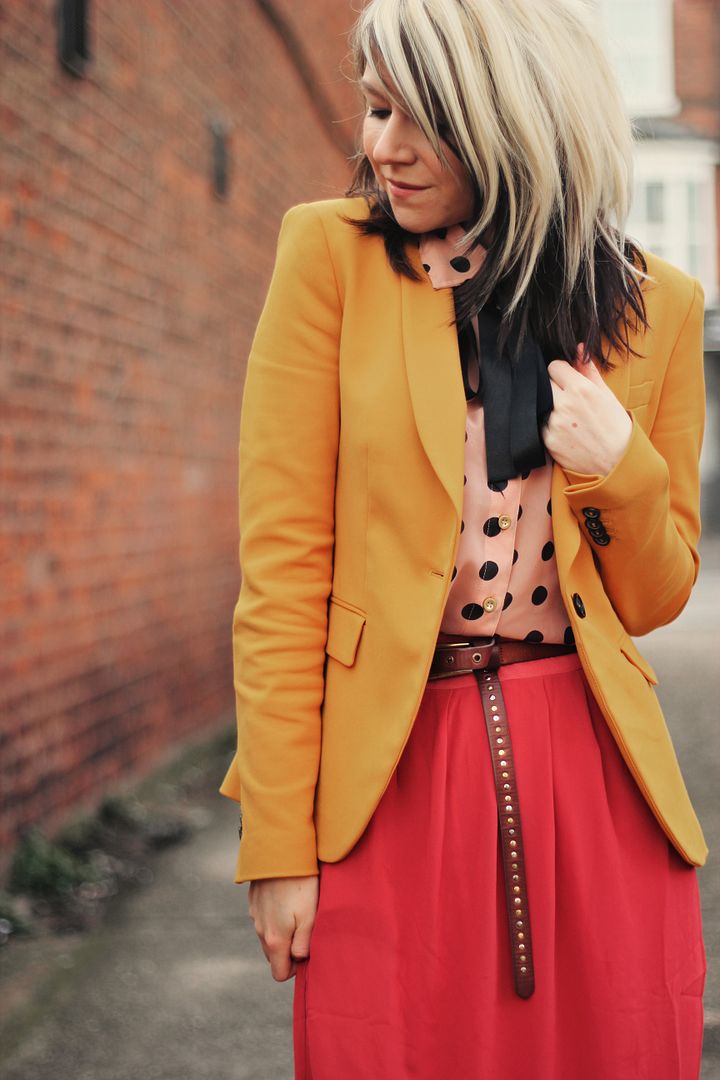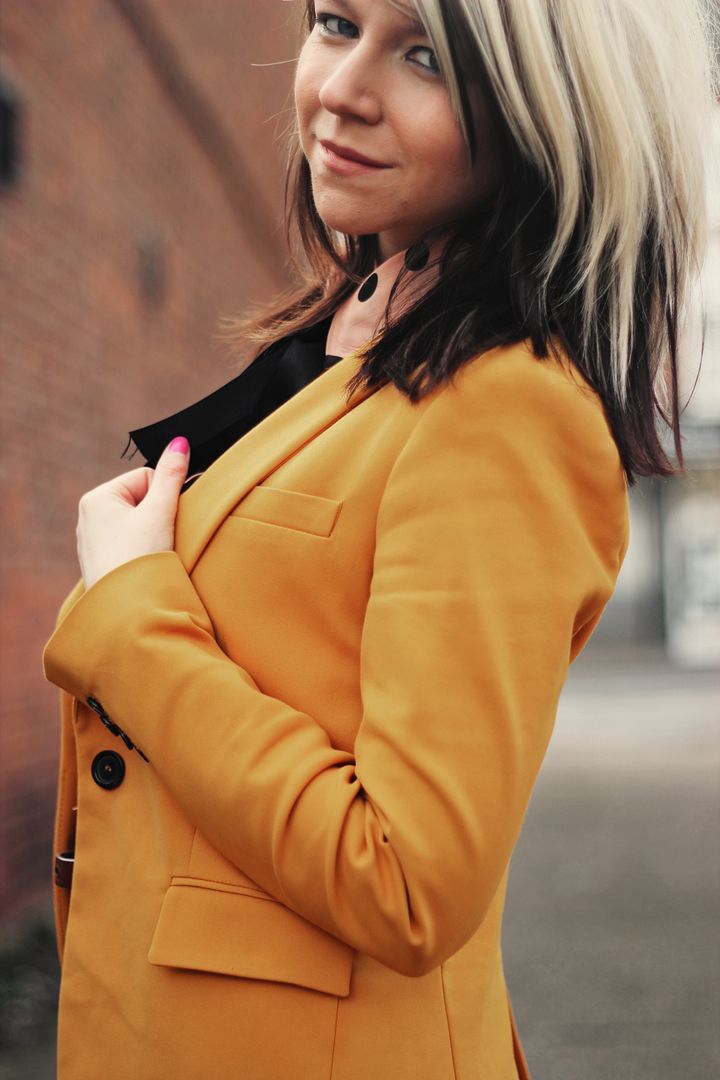 Advice time- don't get biro on your coral coloured skirt. Yeah. That's what I did today. And also, while you're at it, don't rub your skirt a bit too hard when trying to get it off and make it fade a bit where the ink was. I'm a bit gutted but it's not
super
obvious so I'm hoping it's not ruined. No, it's not ruined. I refuse to accept that. I'm just gonna ignore it. Anyway, this was what I wore today. This outfit came to me last night when I was feeling a bit stuck-in-a-rut with my wardrobe. I always try to make an effort to wear this blazer because as I've said before, at £70, it's the most expensive item in my wardrobe that I've purchased myself. I really love the look of it with the coral skirt and I couldn't resist this polka dot blouse. It is the one that
Sian
wore to #ldnlunch but in peach. I did also buy the mint one.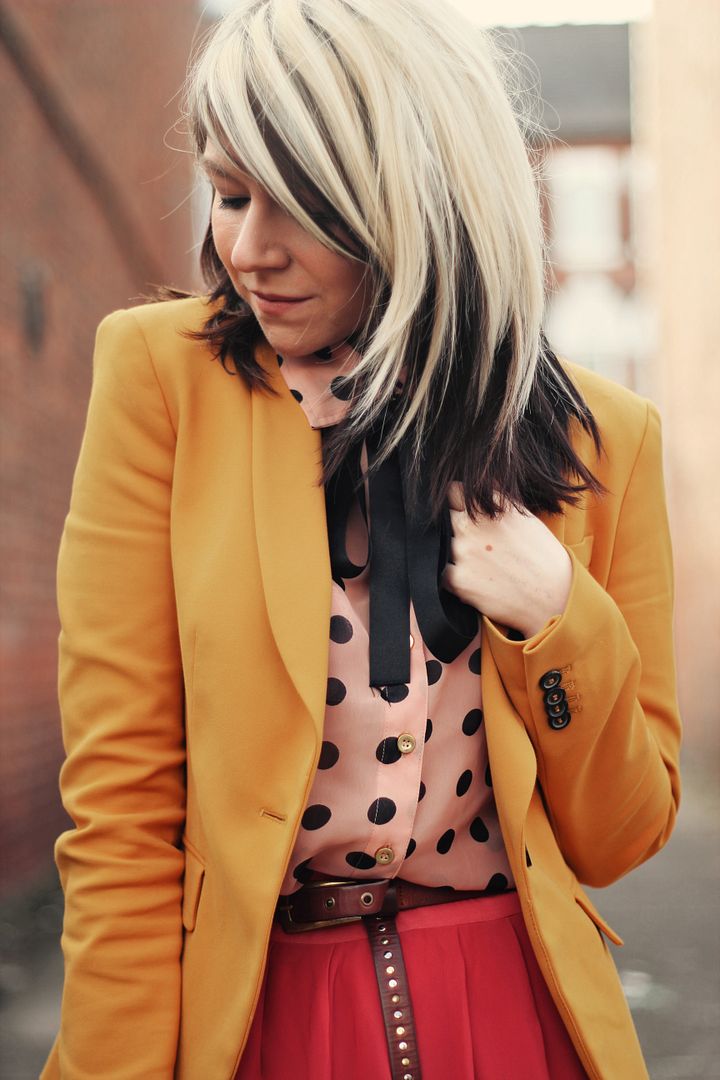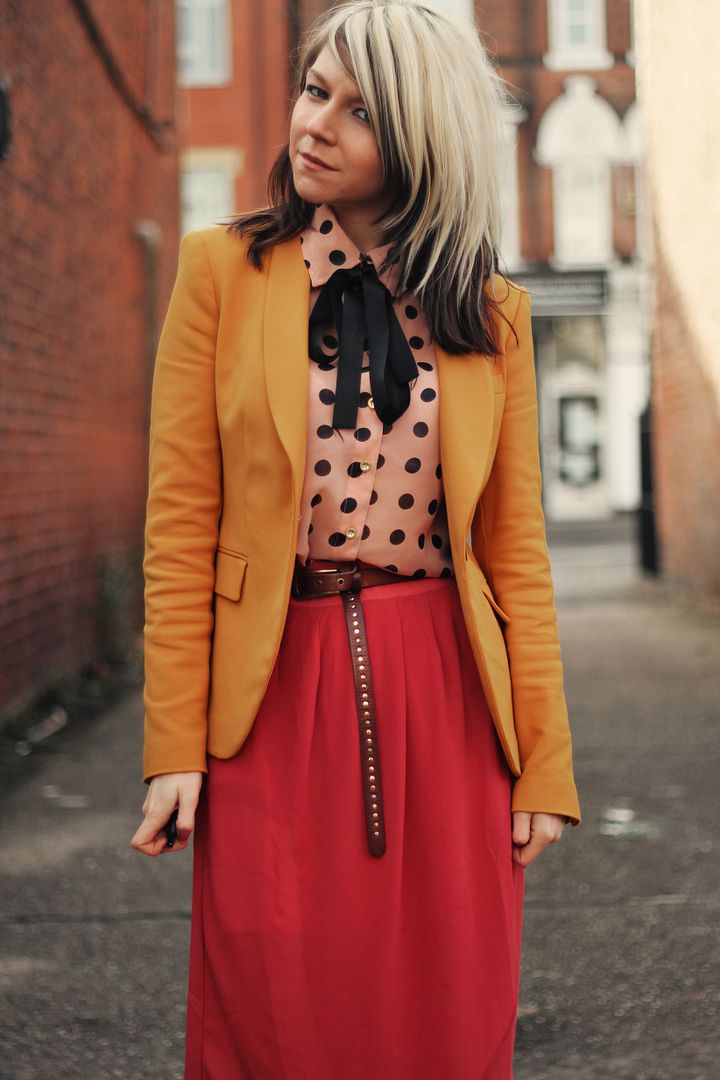 Quite a few of you mentioned how much you liked the photos from the weekend that Kirstin took and the kinda "street-style" feel they had to them. So, I reconnected with my 1.8
aperture
and had a play with using a slightly different background to get a better effect. They're a little blurry, but I really like them. What do you guys think?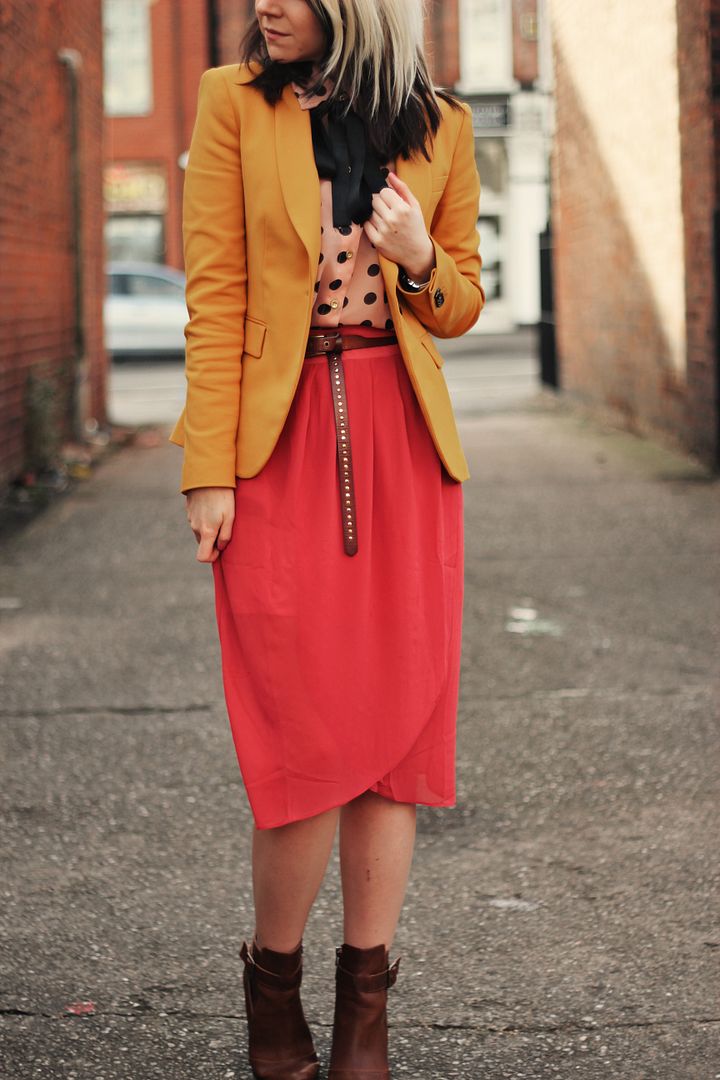 coral skirt- Dahlia (via ASOS)
peach spotty blouse (w/o ribbon)- Primark
mustard blazer- Zara
ankle boots- c/o Clothing at Tesco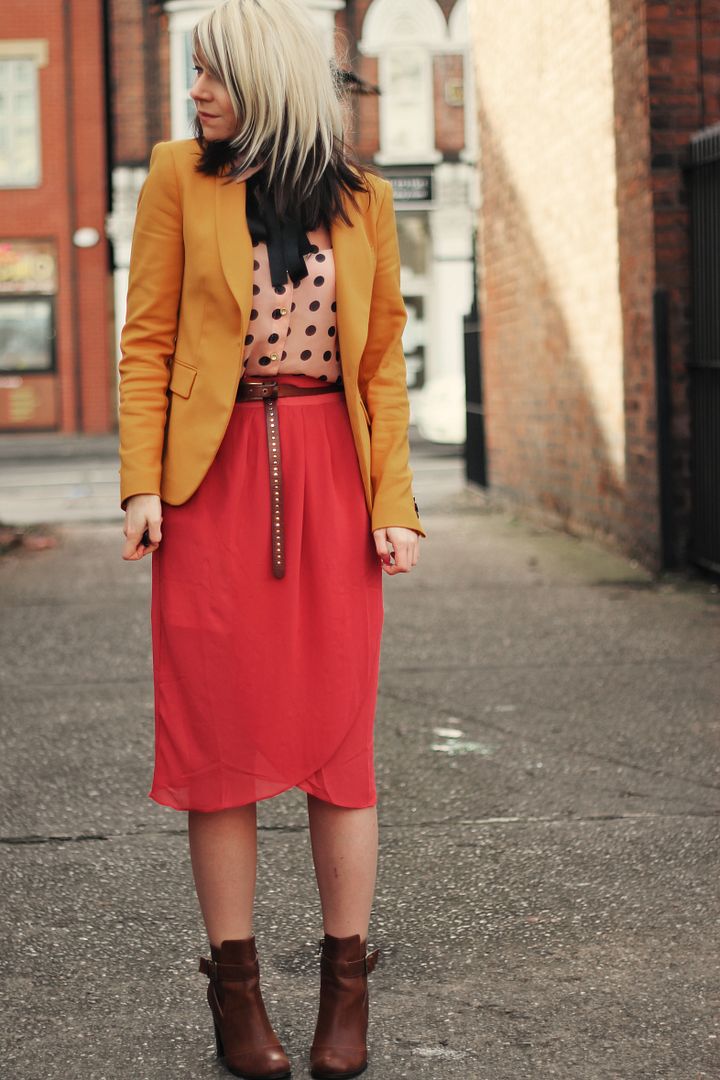 So today's outfit is entitled "Wear bright colours and hope for the best". I had my interview for San Francisco last night. The lady who was interviewing me was lovely and we had a really nice chat but I really really don't know how to judge it! I really don't know if I've got it! I'll be absolutely devastated if I haven't, but hey, everything happens for a reason, right? I haven't found out yet, but I'm hoping to find out tomorrow or at the very latest early next week. I'm so nervous! Other than that, I'm just super-stressed with school and dancing. Can't believe the show is next week and my ACS dissertation is due the week after eek! I'm so busy! I do have my second date on Saturday so that's quite exciting!
I'm gonna really try to get some posts written over the weekend to go up next week but I'm not 100% sure if I'm going to have time yet. I'm gonna be dancing from 5.30-11am every night next week so posting probably isn't going to happen because I'm going to have to be in the library every day at 9 to get enough work in for the day. But I promise once term is over I'll be back to posting more often.
Thanks for being so understanding and supportive guys. You are the absolute best!

Charlotte x