Tired Tuesday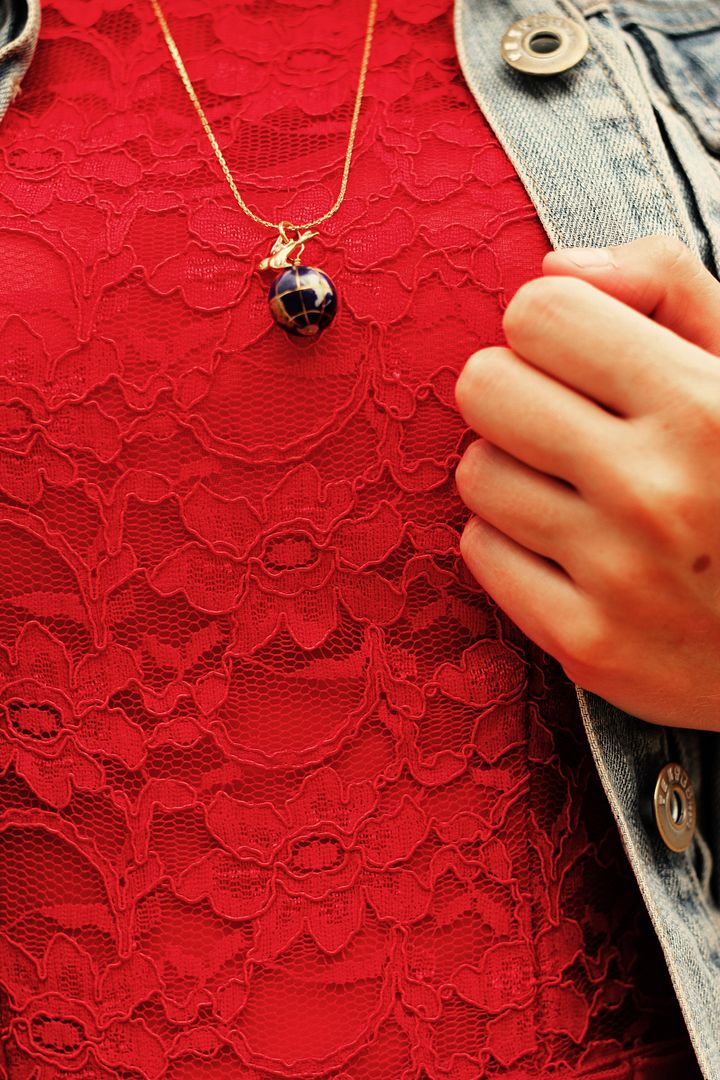 It's only 1.10pm and I'm already stressed out. I had a really, really bad night's sleep last night and knew I had a million and one things to do today so sleeping in wasn't an option. I went to go send my Mum's birthday present and was told I wasn't allowed to send it (I won't ruin what it is because I know she's reading this, but it's deemed a "flammable liquid") and then got all flustered because I thought I had work until 9 tomorrow and that I had to cancel my evening plans. But then I found out I didn't have work until 9 tomorrow and ate a bowl of cookie dough ice cream. So things are improving. I have also successfully killed half a dozen moths in the last couple of days. I think that's an achievement. Anyway I'm a little grumpy and busy and sleepy today, but I do have a lovely outfit to share with you (although I am now in my I heart MN tshirt and denim shorts as it's about a million degrees outside, and also because I don't trust myself to get such a gorgeous dress dirty), even though the pictures are slightly wonky and my messy sock bun is more messy than usual, but hey, that's life. I am however, excited that my plans for tomorrow won't be cancelled (mexican food, grocery shopping and Target with my awesome friend Bri), excited for Skype dates with my parents and Steph today, and excited for tube races (in my new bikini!) tonight!
don't mind my huge ugly leg-bruise. I hurt myself on a slide at work...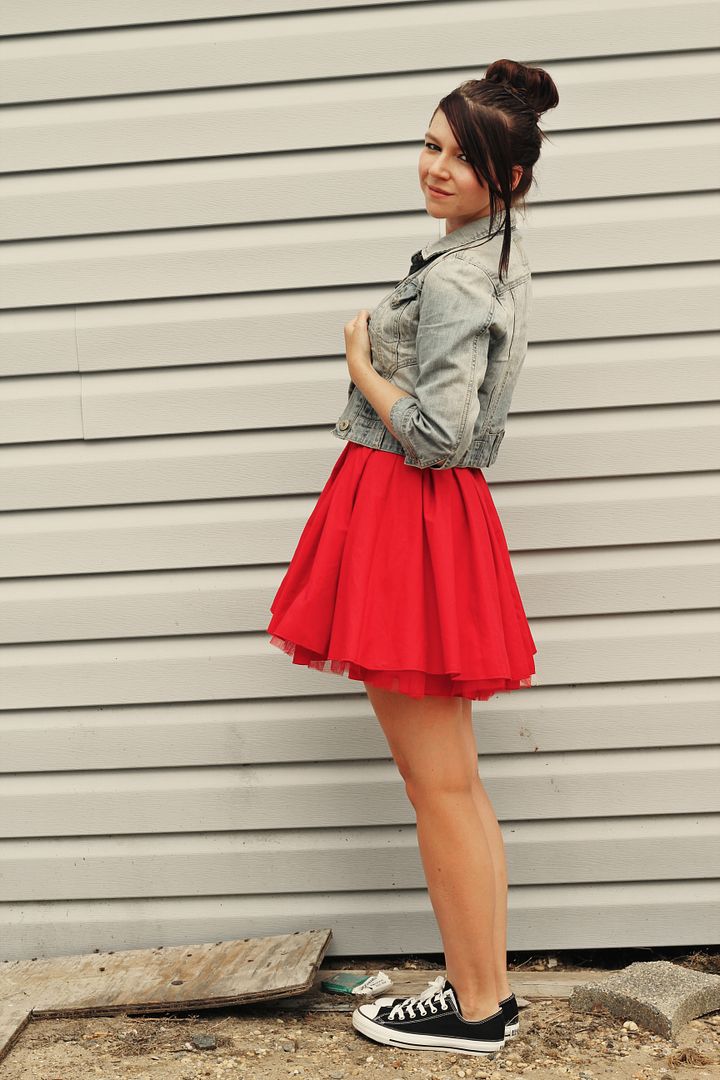 When I received an email from Jones and Jones a few weeks ago asking to work with me, it was like all my birthdays and Christmases had come at once. You guys probably know how much I love Jones and Jones. My black Poppy dress is one of my favourite dresses (I actually wore it to my Grandma's funeral so it has extra sentimental value to me now), and I'll be wearing this dress in cream for my graduation in December (slight side note, today would have been my graduation day. I'm a little sad I wasn't there, but I'm excited to graduate in December. The experience of working abroad is worth the wait for my graduation). Anyway, I chose the red Audrey dress and straight away I knew how I wanted to wear it. This outfit is completely stolen from
Olivia of What Olivia Did
, who paired her red Topshop dress (which I actually almost bought!) with black converse and a denim jacket
a few weeks ago
and I just adored it. Like her too, I also can't wait to wear this dress all fancy with heels and a leather jacket. I'm hoping to organise some excuse to get dressed up soon! This outfit feels one part Carrie Bradshaw- especially with the bun- and one part throwback from the 80s. And I don't know about you, but that sounds like a good combination!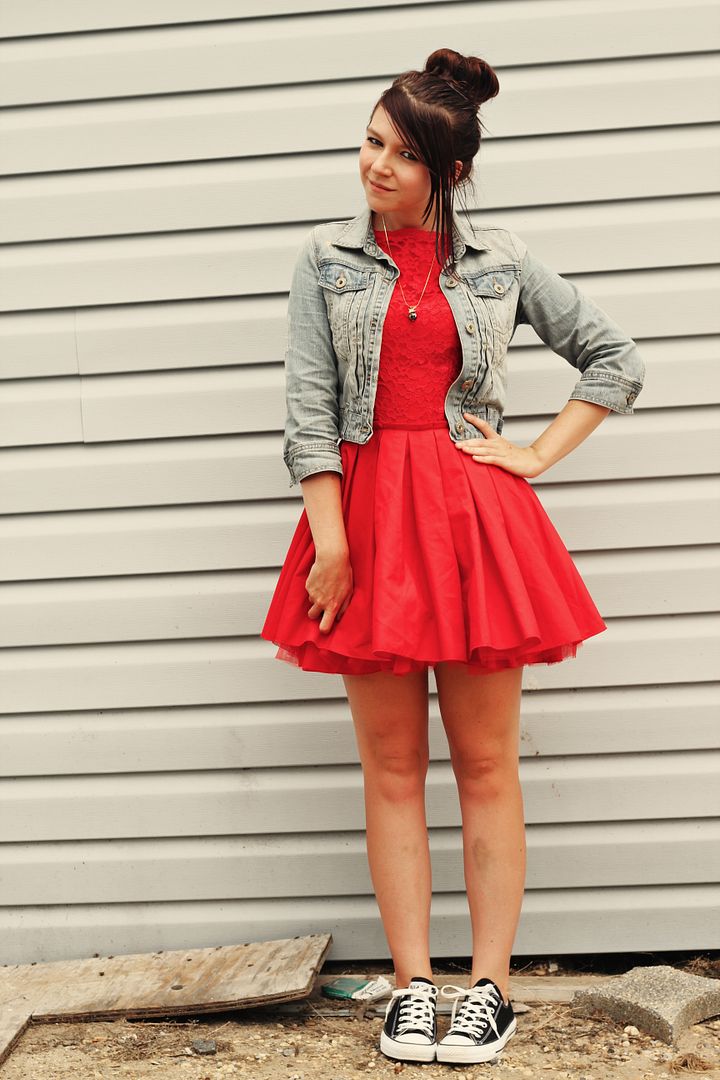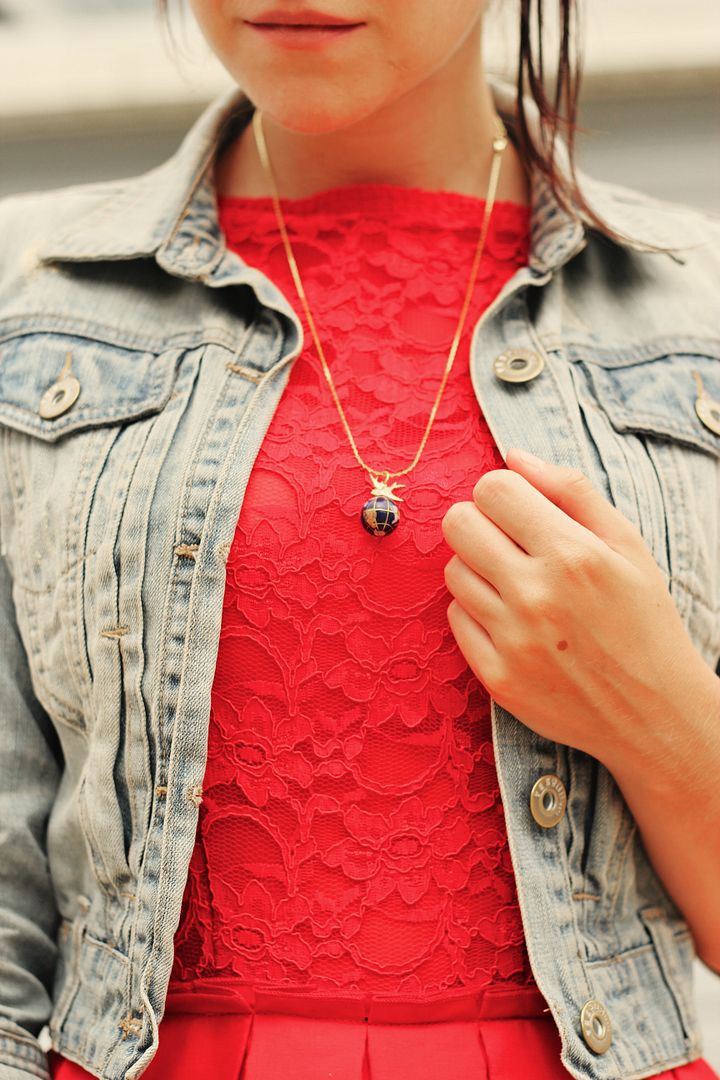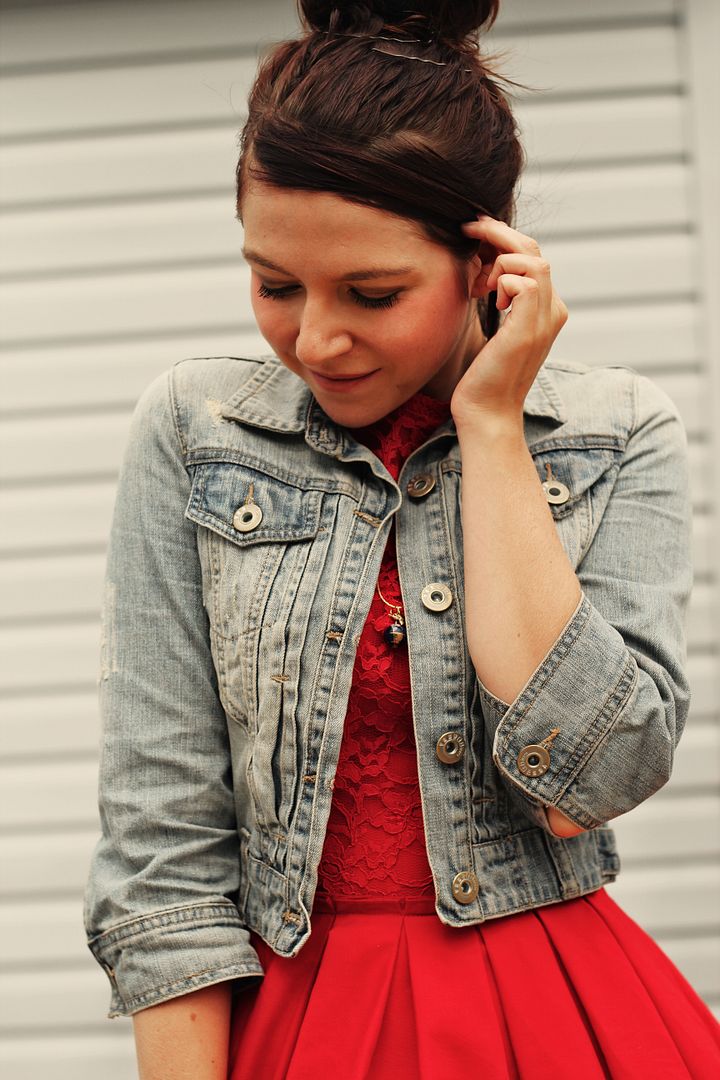 Audrey dress- c/o Jones and Jones
denim jacket- New Look
converse- Converse
necklace- c/o Eclectic Eccentricity
I also need to show you guys my beautiful necklace from Eclectic Eccentricity. I've had it for a few weeks now but I just haven't had a chance to show it off. It's a bird flying around the Earth. It felt very appropriate and symbolic for my trip so I had to have it. I also got a necklace with a triceratops on. A little less symbolic, but I really do love dinosaurs.
Here's hoping I get everything done on my to-do list today and maybe find time for a nap!
Charlotte x