Swan Trousers Club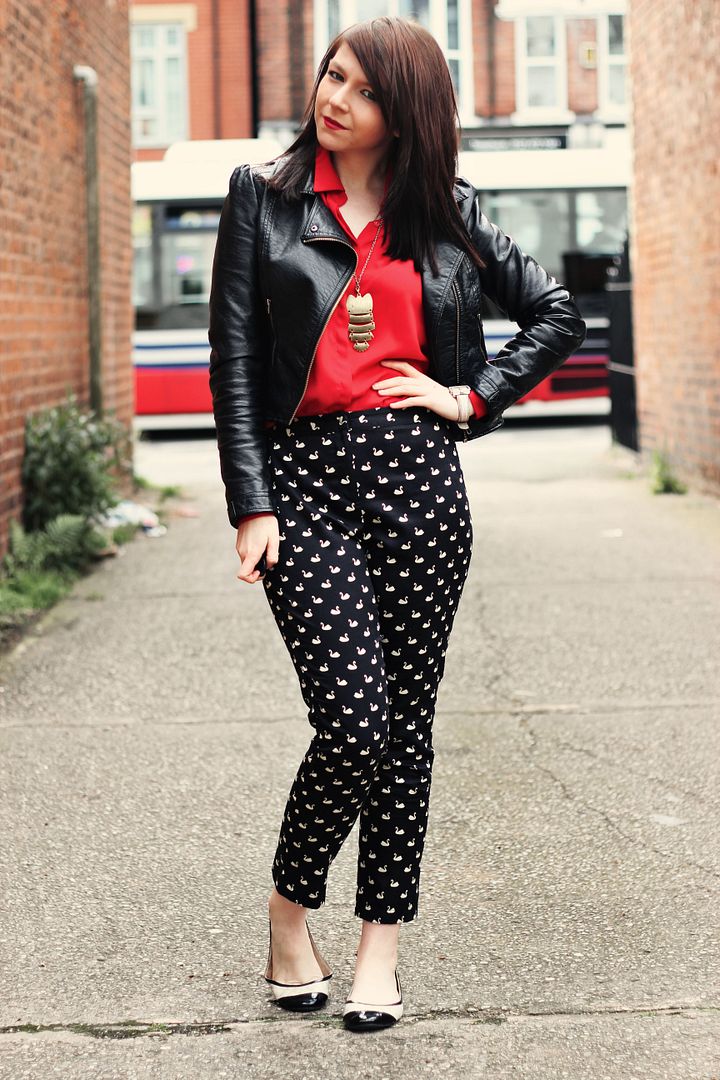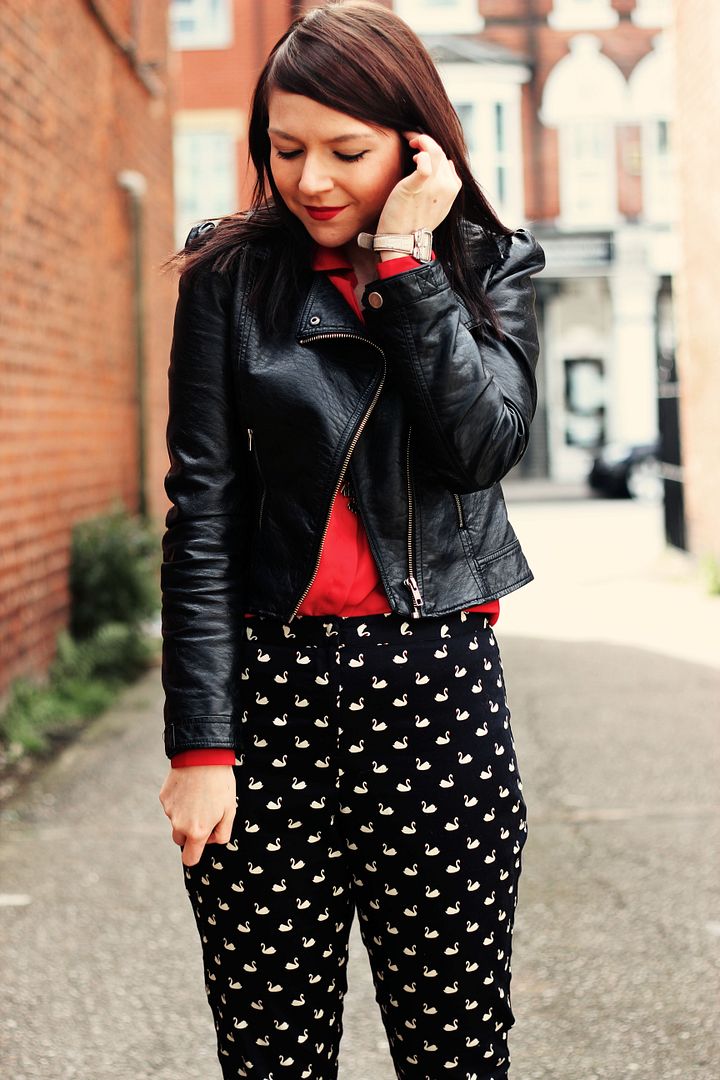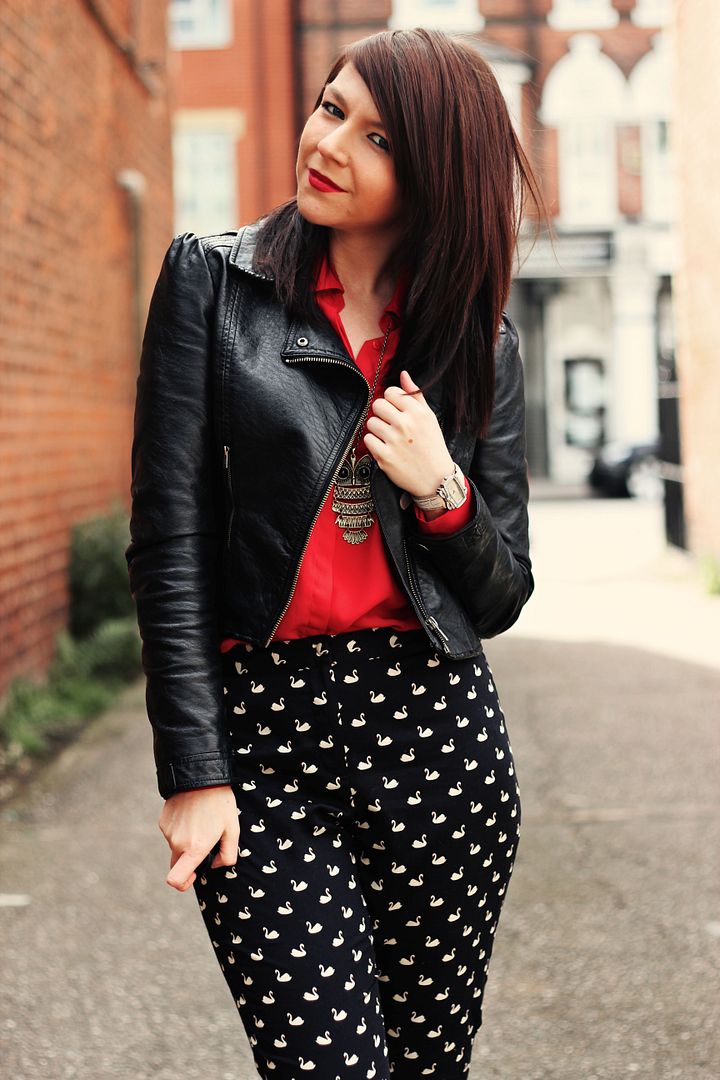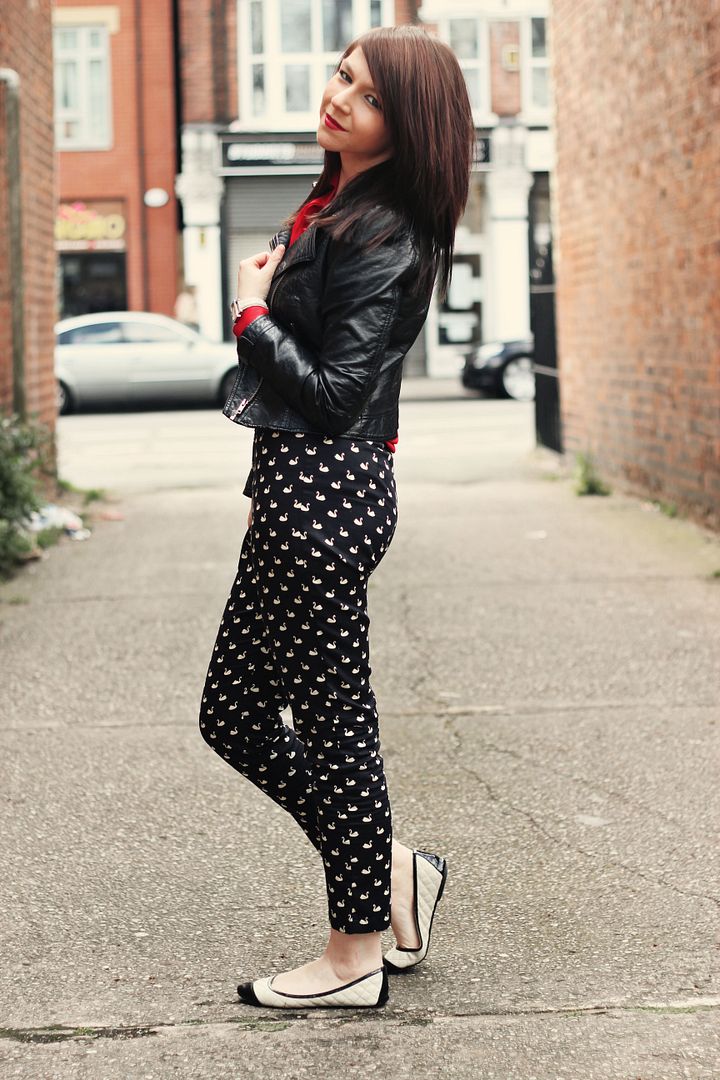 Yesterday, I joined
Katy
,
Olivia
,
Laura
and
Sarah
in the
world famous
Swan Trousers Club! And oh my gosh, I love them. Seriously. I remember spotting them on Katy's blog and on Olivia's on the same day, and after seeing lots of bloggers rocking printed trousers I decided I needed a pair. My best friend Steph without a doubt proved her friendship yesterday in the purchase of these. I'd initially tried them on and they were too big, but as I went to take them off, I realised I'd accidentally picked up maternity trousers! Before I could go back to Topshop however, I tried on a similar pair in Republic, but they were more like jeans and were a dark blue colour. I really loved them and bought them and all was well until I went into Topshop and I decided to give these babies another try. I must have dithered between these and the Republic ones for about 20 minutes in the changing room. I asked Steph to grab me a white shirt to try on with them, then I dithered some more. Then I got her to get me another size and reached new levels of dithering. Then I made my decision, swan trousers it was. The Republic ones were absolutely fab, but they were a little more casual and I have been on a jeans-buying rampage recently, so I wanted something a tad more formal and evening-y. I know for a fact they're going to be one of those things (along with, I'm sure,
mint jeans
,
double denim
and
floral blazers
) that my future children will look at and say "Mum, why did you EVER wear trousers with swans on?!". I don't care. I'm fairly sure I'm going to be the world's most embarrassing Mum anyway, swan trousers or no swan trousers.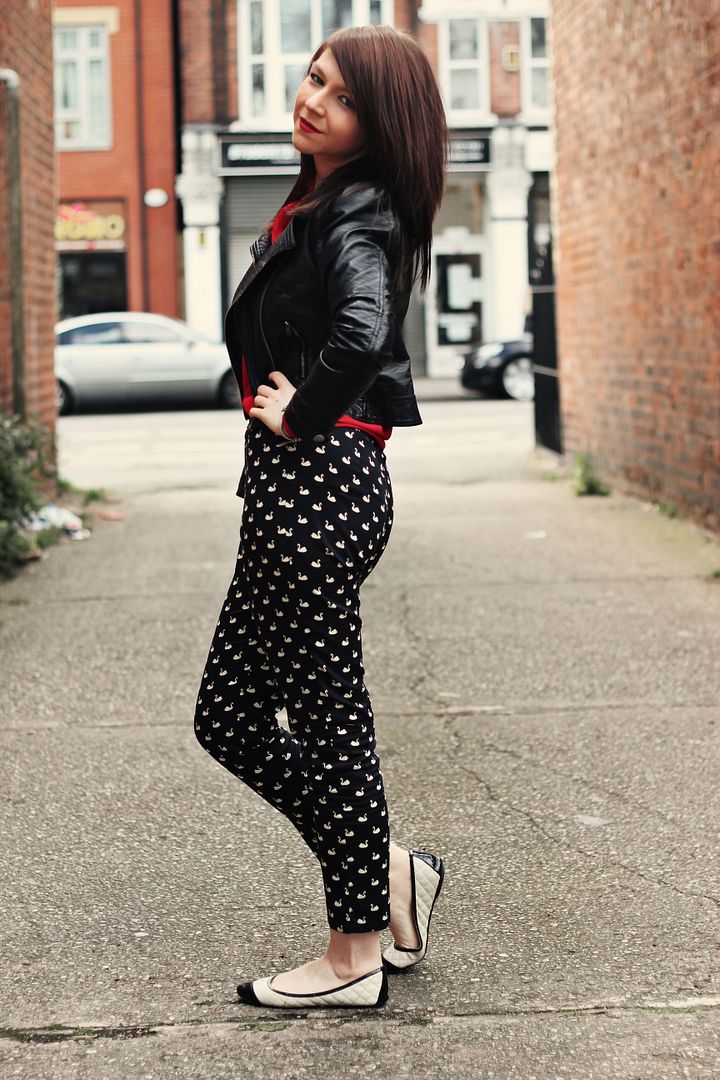 So yesterday I was a student, today I'm just unemployed. Yep my degree is done! I'm kinda walking round in a weird daze right now. I don't really know what to do with myself. No essays to write. No exams to revise for. No compulsory books to read. It's strange. I cannot believe after 4 years it's all over. Don't worry, I've got a super-long emotional post in my head to write, along with photographs of my university that I took today. Waaaaaah.
However, since completing my degree over 24 hours ago, I have not only become the owner of a rather dashing pair of trousers, but I have also eaten close to my own body weight in sushi and finally tried Bubble Tea. Yesterday after my exam, I met Steph and my housemate Beth in town for sushi and shopping. We went to an All You Can Eat sushi buffet. It was probably the best idea ever. It was like Yo! Sushi, except that you didn't have to exercise your mental maths skills and avoid those tempting £5 grey plates. Nope, it was £10 for all you can eat sushi! £10! I may or may not have eaten 6 plates of sushi. And one of tempura. And one of jelly. And one of cheesecake. Trying trousers on after that bonanza was a challenge. But hey, how often do you get to say "I finished my degree today!" Not many times, I imagine. We ended up leaving town at 8pm (!), but it was such a lovely day.
swan-print trousers- Topshop
red blouse- New Look
leather jacket- H&M
flats- New Look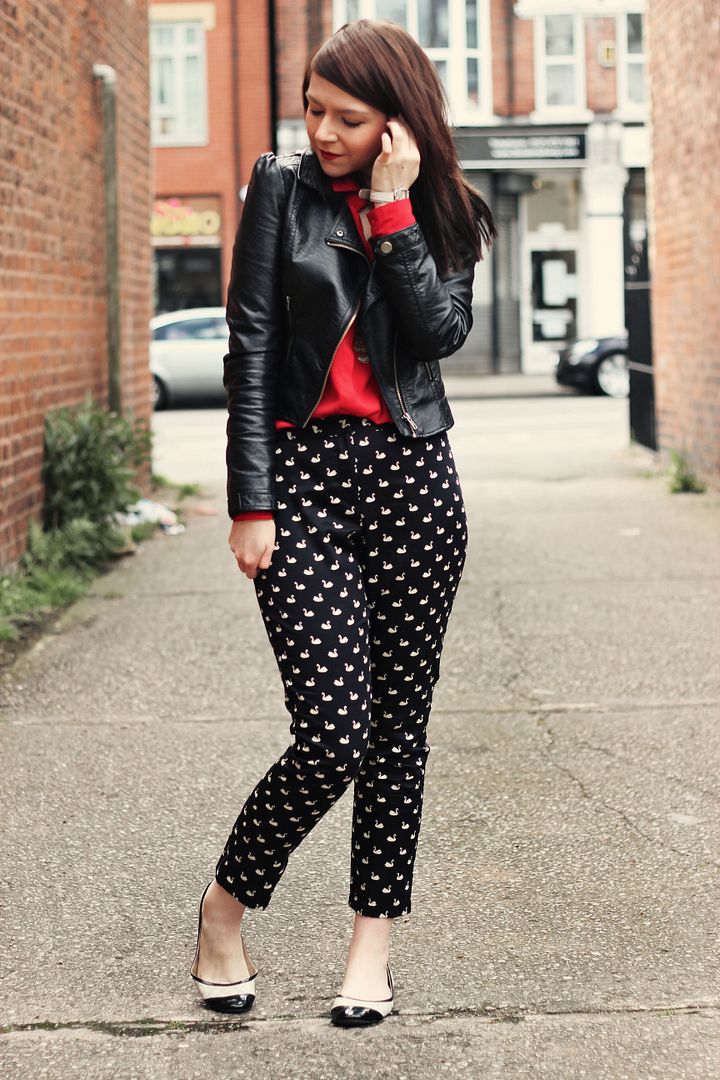 Today has been kinda weird. My first day of not being a student... ever. I got up early, I think to prove a point more than anything else, but then I dossed around all morning. I suck at doing nothing though. I wrote a long to-do list to keep me busy so I didn't freak out.... I'd finished it all by 2pm. I took all my library books back and paid the £9.50 fine I'd been accumulating for 4 years, and then took my camera out and photographed our beautiful campus. I'm home alone now for the next few days, but I have lots of plans to keep myself busy. Tonight Steph and I are going to see Dark Shadows, and then tomorrow I have a meeting and I'm going out with a friend from home who also goes to uni here to a gay bar which I've been meaning to go to for years, and then on Friday and Saturday two of my best friends and here, and then Sunday I move out! Scary! I go to America 3 weeks on Friday which is totally crazy. So much to sort out! I'm excited to have lots of free time to focus though. Lots of time to fill forms out, blog lots while I can and hopefully do a full redesign. I'm ready for a change.
Oh and because it's my last week in Birmingham, Steph and I had a photo take with the bull. Who was wearing an incredibly attractive jumper for the occasion:
Okay well I'm off to continue to do nothing.
Charlotte x
PS. If you would like to join the Swan Trousers Club, all you need to do is purchase these trousers. Believe me, they're awesome.