Mint Jeans: Part One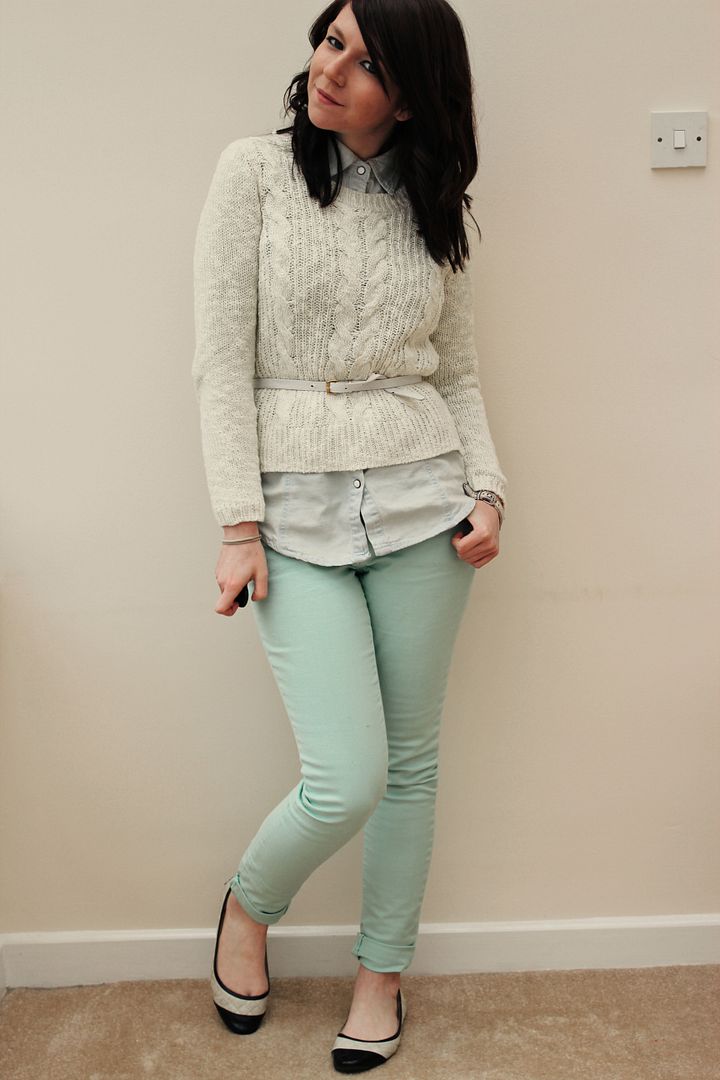 I'm gonna be really cheeky and post this outfit as a two-part post. For the most part, it's because I have absolutely no time to blog next week (I have some fabulous guest posters in though!), and also because the jacket I added completely changed the outfit. I wanted the outfit without the jacket to have it's own moment too- the jacket is a bit of a game-changer. So keep your eyes out for part two of this outfit next week!
denim shirt- Primark
mint jeans- New Look
jumper- Forever 21
flats- New Look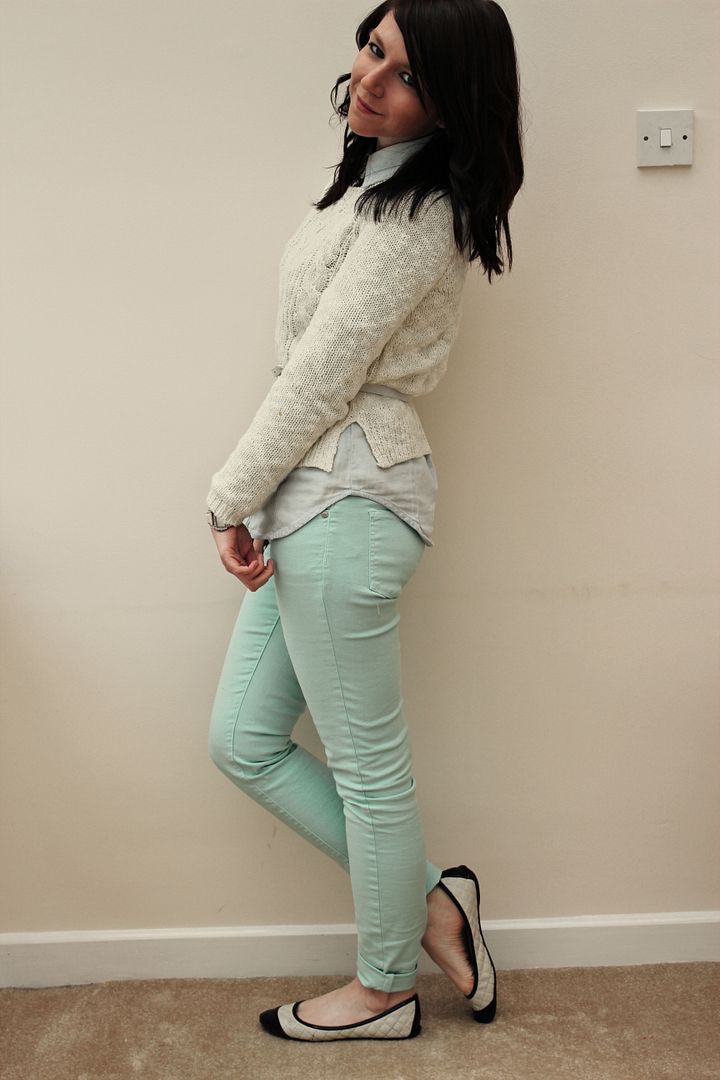 My Mum treated me to these jeans on Thursday. Aren't they just amazing? I'd convinced myself I didn't need mint jeans, but at the moment I am absolutely living in jeans, jumpers and ballet flats (blame exam period!) so I can see myself getting lots of wear out of them. I already have a pretty impressive collection of coloured jeans (pink, peach, coral, mustard, maroon)- not bad for a girl who never used to wear jeans! This outfit is inspired by See Jane but I also feel very like Vickie of Adventures in Fashion, who has been rocking her mint jeans lots lately!
Life has been pretty crazy the last few days. I feel like I haven't stopped. I got back to Birmingham on Friday night (the super-observant of you might have noticed that these were taken at home before I left!) and then had a crazy day yesterday. The plan was to spend all day in the library, but after 30 minutes I realised there was biro ink all over my favourite beige trench! I think a pen in my bag had slipped through the material and as I walked it had written all over my coat! I ended up spending the day desperately getting to a dry cleaners to hopefully get it cleaned! They said they should be able to get it out so I am praying to the dry cleaning gods! It's not only my favourite coat, but the only one I have here in Birmingham at the moment and it's forecast to rain all week! Today has been spent in the library. 10-6. Urgh. My exam paper is released on Tuesday so I have a week to prepare for the exam. I feel like I'm ready for the paper release now! At least I'll know if I'm studying the right thing!
Like I said, I have some wonderful guest bloggers in this week and I'm going to get the other half of this post done too. I'm going home on Wednesday for my Grandma's mass and her funeral on Thursday (thank you for all your lovely messages, comments and tweets) and other than that I'm going to be glued to my work.
Not the best week planned, but I'm hoping to book my flights to NJ and my road trip on Friday, so I'm trying to stay focused on that.
Have a lovely week!
Charlotte x