Guest Post: Sian of Rebel Angel
Before I moved to NJ I asked some of my favourite bloggers to guest post for me, and things got a little crazy and they never went up! I'm working every day for 9 days this week, so I thought it was the perfect time to show off these lovely bloggers. First up, my blogging bestie, Sian.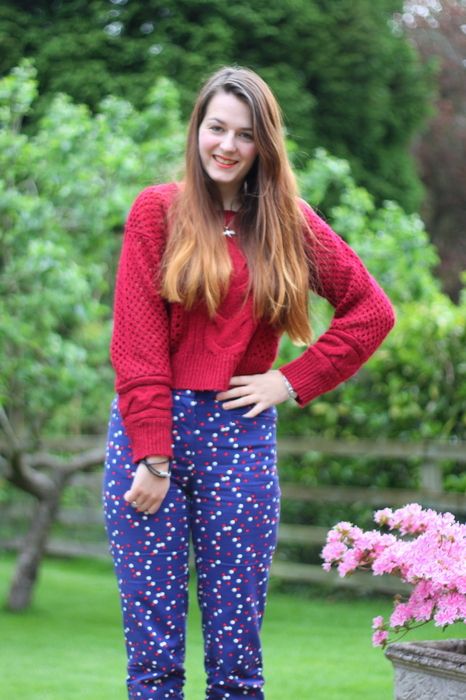 Hi there Girl Next Door Fashion readers!! I'm Sian from
Rebel Angel
and I'm guest posting for Charlotte today. I'm think a few of you might have heard of me before – Charlotte and I have now met up a couple of times and are hoping to meet up again in future, so I've been mentioned several times over here! Charlotte and I actually tend to have pretty similar style and often end up with the same items of clothing (sometimes I just plain old copy Charlotte in her choice of clothes though, how can you go wrong there?!). Charlotte and I are very similar in not usually wearing trousers, but we both picked up a pair of trousers (hers being swan ones) very recently, and these are my ones! In fact I actually spotted a cheapy version of the swan trousers in Primark, and inspired by how well Charlotte wore them, I had to buy them (despite them having a not so nice elastic waistband!).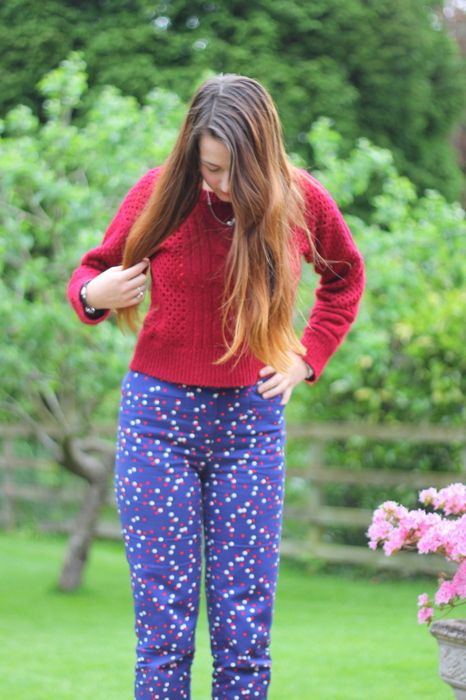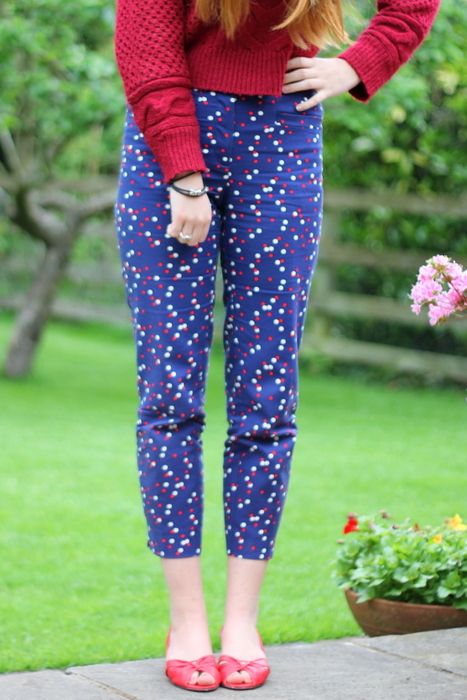 Jumper: c/o Motel
Red T shirt: Primark
Polka Dot Trousers: H&M
Bracelet:
c/o Chamilia for Newcastle Fashion Week
I bought these polka dot trousers a few weeks ago now in H&M after seeing those floral trousers on everyone. I'd actually popped in looking for those but when I couldn't find them, spotted these hiding behind another item and loved them – at least not everyone else had these ones!! I decided to wear these as my first outfit for the Jubilee weekend with their red, white and blue polka dot print, originally just with a red tee, which I think looked better, but it was far too chilly for that so I added this jumper on top. As I said before, I'm not usually big on wearing trousers or jeans, I'm definitely more of a skirts and dresses kind of girl, but I'm slowly getting more and more into wearing trousers and skirts. I've just completed my degree and I'm starting a job teaching next year, so I'm thinking that these trousers with a blouse might be smart enough for that! So I hope you've all enjoyed this post! Usually I'd witter on in an outfit post, telling you all about my day etc. But I didn't want to bore you, and also now I've finished my degree I'm not really doing a lot except moving out of my flat and back home! But pop over to my blog Rebel Angel to say hi if you've enjoyed it, I don't bite =)