Making My Own Luck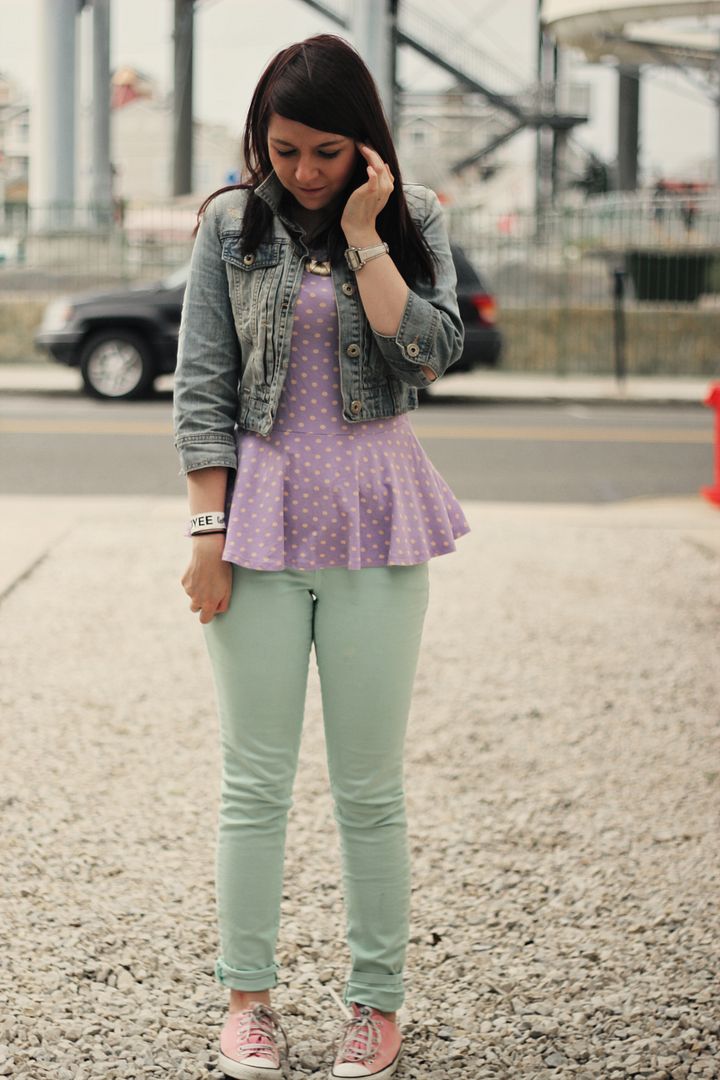 Not my best outfit photos ever, or my least-squinty face, but hey, I took outfit photos. In New Jersey. What up. You see that crazy stuff going on in the background? That's the waterpark where I work! These were taken right outside my house, so when I said I lived near where I worked, I wasn't lying! I snapped these this morning (after walking round the block trying to find a good photo spot) before it started to rain. I really wanted to go down to the pier today to take pictures, but the weather has been rubbish. I manage to go to the bank to open my account before it started raining, but I got a little wet going to the grocery store, mainly because I forgot where the grocery store was and completely missed the turn. I walked about another 15 minutes before I thought, wait, I'm sure it's not this far away!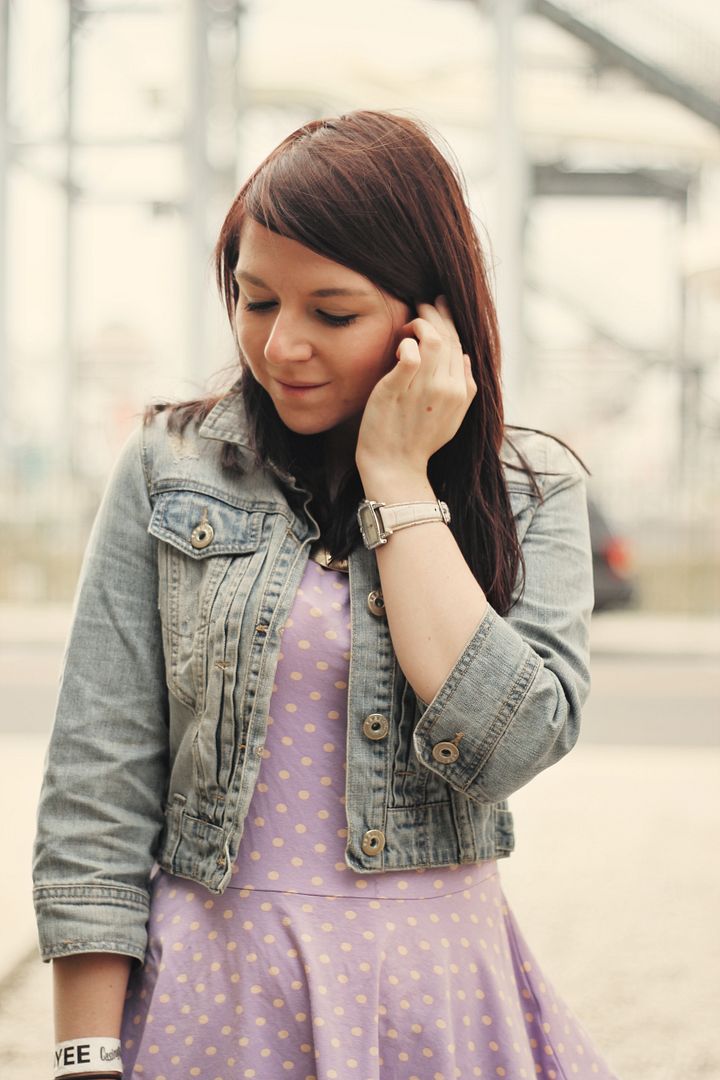 This was actually the outfit I wore last night too. Yesterday was all kinds of crazy. I decided to get the bus to the mall. The first bus I planned to get I missed, so I nipped to CVS to kill some time and planned on getting the next one, which I thought was in an hour. It wasn't. It was in nearly 2 hours. Once I'd finally found the bus stop it was only about a 15 minute wait and at 1.15pm I finally made it to the mall. The mall was good, except for the fact I kindasorta shouted at the staff in AT&T thinking it was their fault my iPhone wasn't working (turns out I'd just gone waaaay over my allowance and 3 had cut me off!). There's a F21 and a Charlotte Russe and they're opening a H&M soon, so I'm pretty happy. They also have a little Sephora in JC Penney. I got everything I needed, but coming back was a nightmare. I thought I could get the bus at 3.15pm, assuming I could get the bus leaving where I'd picked it up at 2.54pm. Turns out, there is no 2.54pm bus. I waited around 30 minutes with no sign of a bus before I started to panic. I was going out at 5 and wanted enough time to get ready, allowing for the 30 minute journey. To cut a long story short, I called a taxi, and while I waiting inside for it (it was cold!), the bus drove past. Typical. Luckily I had come to the mall with one of my housemates and he turned up as I was waiting so we got the taxi together. For some reason, though, I found the whole situation of feeling stranded at the mall very upsetting and I ended up in tears on the phone to my parents. I think it's just the stress of being somewhere new, but I feel so silly now that I was so upset!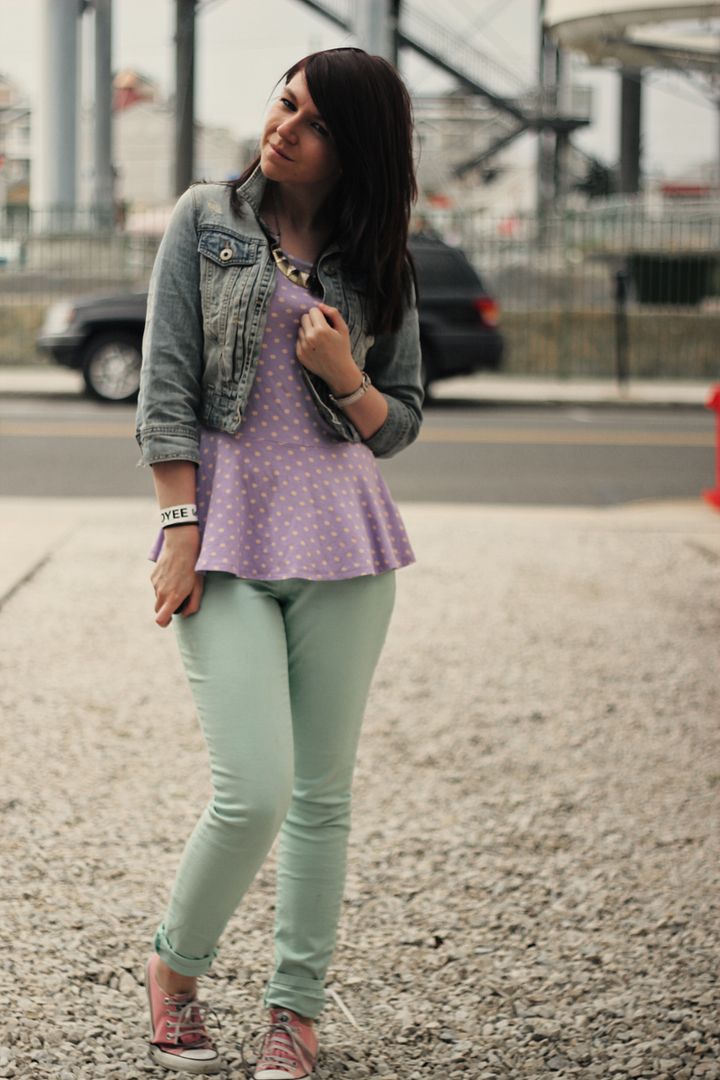 jeans-
New Look
top- Matalan
trainers- Converse
denim jacket- New Look
necklace- Forever 21
By yesterday evening though, the stress of the day had been well and truly forgotten. I met up with a few people from work who I had met at my training to go to an event at the pier. At the pier, as well as the waterpark, there is an arcade and a small themepark, and last night all employees were allowed the themepark to themselves. It was so much fun. There were only maybe 30 or so of us there, so we had the whole park to ourselves. We went on the bumper cars, the mouse trap rollercoaster, the enterprise, the haunted house, the go karts... so much fun! We even got free pizza and a drink! At the end of the night I finally plucked up enough courage to go on the Skyscraper ride. You can read a little more about it here, but basically they spin you around half a dozen times and then you get thrown up into the air 160ft spinning around at 70 miles an hour. It was terrifying when I was waiting to go on, but it was incredible! Afterwards a group of us went to get dippin' dots (my first time having them!) and walked along the boardwalk. It was so nice to feel like I belong here now. Everyone loves my accent and everyone was fighting over who got to sit with me on each of the rides which made me feel so special, and they asked me to say "Harry Potter" a million times, but it was so fun. I've even been speaking to my housemates more and hung out with them for the night on Sunday. I'm sure there are still going to be good days and bad days, but I'm doing okay. I even posted on Facebook earlier asking if anyone wanted to take me to a movie tonight and one of the guys in my training group said he would take me, so we're going to a chinese buffet and then to see Madagascar 3. Sometimes you have to put yourself out there and take a leap of faith, even if it's something as silly as asking on Facebook if someone wants to hang out. You make your own luck.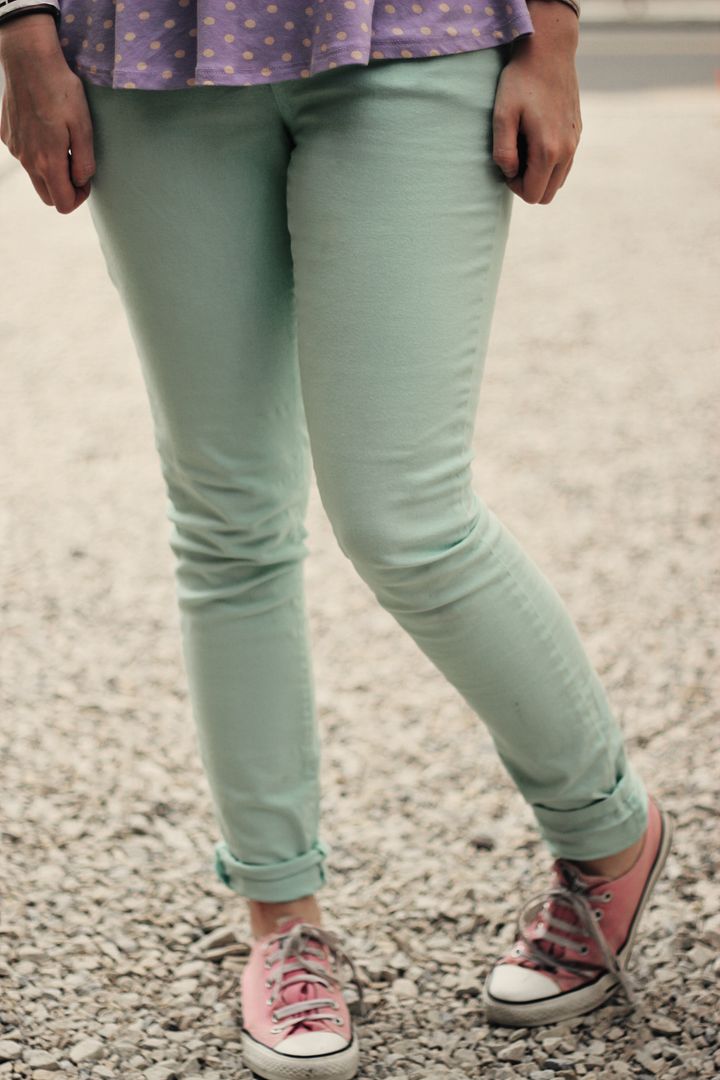 I'm going to try to take photos again over the next few days because after Friday, I'm working 9 days in a row so I need to make the most of my days off! I'm excited to start work properly though! I'm also working at the World's Largest Swimming Lesson at work on Thursday which should be fun, and I think after work we're trying out all the slides!
I hope you're having a lovely day!
Charlotte x