Fresh Start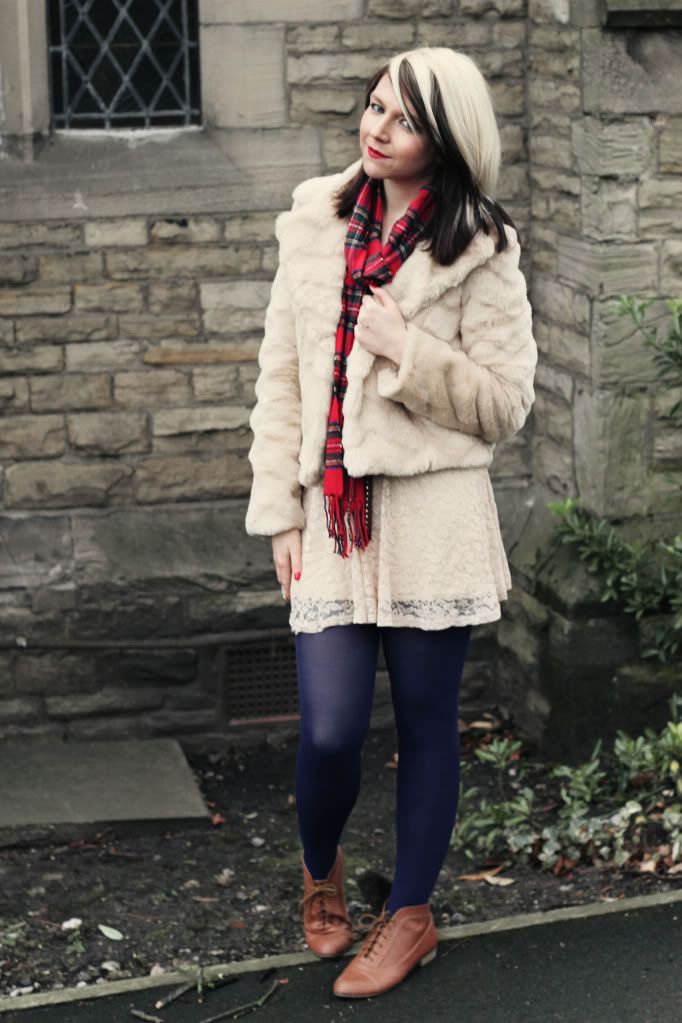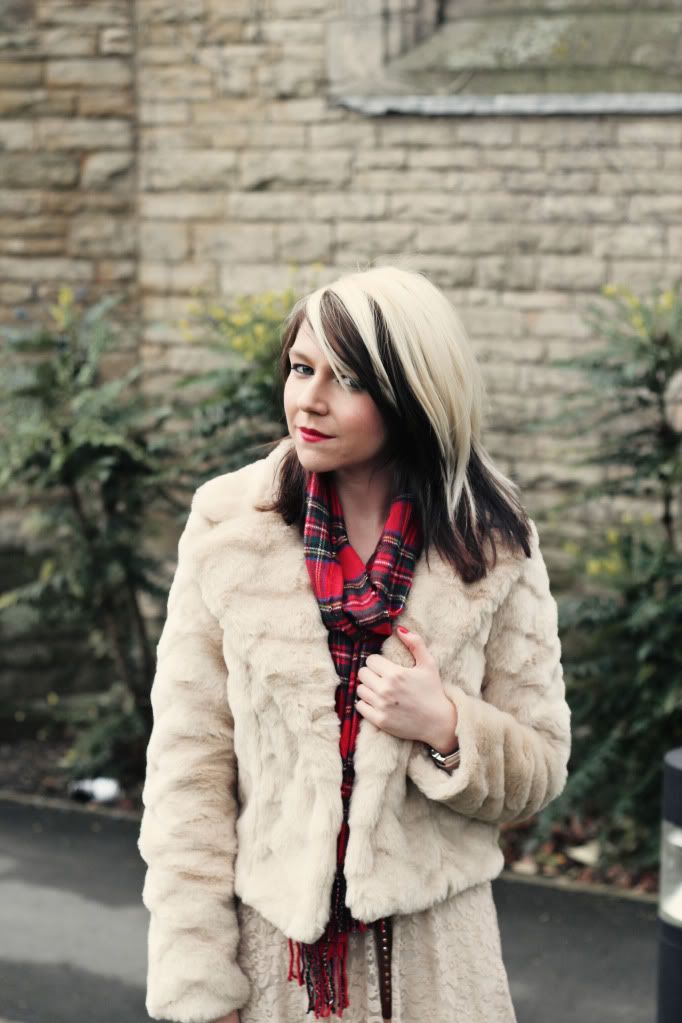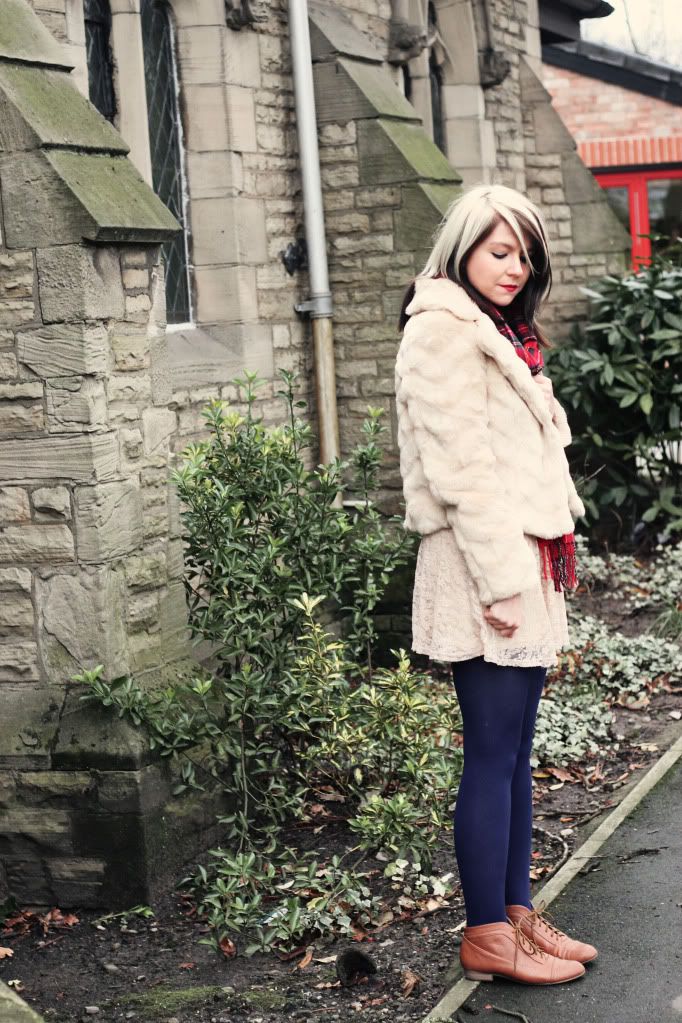 Today has been one of the best days I've had in absolutely ages. It's been such a nice day! With so much going on lately I just haven't had time to do things that make me happy. So today I got up, put on some red lippy (with an eyeshadow brush because I couldn't find my lipbrush- resourceful!) wrote my column for Duluth Superior Magazine and a guest post, redid my About Me (I want to do a whole blog redo when I get time but it was a start!) and then I went for lunch with my best friend Steph. She never fails to make me smile. We used to live together and I really miss her! We went for lunch at the same cafe we always go to, which is so cute and has a bookshop in the back, and then she took my photos for me!
'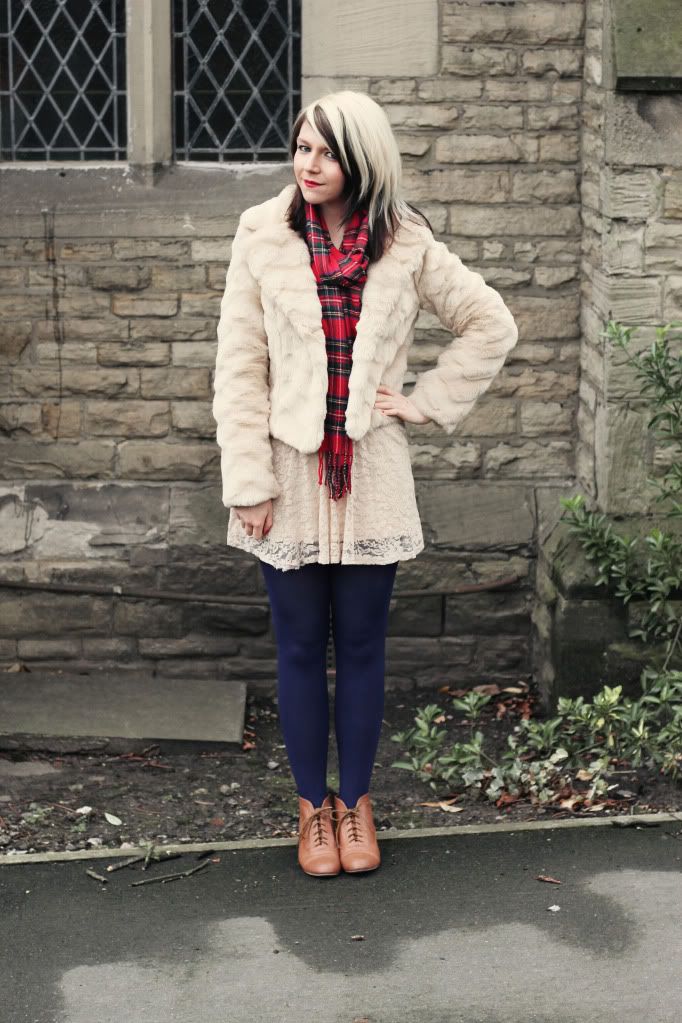 '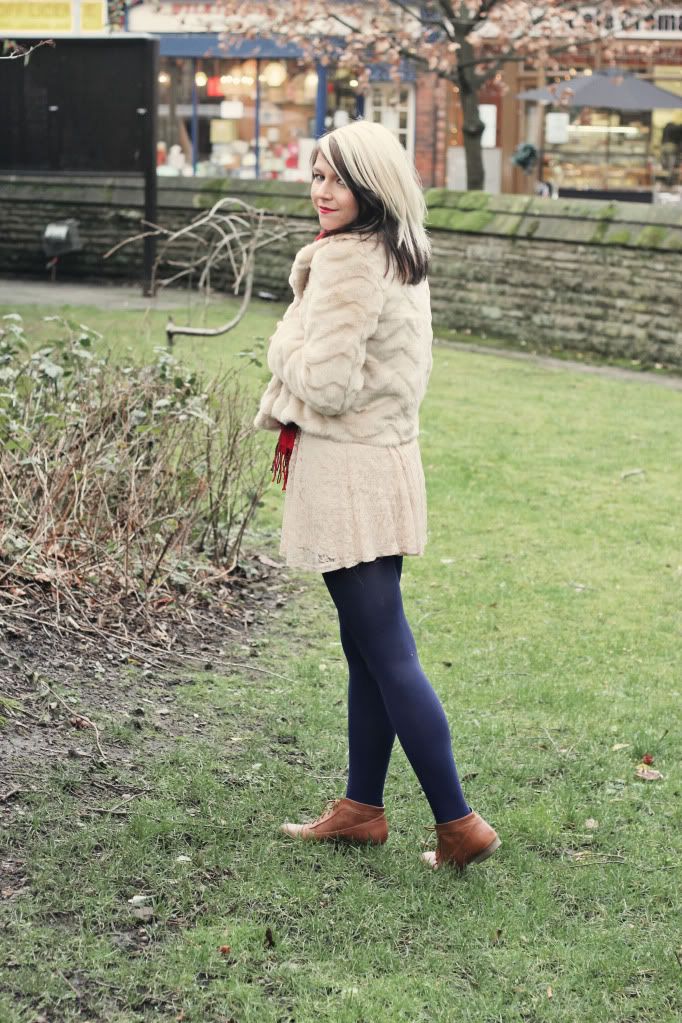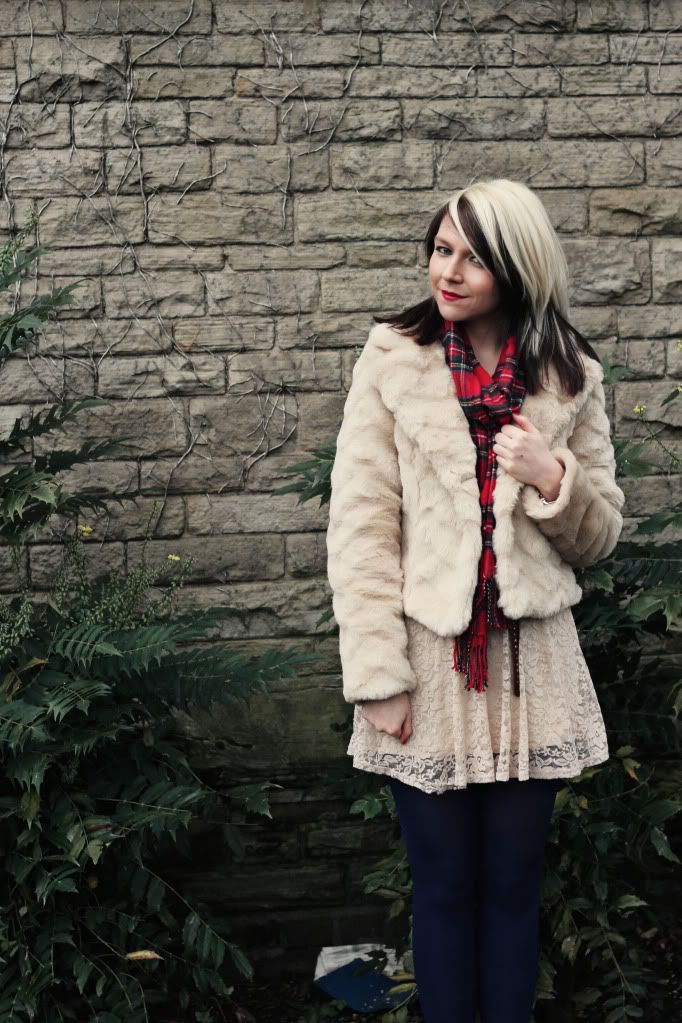 After lunch and photos, we went back to my house and baked brownies in my brownie maker and played Monopoly on the iPad (he's called Paddy!)- I won- and then Steph dropped me off to meet my Mum. My Mum and I went to Outfit because I'd heard about some amazing jeans from Topshop and wanted to give them a go! I ended up coming home with two pairs and a blouse- arrgh! I had Chistmas money to spend though and a Topshop voucher, plus jeans are an investment right? I have gotten much more into jeans lately though and I got two pairs of the Leigh jeans, which I've heard amazing things about. They're very soft material, almost like jeggings, but thick enough to wear as jeans. I am a bit worried that they make my hips and thighs look huge though but my Mum assures me they don't! I got a blue pair and a coated black pair- they'll be on the blog soon! I've loved the look of coated, leather-look jeans so I'm really excited to wear them!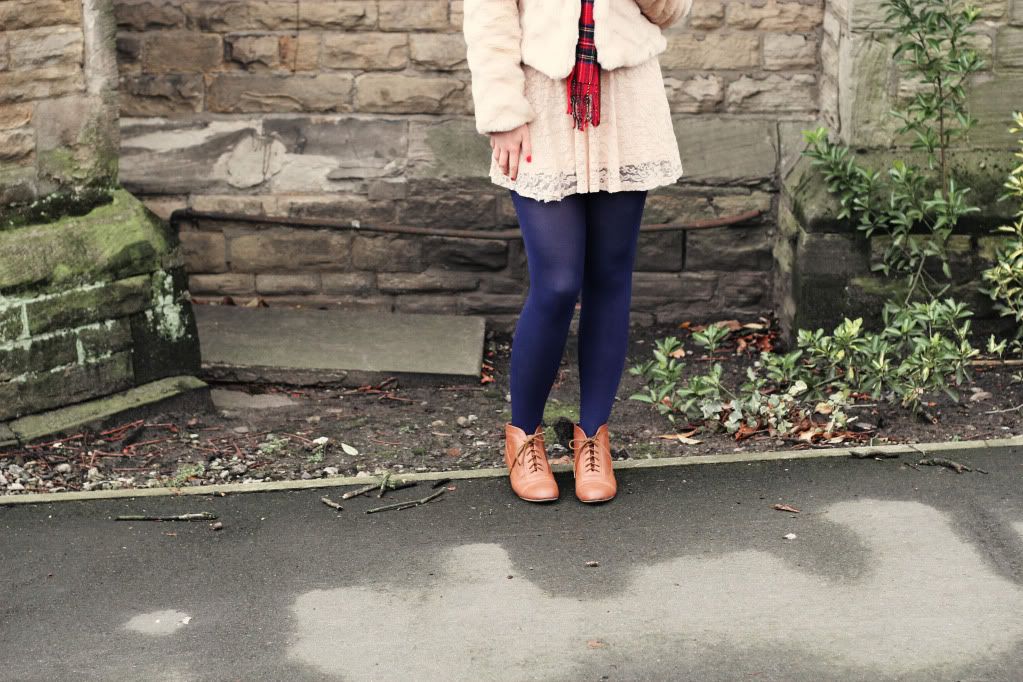 '
'
lace dress- Topshop
fur jacket- Quiz
boots- New Look
tartan scarf- ASOS
'
Isn't it funny how your style changes? I know this outfit isn't a great example, but I can't believe how my wardrobe has changed over the last few months. I did a bit of a review in my notebook a few days ago of my style evolution over the last year, I might share it with you but I'm not sure if you'll find it as interesting as I did! The fact that now I've been buying more jeans, blouses, shorts, blazers and knits just shows how my style has changed. I used to always be picking out pretty floral skirts and dresses. My style is definitely maturing and getting much more professional and preppy. Maybe it's a preparation for finishing my degree this summer and getting a real job!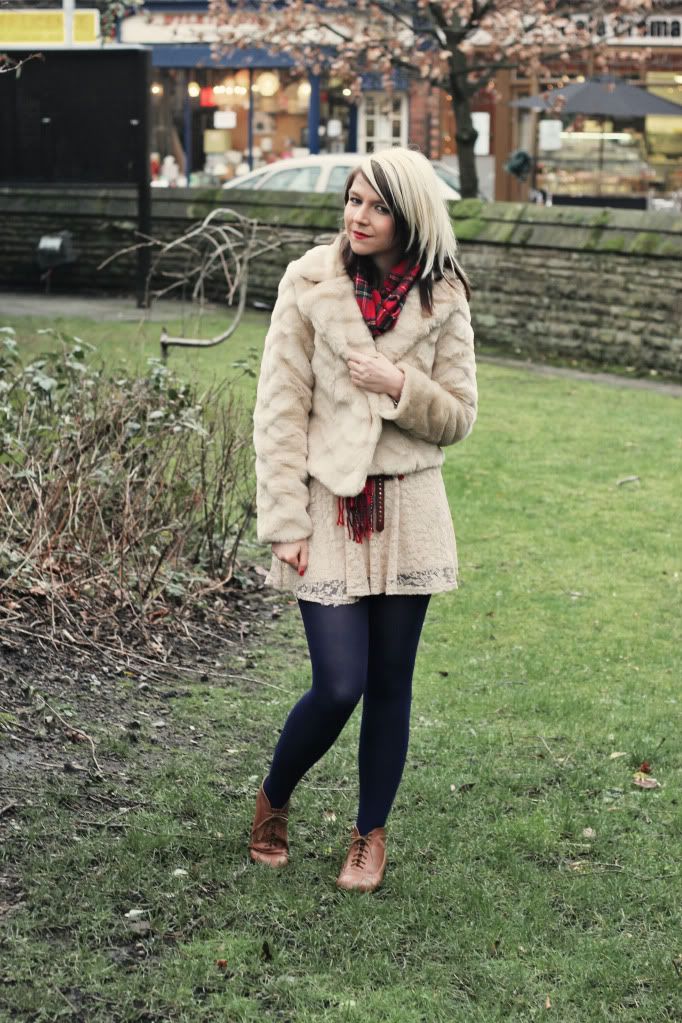 '
'
pretending to be surfing. Obviously.
Well we just had the yummiest curry from Marks and Spencers and watched The New Girl and now I'm going to watch Law and Order (my hometown just got mentioned in it!) with my parents and have an early night. I'm going back to uni on Sunday so I have a lot of packing and sorting out to do!
Have an awesome evening, everyone!
Charlotte x
Photos by Steph