Friday the Thirteenth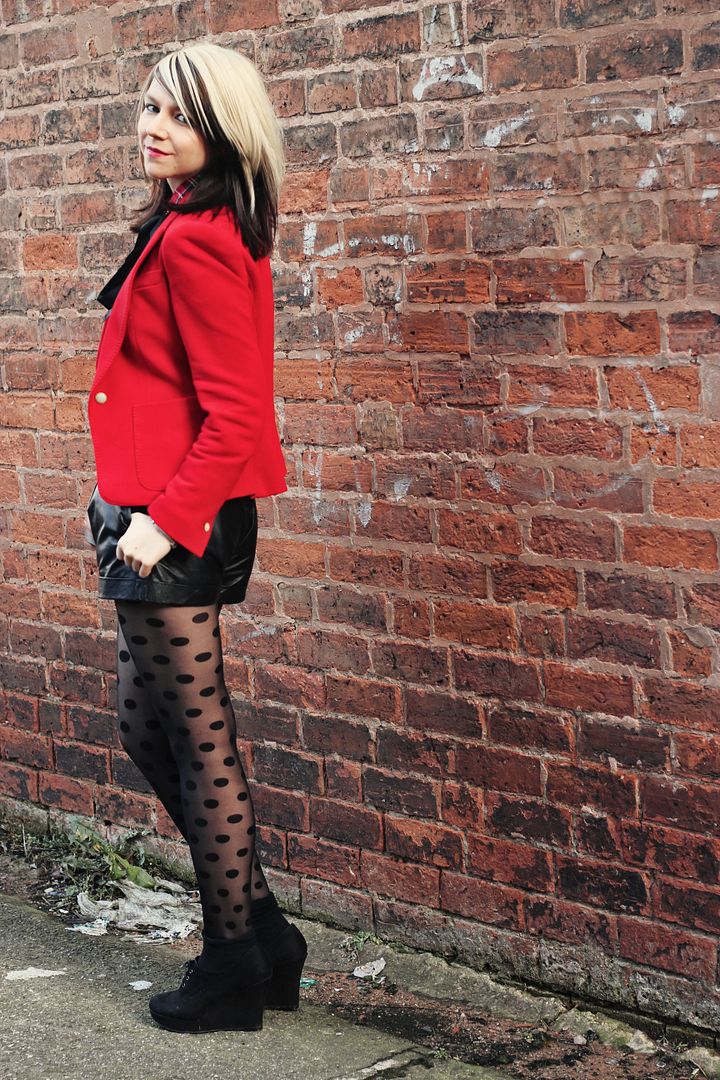 Welcome to my Overdressed Fridays. I don't really know what I tend to get very overdressed on a Friday but it almost always seems to happen! Unfortunately, however, from next week I'm going to have a 9am class on a Friday so I probably won't be able to post. Sad face. But hey, you have an outfit today!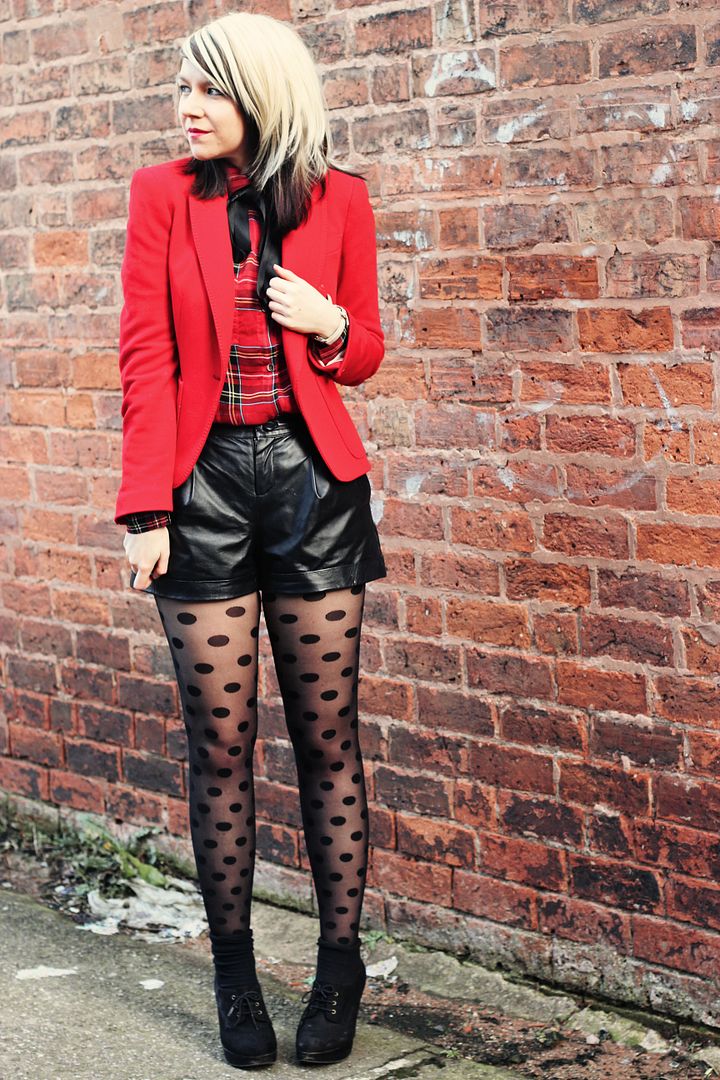 shirt- Motel Rocks (via ebay)
shorts- c/o Very
blazer- Zara
wedges- New Look
tights- ASOS
I loved this outfit today, but looking at it now I'm a bit worried there's too much going on. Were the spotty tights overkill? I'm not sure. I always feel the urge to wear patterned tights with these leather shorts because they're just plain black. I've wanted to pair this shirt with these shorts since I bought the shirt, I love leather and tartan together (I've done it before here!). I added the jacket at the last minute, but I really, really love the addition. It actually wasn't warm enough to just wear this jacket, so I swapped it for my fur coat instead.
I wish I had lots to tell you, but I'm super-busy because of my extensions. I'm planning on having an early night tonight (don't I always have an early night?!) and getting up early tomorrow and getting on with finishing my essay off. I think I actually might go out tomorrow night! I wasn't sure what to do because I didn't have a shift for work and I couldn't decide whether to try to cover a shift or to get up early and do uni work on Sunday. Well, as my essays are going better than I thought, I'm going to go out. I almost never go out so it'll be nice to get dressed up and go for cocktails with my housemates. I do have to get these essays finished tomorrow though, but at least I'll have something to look forward to. Life this week has been a lot of time in the library, and a lot of dancing (I am aching after my first week dancing!) but I am getting back into the routine of being back. I have a lot to focus on now- finishing my degree (I am working my socks off to try and get a First but I know it might not happen) and getting back to America! I skyped one of my best friends, Mimi, last night and even though it's going to probably 8 months til I get back to Minnesota, I cannot wait to see my friends!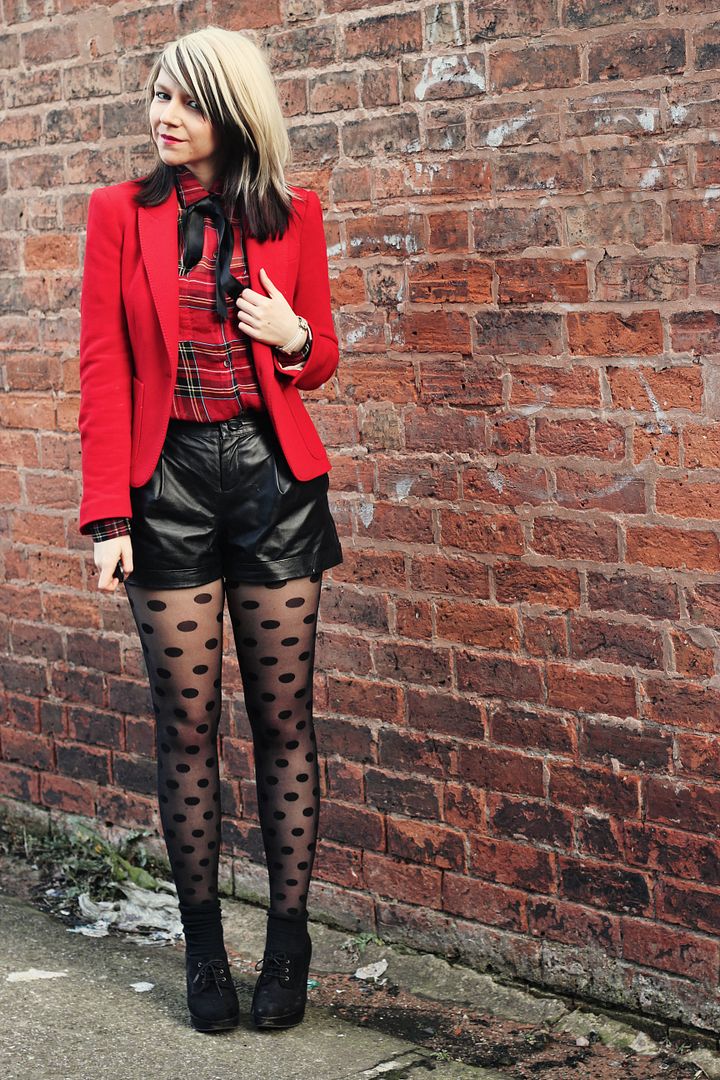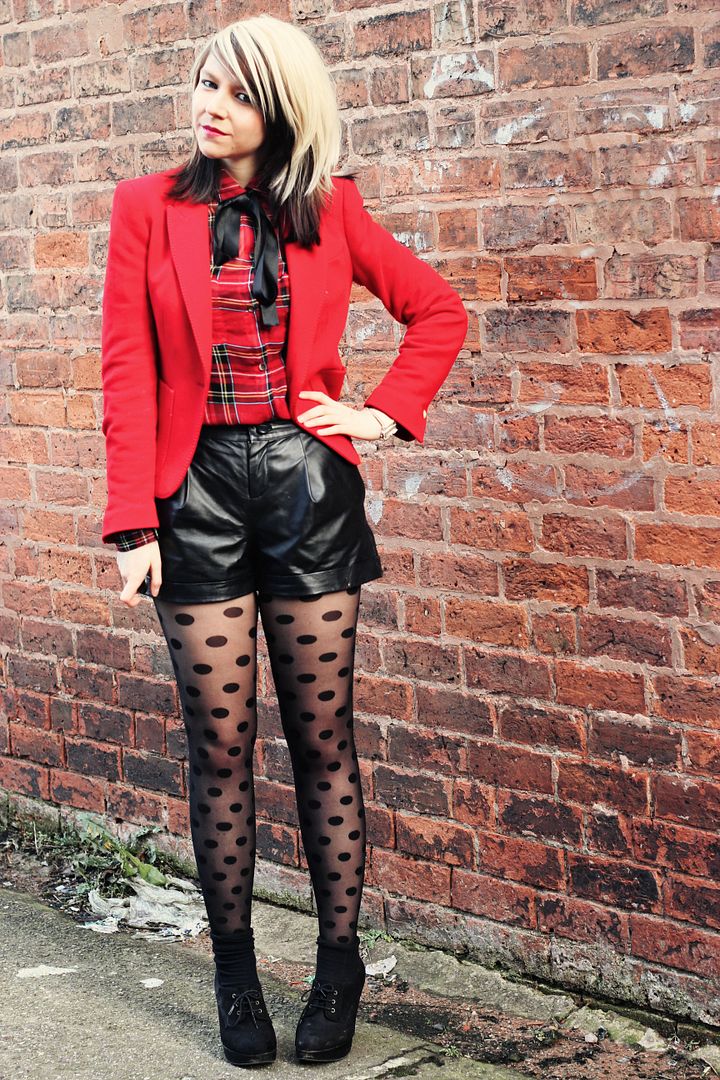 Well, I'm gonna go make a cup of hot chocolate and curl up with Tess of the D'urbervilles. Have a lovely evening guys.
Charlotte x
PS. Did you guys see Sian's post yesterday? We wore the exact same outfit without realising! That's blogging best friends for you!