Week in Photos
With everything that went on over Christmas, I've not had chance to do one of these for a while, but I thought I'd start it up again this week. This has been a really crazy busy week, and while it's been stressful, I've achieved so so much. I finished my essays- finally!, had my skype interview for the programme I applied for (which went very well...), learnt to curl my hair myself, went back to dancing, cooked some lovely meals, skyped a good friend in America and read one-and-a-half books! Here's what I've been up to this week! PS. There are a lot of pictures of food in this post. And my hair...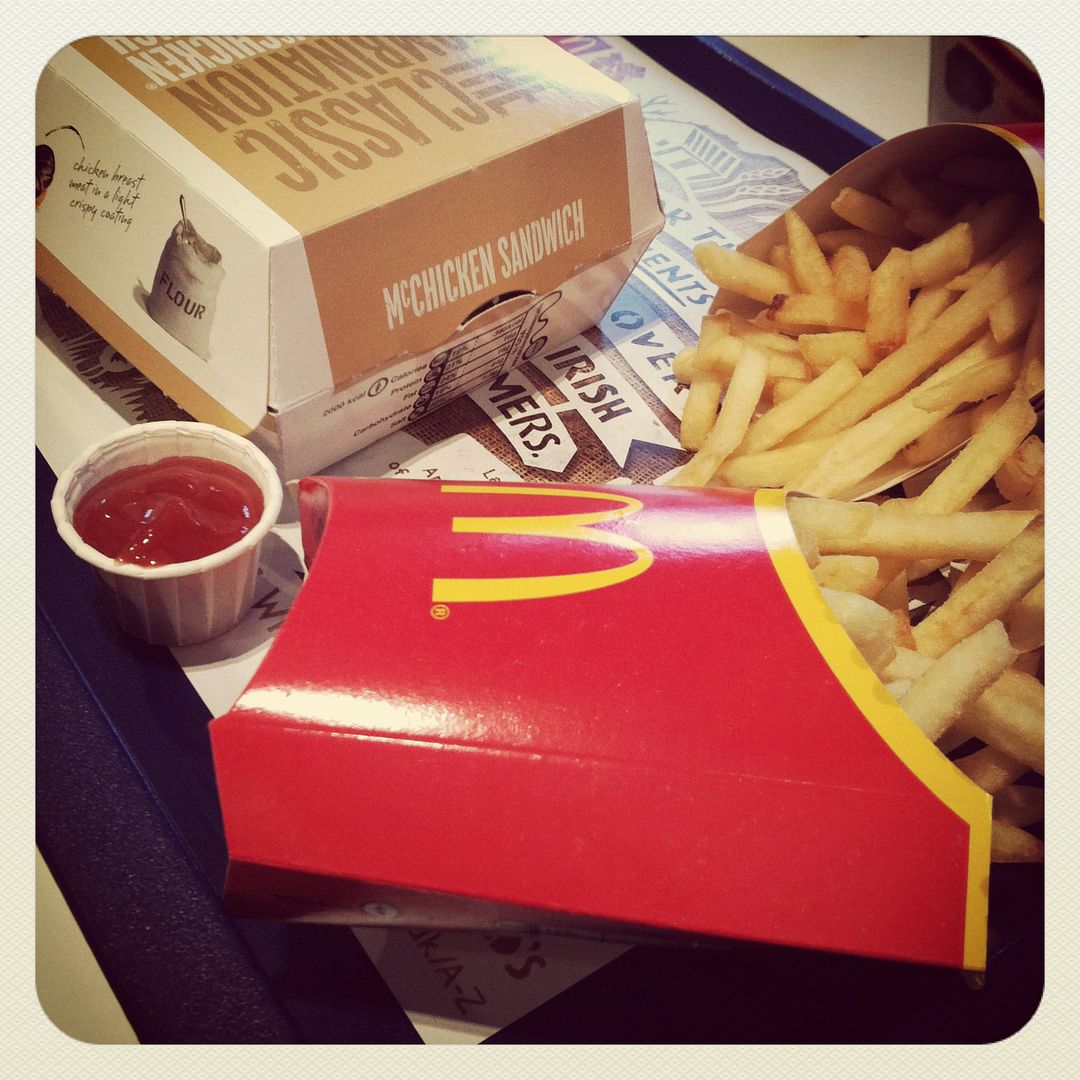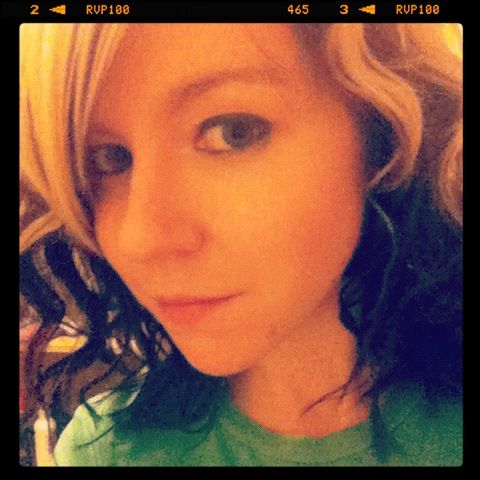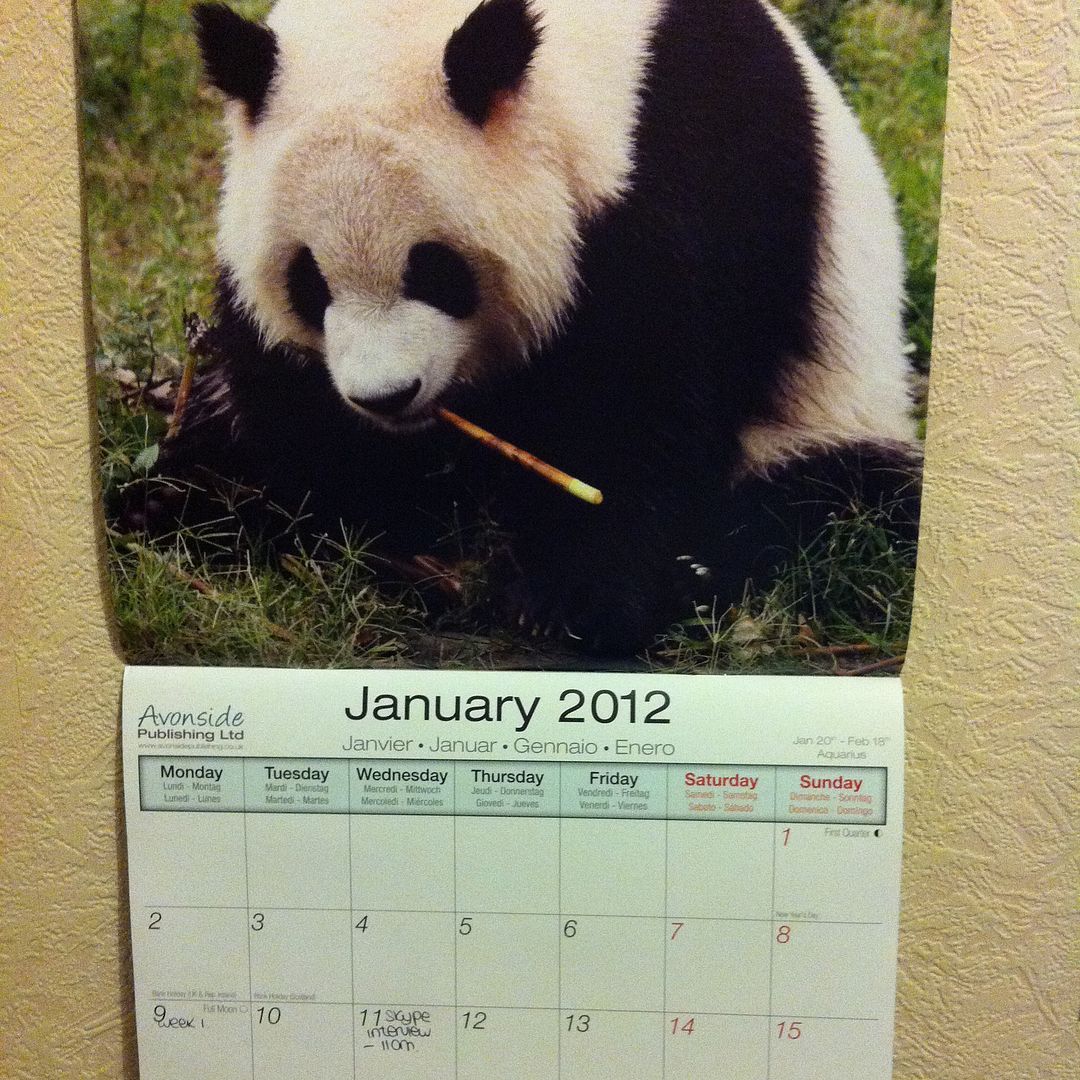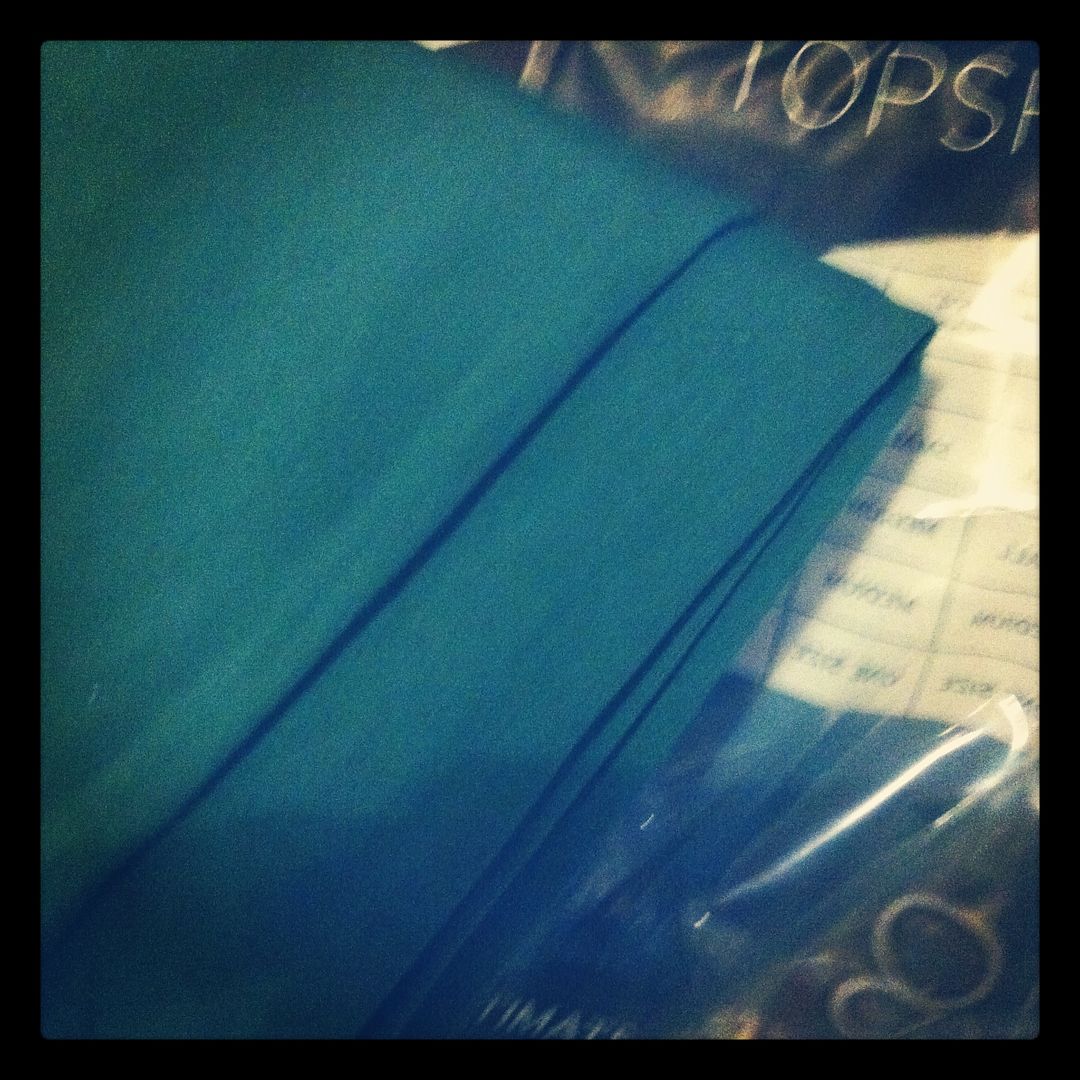 1. Veggie Burger and stolen fries
When I say I never eat McDonald's, I mean it. Until my year abroad I hadn't eaten McDonald's since 2004, but I had it twice last year purely out of necessity. We were rushing packing last week to get me back to uni and didn't have time for breakfast so we stopped at McDonald's, where I have to say I very much enjoyed my once-in-a-blue-moon veggie burger, salad and some of my Dad's fries.
2. My first curly-hair attempt!
Over Christmas I was having a total nightmare with my curling wand on my own hair, but after dancing on Monday I decided to seriously give it a go, and I did it! So proud.
3. Panda Calendar
Are you honestly surprised?!
4. Green tights
They look a bit blue in these pictures but these were what I bought on Tuesday to go better with my tartan dress.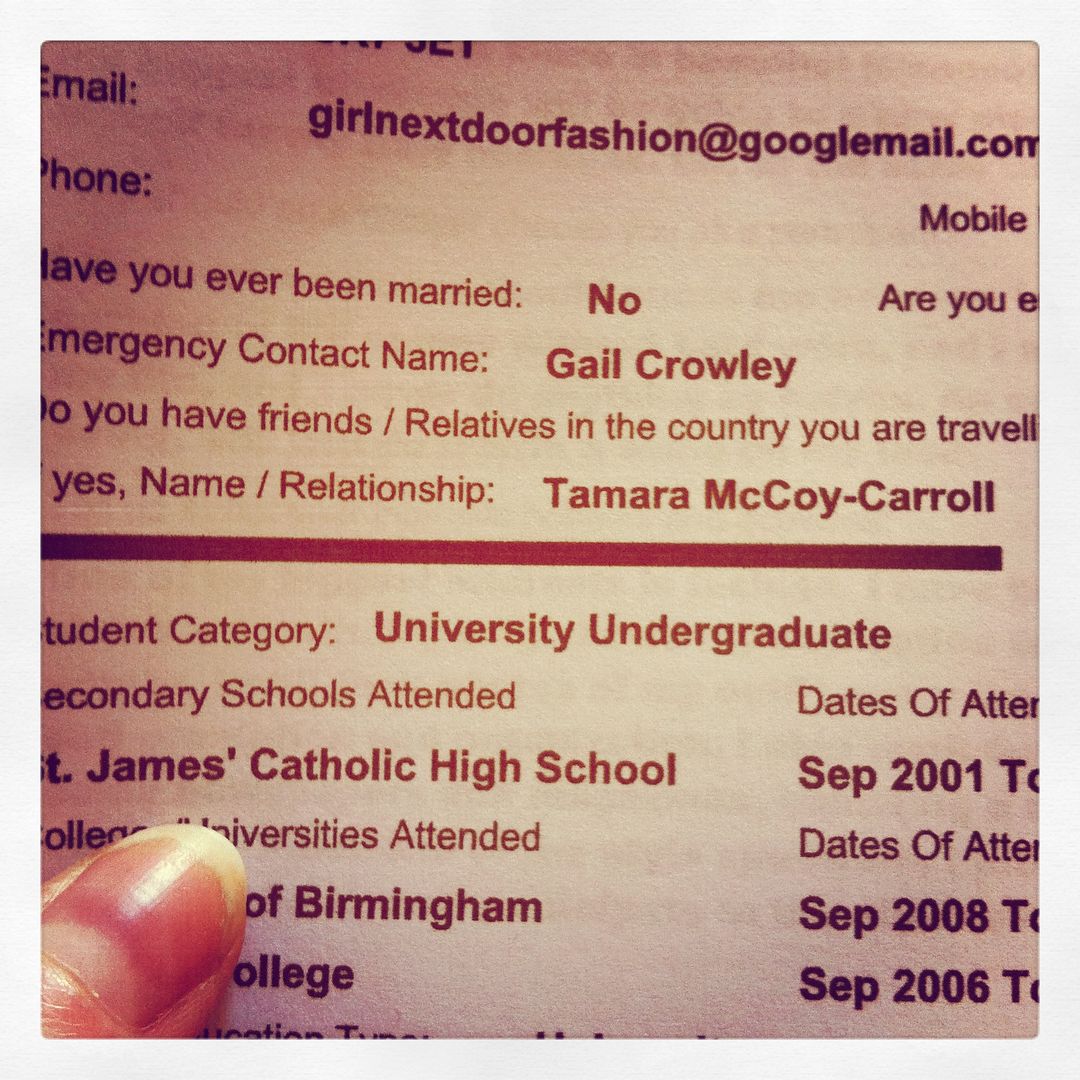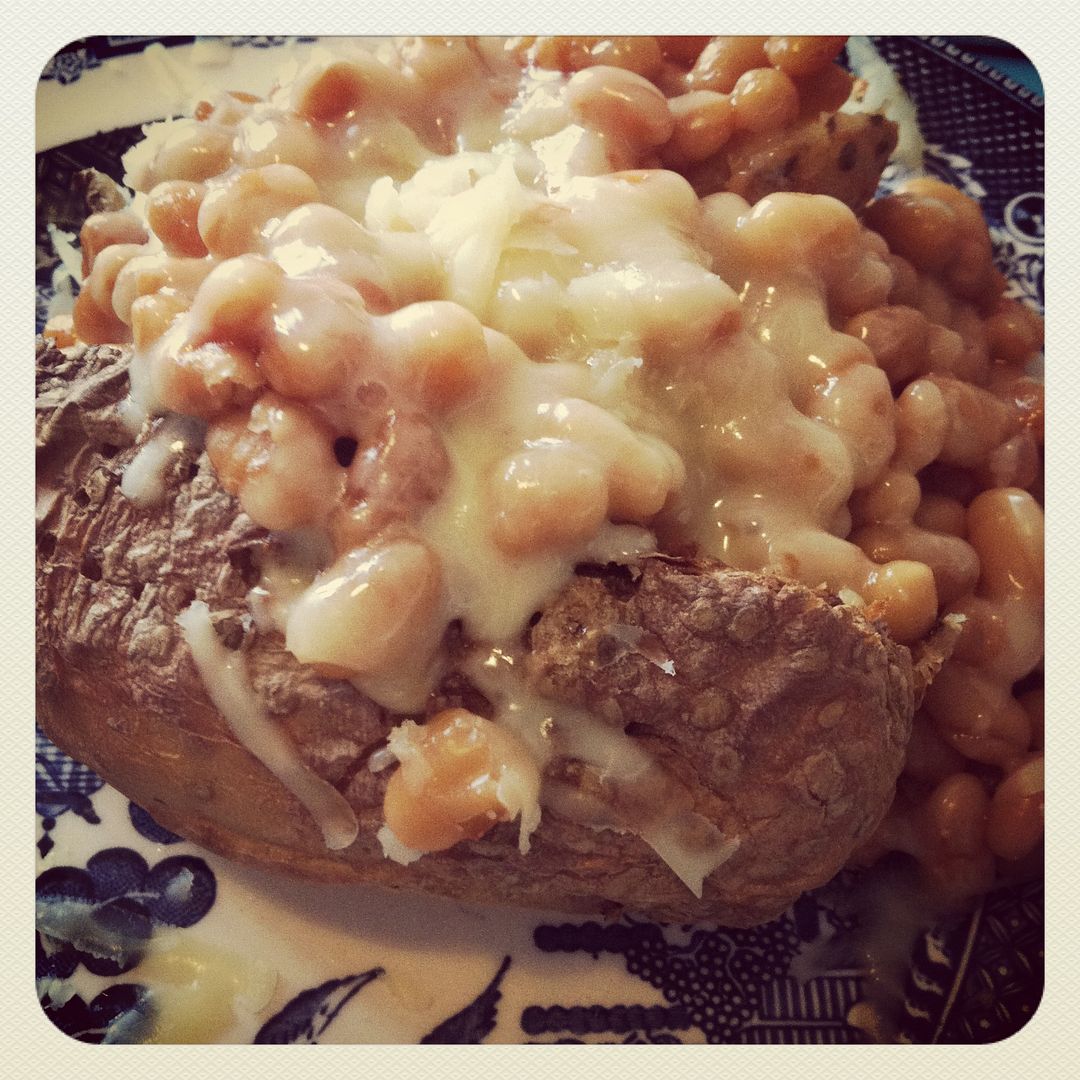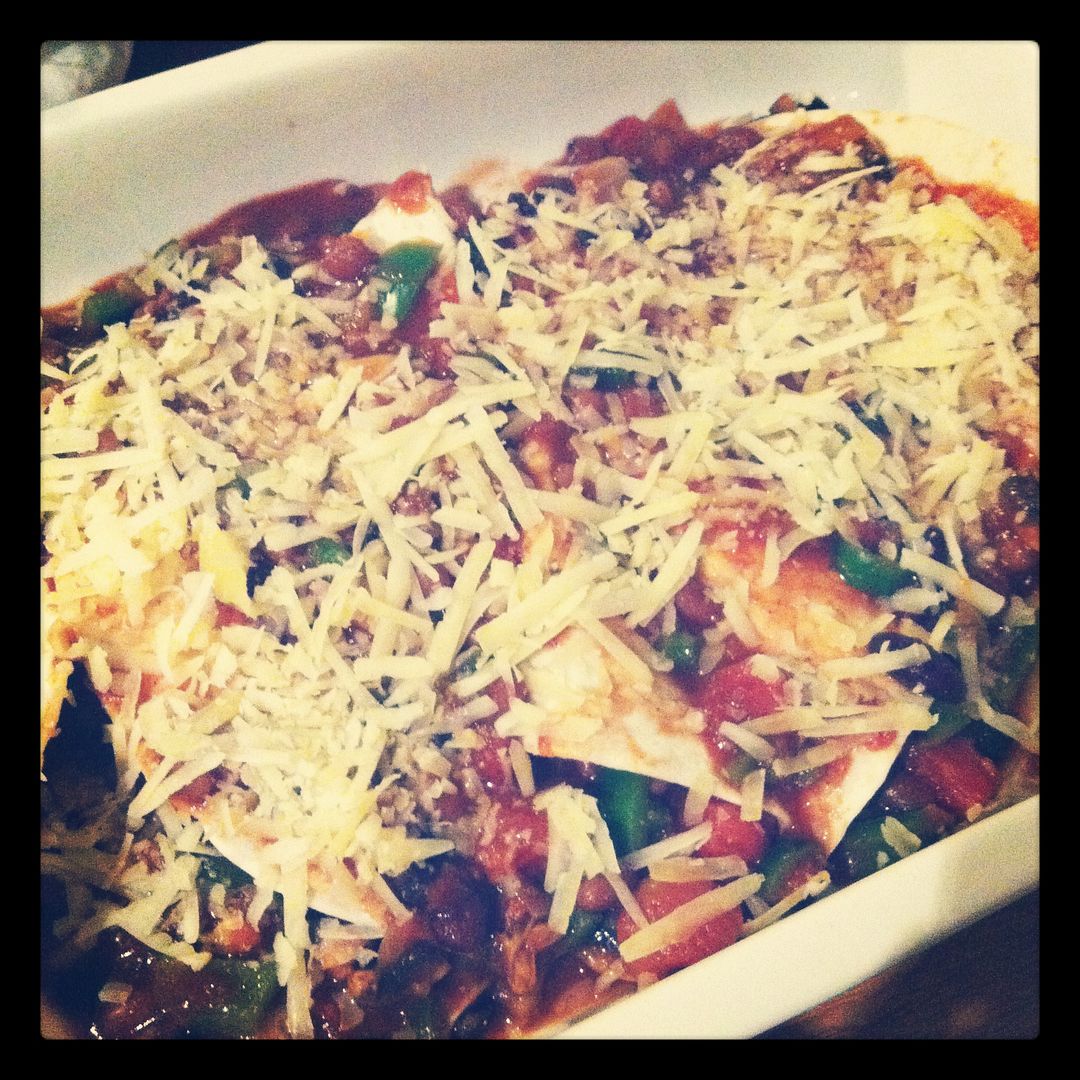 5. Work Experience USA Application Form!
And my friend Tam as my 'friend or relative in the country you are going to'. 'Citin!
6. Standard student lunch
Baked potato, cheese and beans. I've been really craving cheese this week! I bought mild rather than mature by accident so I'm trying to get through it!
7. Homemade Veggie Enchiladas
I could eat Mexican food every day of the week but I'd never made my own enchiladas. My housemate had made some ealier in the week so I thought I'd give them a go. I kinda used two recipes but they were mainly made up as I went along. They were super good!
8. Dessert
Frozen raspberries and fat-free yoghurt and honey. Yum!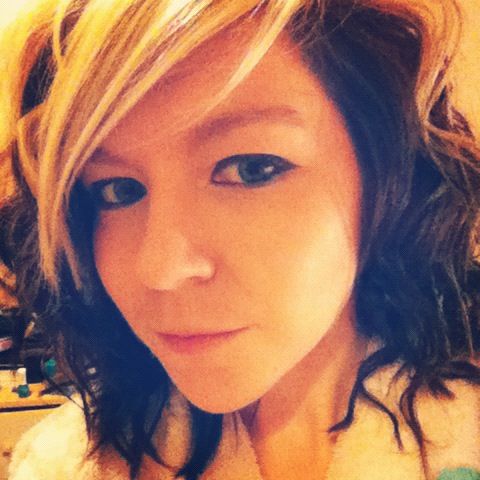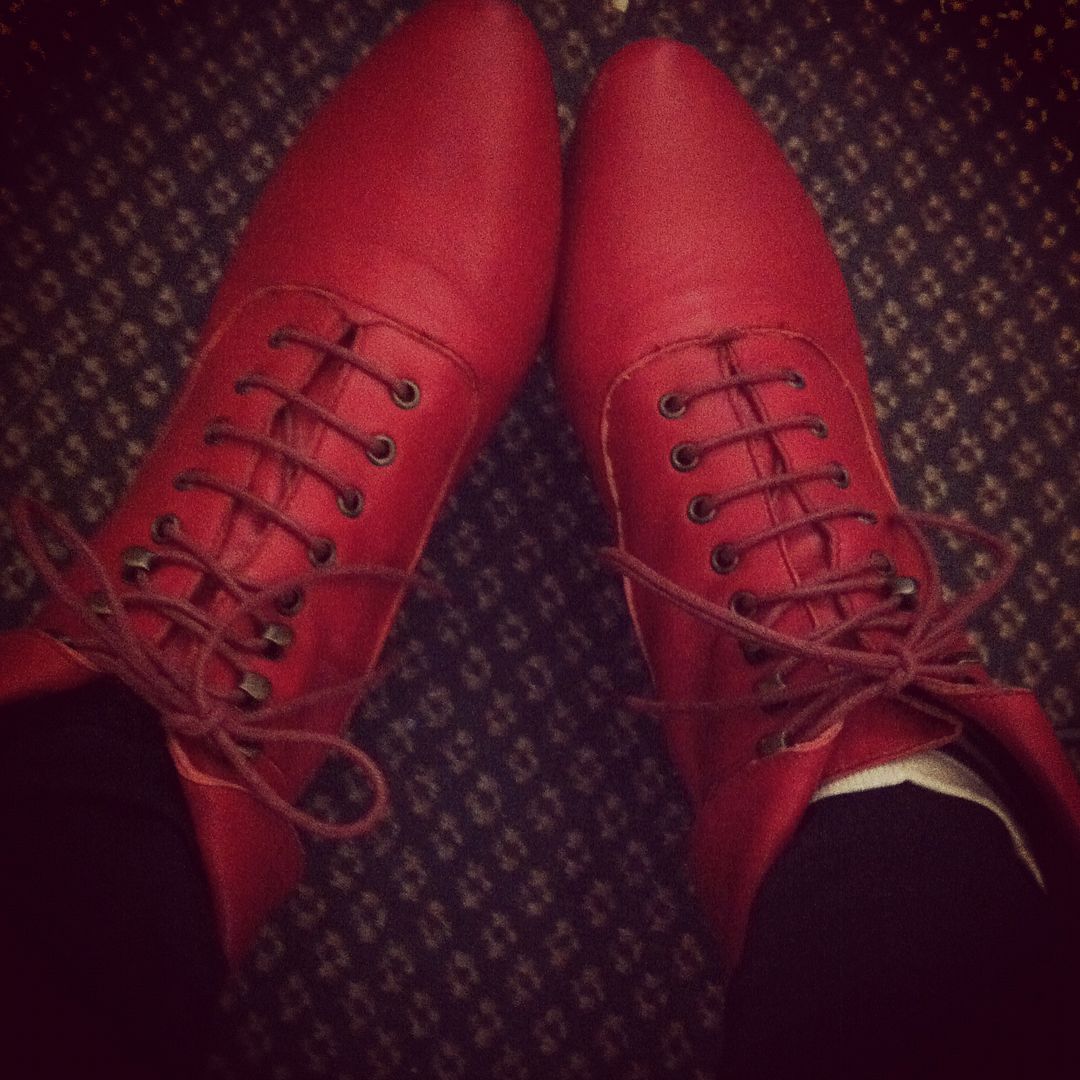 9. Smoked salmon and scrambled eggs (a la Beth)
My housemate Beth came home from a night shift yesterday morning and made me scrambled eggs and smoked salmon for breakfast. Yessss.
10. Second curly hair attempt!
Cut down to only an hour and ten minutes...
11. Manchester Orchestra top
I adore this band and this shirt. I also love my new indigo jeans, which I guess you can't really see!
12. Red Boots!
Because everyone needs at least one pair of obnoxiously bright boots. Ted Mosby would approve.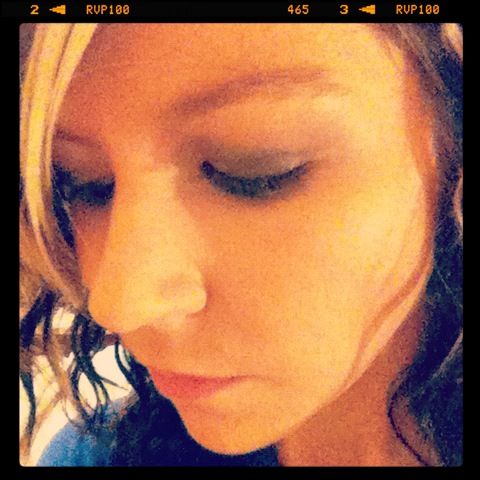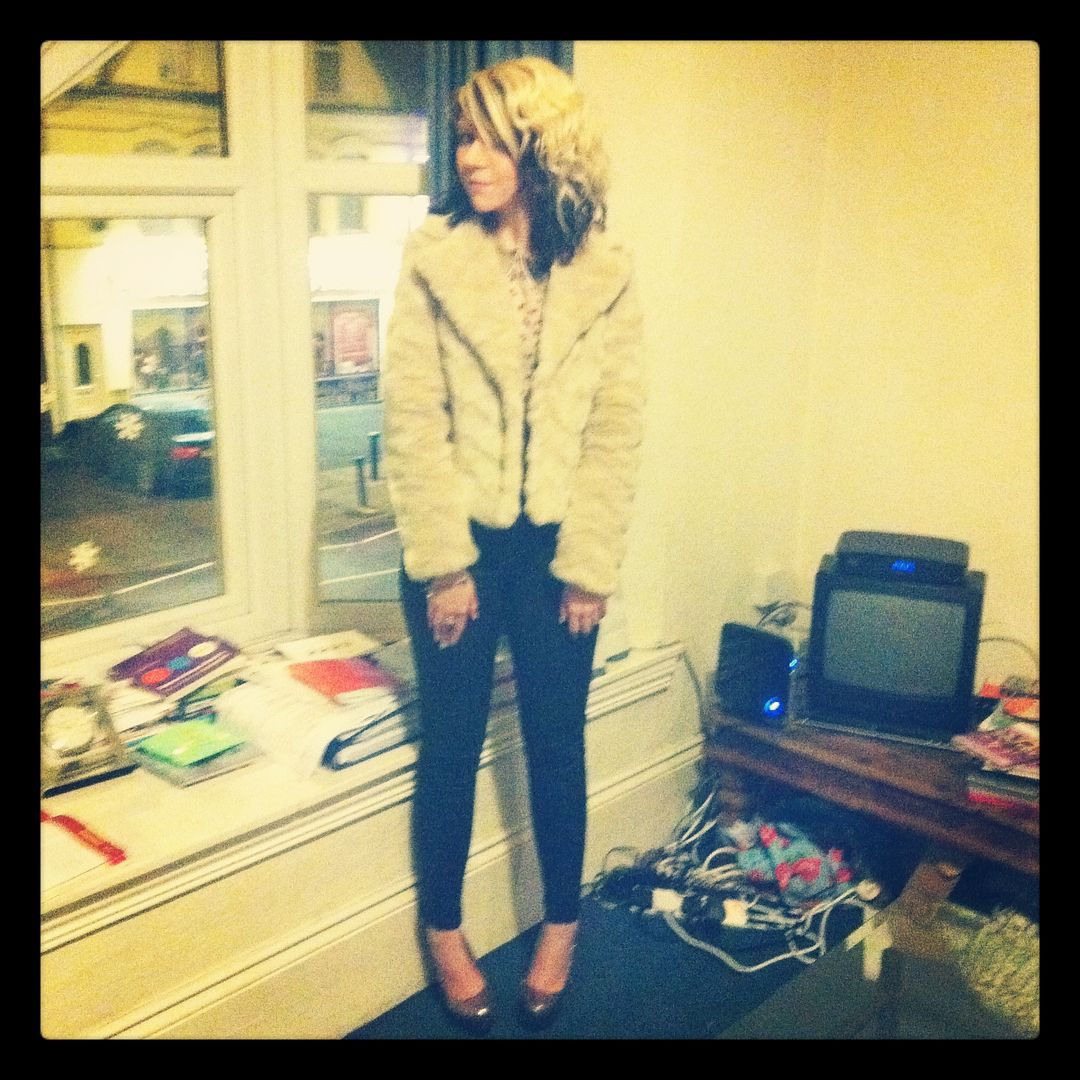 13. iPhone gloves
What an amazing invention! I took this photo while wearing the gloves! Amazing for texting in the cold!
14. Pastel Nails
See later!
15. Saturday night smokey eye
I followed the Smoke Out look from Urban Decay and adapted to the colours I have (I don't own the BOS IV but have five other UD palettes so I definitely had enough colours!)
16. What I Wore
A few of you asked for pictures from what I wore last night for cocktails with my housemate. Not a great picture, but I'm wearing these jeans, this top, these shoes and this jacket! Just imagine it in your head haha. I never go out in jeans but I love my new ones and really loved this outfit. The shoes really made it!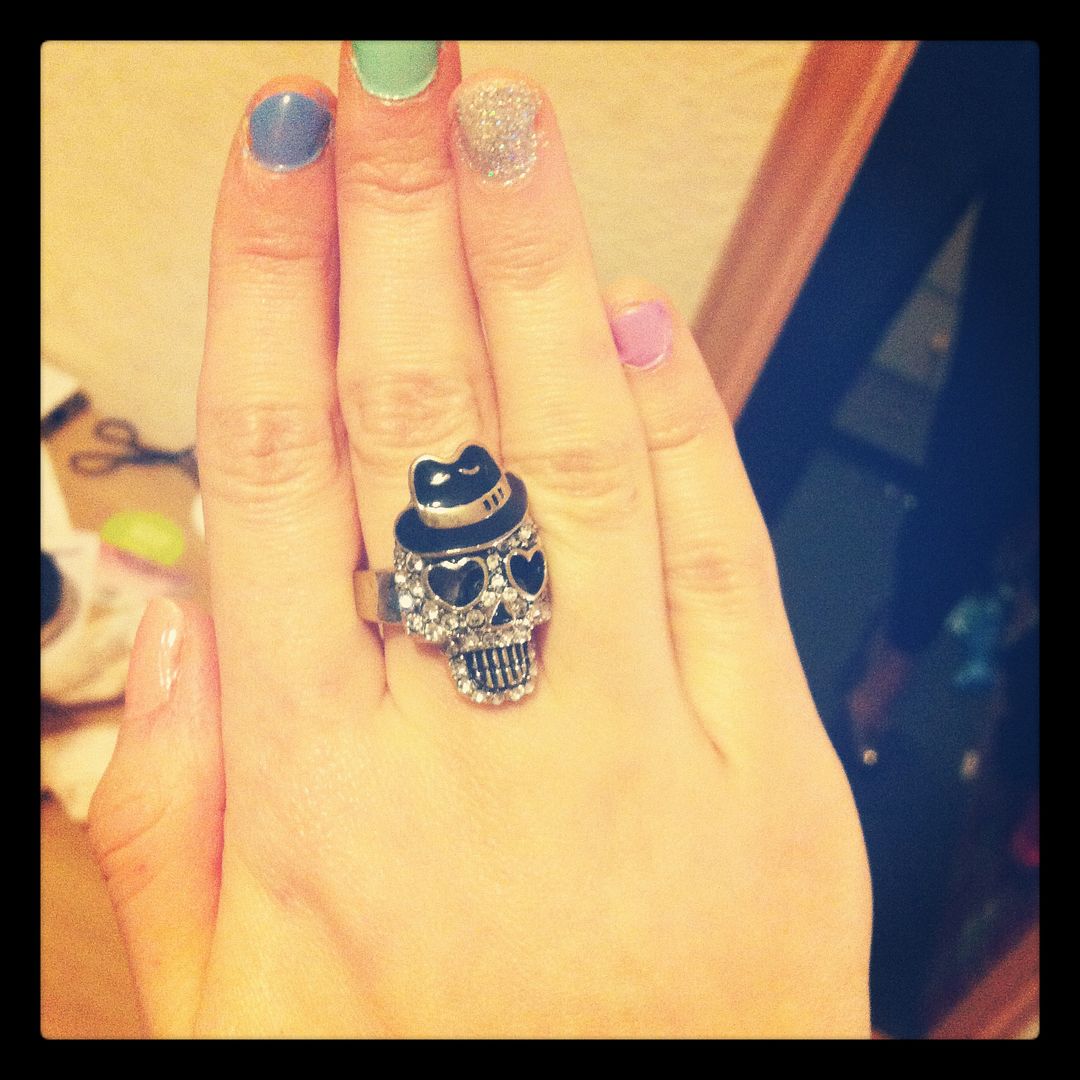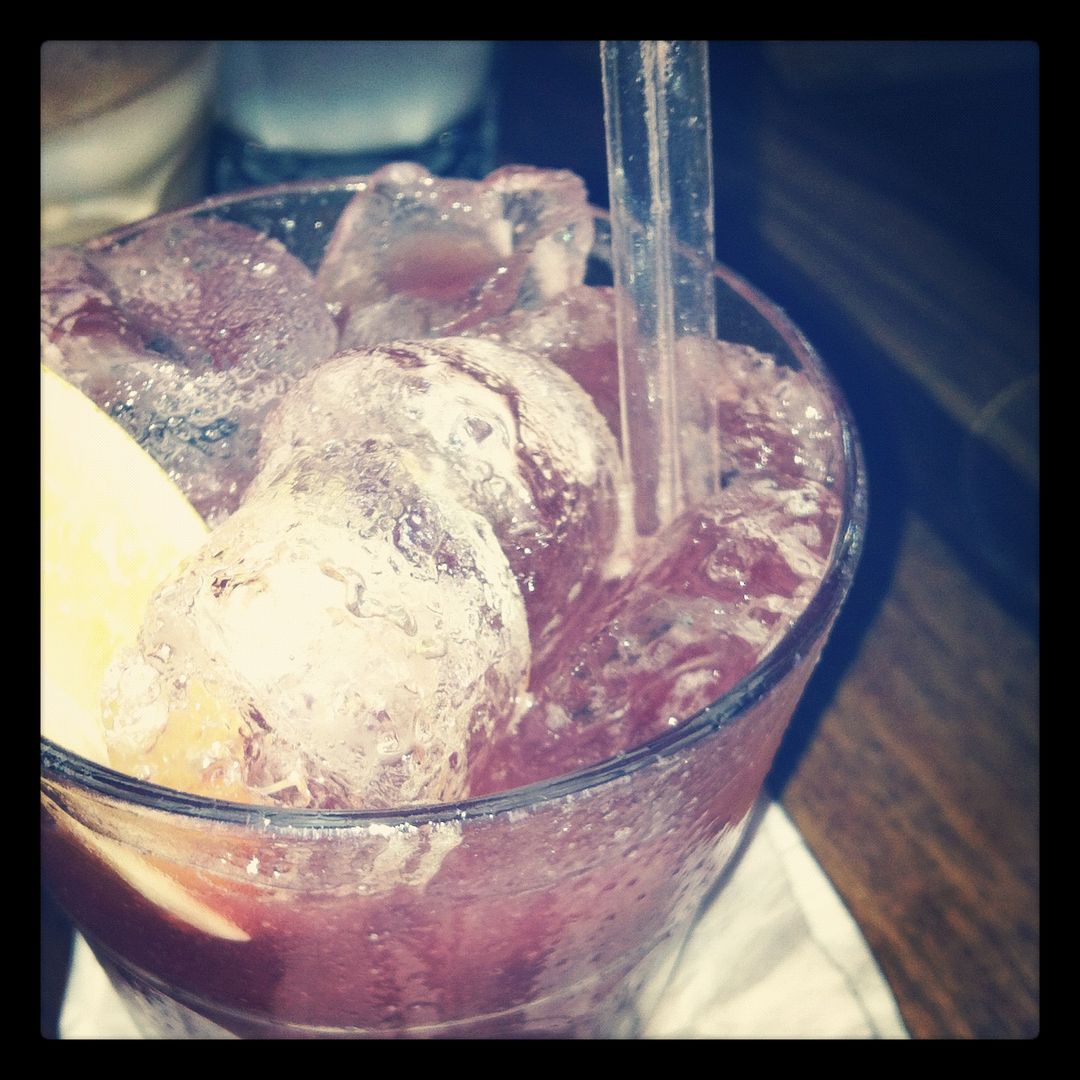 17. Pastel Nails and Betsey Johnson ring
These may be my favourite ever nails. Multi-coloured pastels and a glittery fourth nail. The glittery fourth nail comes as standard in our house!
18. Cocktails!
Okay, I admit, my first one was vile. Lemon Cheesecake is a great pudding, not a great cocktail. I should have known when I saw him putting cream cheese into it...
19. Fabulous shoes
In the words of my housemate Briony (hers are the black Vivienne Westwood shoes, mine are the sparkly ones) "I can't believe people aren't just coming up to us and complimenting us on our amazing shoes." So true.
20. Cocktail Number Two
If there's one thing to know about me, it's that I barely drink. I hate being drunk and as as result of not drinking much, it doesn't take much for me to get drunk. Therefore, I just had two cocktails, interspersed with glasses of water! This was my second cocktail which was much nicer than the first one- which I only drank half of! I think this one was called Atomic Jam. It contained actual jam.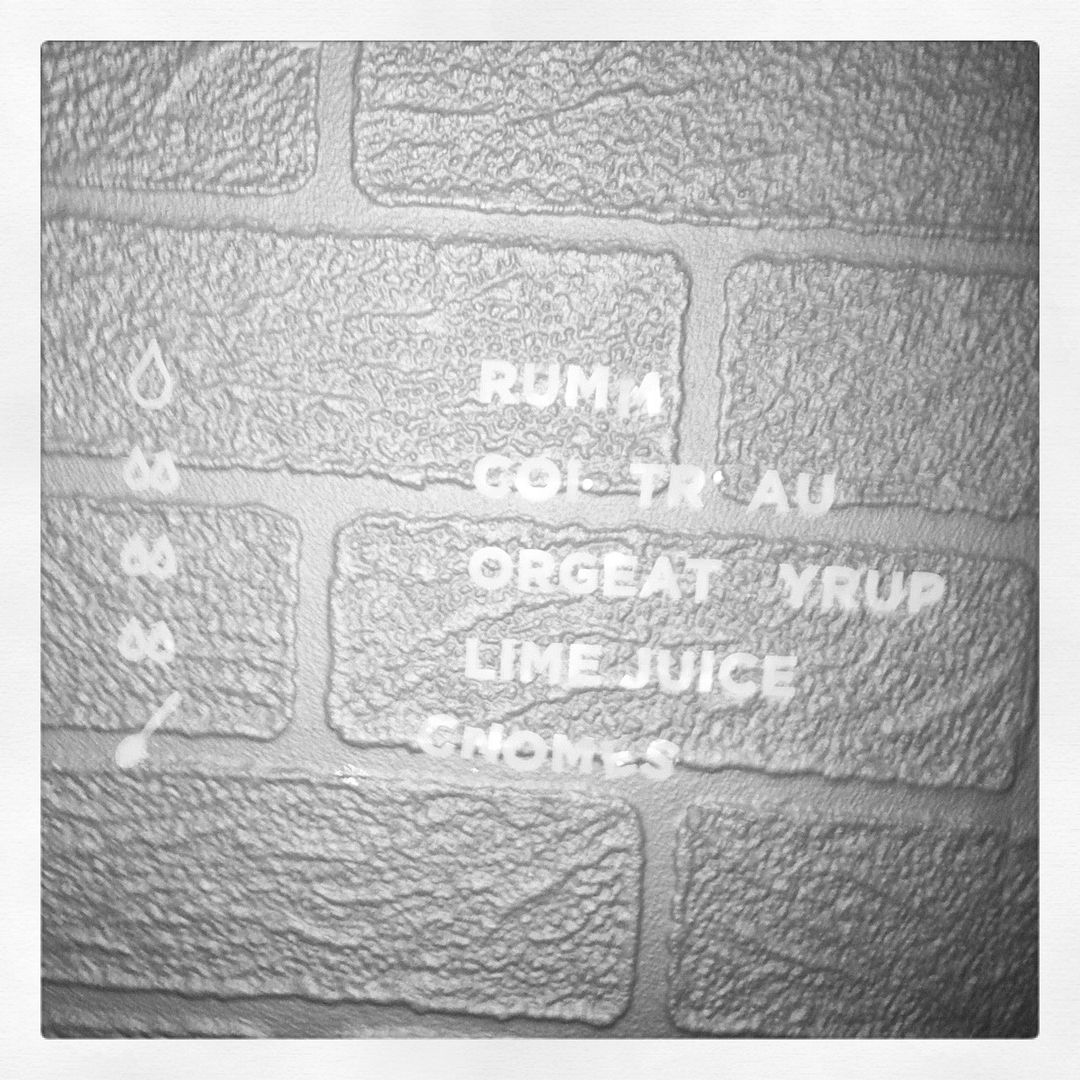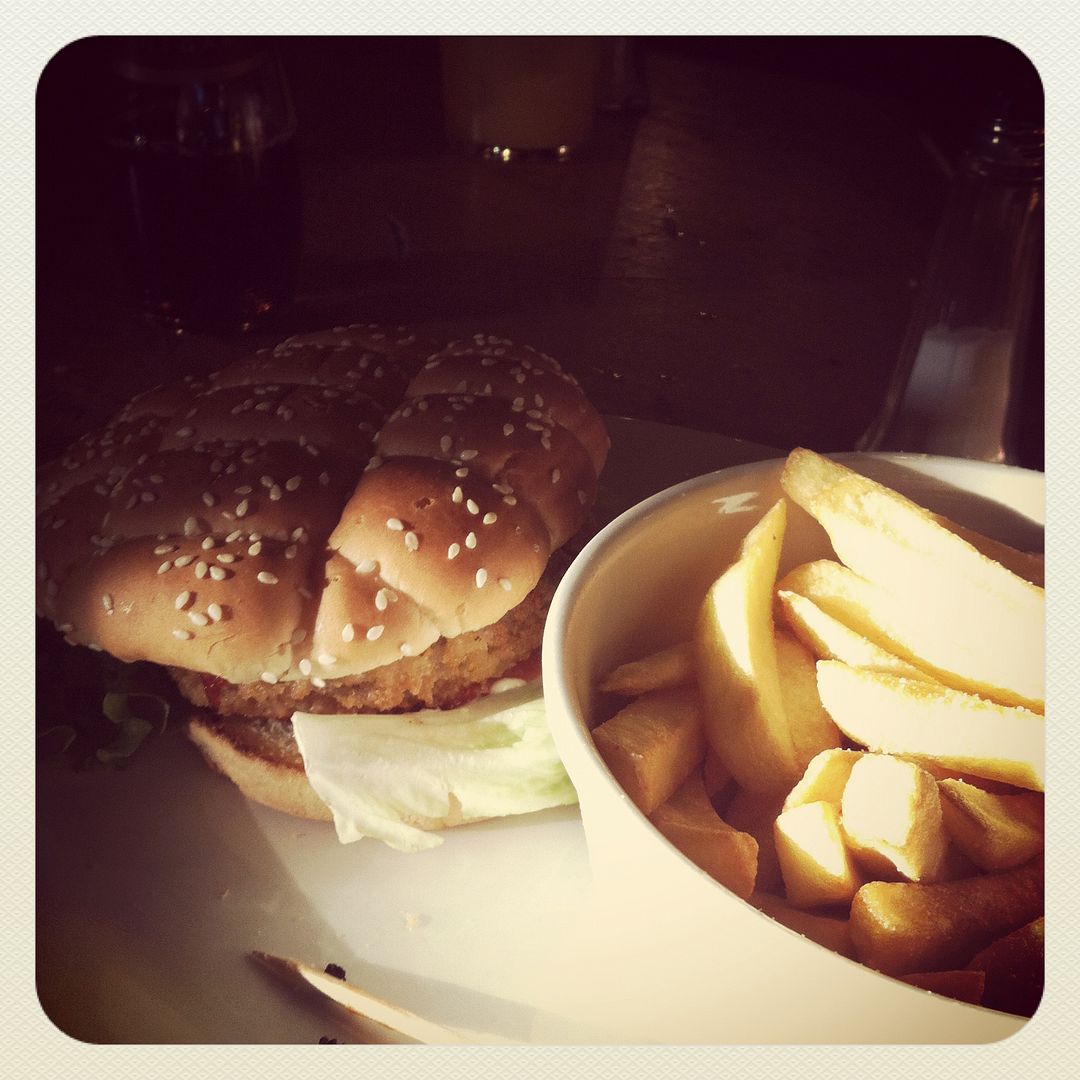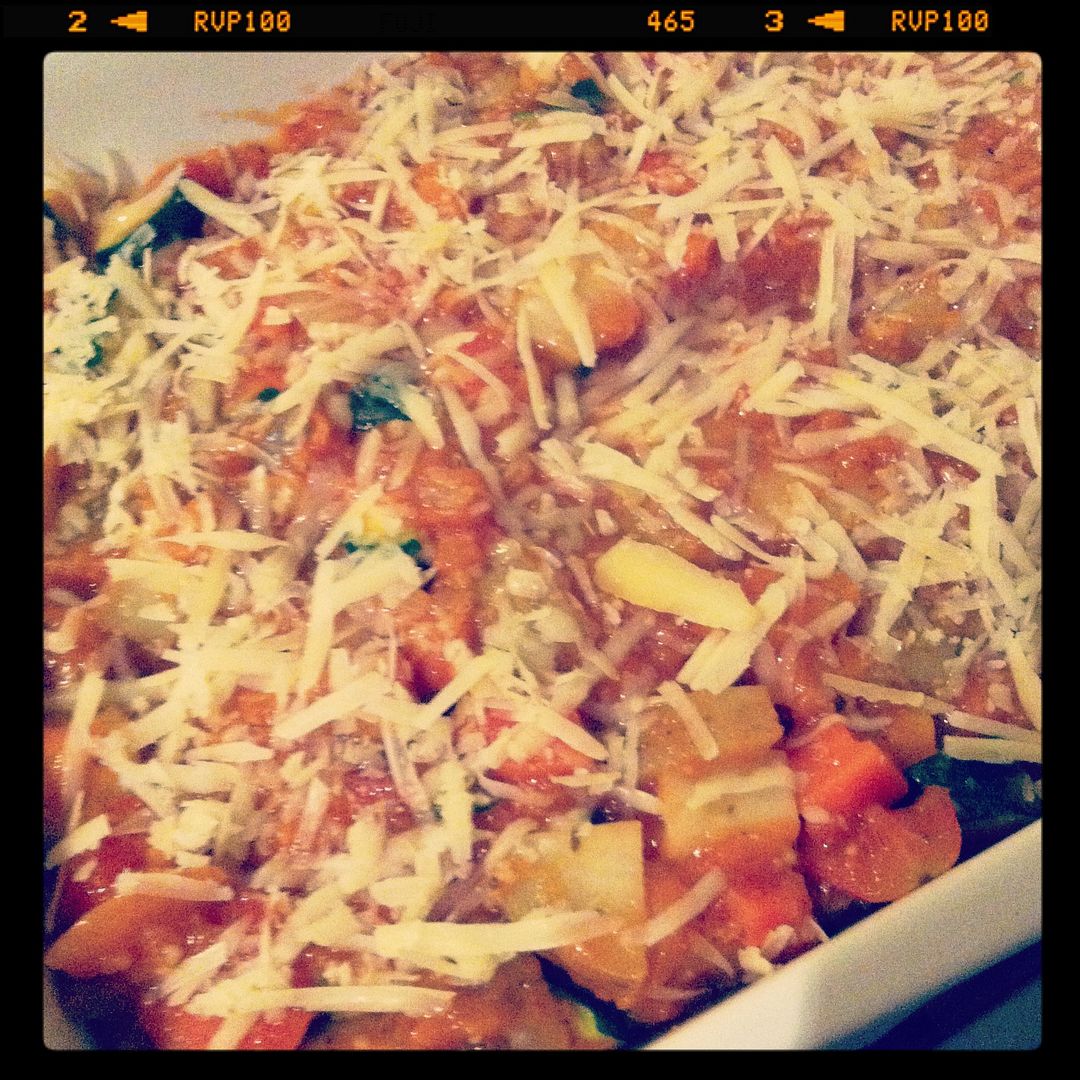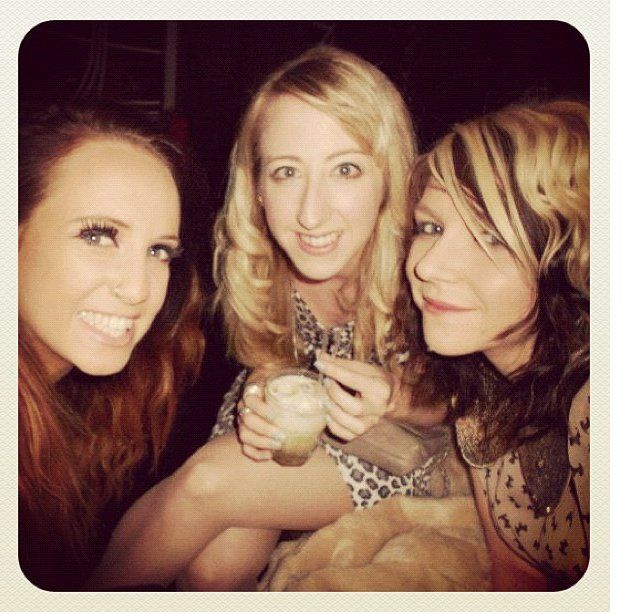 21. Mai Tai with Gnomes
You can't read this too well, but Briony changed the words on the wall (which was ingredients for a Mai Tai), to make a drink containing gnomes.
22. Lunch with Steph
Veggie burger in the pub had to happen. I swear I don't normally eat this many burgers!
23. Veggie bake for dinner
To counteract all the burgers, I made this veggie bake for dinner. It was sweet potato, white potato, courgette, onion and carrot bake with homemade tomato sauce and a sprinkle of cheese. I had it with extra carrots and broccoli. It was yummy.
24. Favourite picture from last night
With my housemates, Briony and Beth.
Well, while last night was a much earlier night than when I work on a Saturday night (after work I normally get to bed around 4.30am!) I am absolutely shattered so I'm just gonna call my parents and go to bed.
Have a lovely evening, guys!
Charlotte x