Love, Lust and Links
It's Sunday, here we are again!!
1. New Blogs shoutouts
I went a bit crazy and started following LOTS of new blogs this weekend. Here are a few of them!!
She Floats
The Audacity Effect
Scrapbook de la Emma
Cherry Pullinger
The Pink Teapot
Style Whiskey
Head Over Heels
City of Glitter
Lindsey Soup
Coffee and a Cardigan
Inspirafashion
Society's Misfit
Strawberry Koi
Strike a Pose
The Clothes of Roses
WishWishWish
WordAddict
Beauty Simplistic
Zukimia
Natalya's Closet
Dottie's Dots
2. Hot Chocolate
Is there a more satisfying drink when you get in from the cold? I think not.
3. 10 days to go!!
Can you believe I go in 10 days?! It feels like yesterday I arrived. Expect lots of reflective posts over the next few days!!
4. My awesome Duluth friends
The nearer I get to coming home the more I realise how much I'm going to miss my Duluth friends. Kait, Laura, Michelle, Lindsey... you all know who you are!!
5. High shoes
(
I'm second from the left in the knee-socks and clogs :]])
We all wore ridiculously high shoes and dressed up on Friday to bake cookies and cake and be festive and watch...
6. Love Actually
I was getting pretty tense that it was 2 weeks until Christmas and I hadn't watched this film yet. It is my absolute favourite Christmas film and completely gets me in the festive mood!!
7. The Godfather Part II
Okay, feel free to hate me, but it was definitely not as good as the first one. Maybe I just love the first one because I love the book so much and I love Michael to death, but I don't like him in this one. But nevertheless, I'm glad I've seen it now. I'm hoping to get the Trilogy for Christmas so I can check the third one out, even though I've heard it's not great. I love Al Pacino :]]
8. What I actually bought from F21
I know I've been going on for ages about what I was going to buy from Forever 21 and I ended up changing my mind about 500 times. So I finally bit the bullet and here's what I bought...
red dress
- because I figured I already have a
blue dress
and I decided against the red skirt because I already have
red shorts
, which I haven't worn much.
9. Chunky knits
I love this post by
Strawberry Koi
. It just makes me want to cosy up!! I have a gorgeous chunky knit jumper my mum sent me that I need to show you all. It's huge but it looks great belted a la Louis Vuitton
10. The Semester Nearly Being Over
Two more assignments to write, two more to finish, one take-home final and three real finals and I'll be ready to go home. I am damn proud of myself for coping this semester with a whole new school system, not knowing anyone, 4000 miles from home. This definitely deserves a post of its own.
11. My amazing housemate, Emily
My gorgeous housemate Emily is 21 today. I love her more than anything, she is amazing. I wish I could be there for her birthday but I hope her present makes up for it!!
12. Links
There are some fabulous ones this week!!
This post
by Dottie's Dots definitely applies to all girls I know. What about you?
What to do when you're feeling crappy,
here
.
This post is really interesting on
Skinny Guilt
.
A great post
here
on layering tights.
I definitely need this one-
how to survive winter
!!
13. Being Cultured
I went to see Richard III on Tuesday for extra credit in my Shakespeare class. I love going to the theatre- why don't I do it more often?!
14. Saying "yes!!"
I am never as busy as I think I am and it's been nice this week to go to parties, have time to hang out with my friends and have a DVD night with my housemate without feeling guilty.
15. My column in The Statesman
I've been writing for the Statesman since about the second week I got here and have a weekly column, but this was the first week to include pictures!! Everyone has been recognising me now!! It's cool and kinda weird- I feel famous!!
16. My Outfit Favourites Posts
Have you been following my favourite outfits posts? No? Well you can see the first two instalments
here
and
here
. My blog is a year old this month so I've been going through my favourite outfits of the past year. I'm finding it really exciting and inspiring!!
17. Pink lips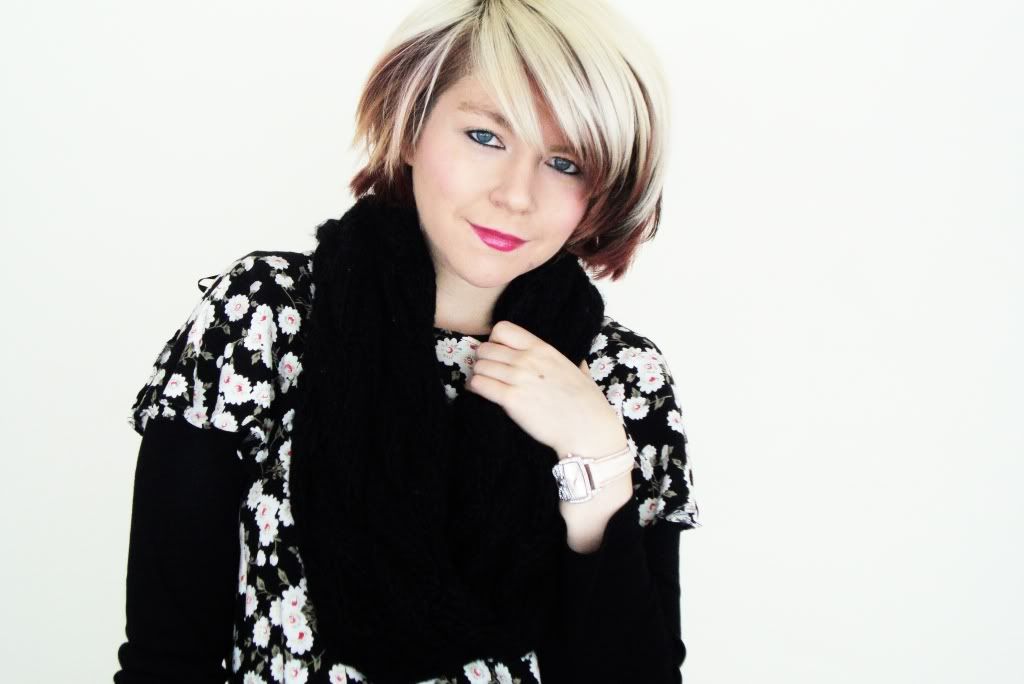 I tried out pink lips instead of red yesterday and was very happy with the outcome!! It's great to have a change in my usual makeup regime!!
What are you loving, lusting after and linking to this weekend?
Charlotte xxx